Home Automation Podcast Episode #168: An Industry Q&A With Franco D'Ascanio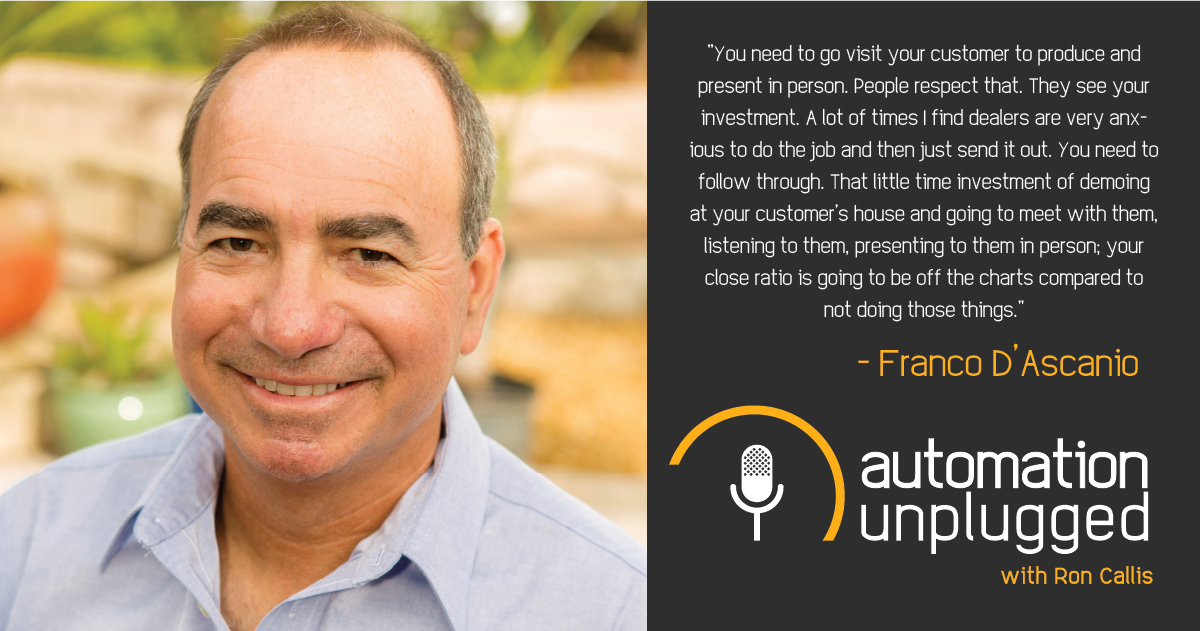 In this weeks home automation show of Automation Unplugged, Franco D'Ascanio, Founder and President at Coastal Source shares what makes Coastal Source stand out from competitors and how integrators can benefit from focusing on outdoor smart solutions.
This week's home automation podcast features our host Ron Callis interviewing Franco D'Ascanio. Recorded live on Wednesday, May 5th, 2021, at 12:30 p.m. EST.
About Franco D'Ascanio

Before founding Marathon, FL based Coastal Source, Franco's interest in audio and electronics led him to open his first stereo store at the age of 18 and later partnering with his brothers in opening D'Asign Source, a full service, design-forward firm offering architecture, construction, interior design, landscape design, and retail furniture.
Today, Franco continues to support the Coastal Source team by leading research and development efforts as they continue to grow and scale their popular product lines.
Interview Recap
Elements that make Coastal Source unique from other competitors
The new Line Source bollard that sets a new standard for a quality listening experience
What it looks like to be part of a family-owned business environment
Why integrators should be more focused on solutions outside of the home
SEE ALSO: Home Automation Podcast Episode #167 A Custom Integration Industry Q&A With Kat Wheeler
Transcript
---
Ron: Hello. Ron Callis here with another episode of Automation Unplugged, Happy Wednesday. It is Cinco de Mayo. There's a rush in the construction business, specifically the residential side of the construction business that was busy. You guys, the integrators are all nicely busy. It definitely puts a smile on my face to know that you guys are doing so well. It does not mean it does not come without its own stresses and challenges because I know it does. I am bringing you today Show #168 of Automation Unplugged for those that missed the message last show, April. Last month was actually our fourth anniversary of my doing these interviews. Our guest is Franco D'Ascanio, Founder and President at Coastal Source. Franco, I know you're listening. You have to make sure we talk about line source. Because of my homework, I should have known what that was. Let's go ahead and bring Franco in, and he's over here patiently waiting. Franco, how are you, sir?
Franco: Doing great, Ron. Thanks for inviting me.
Ron: Franco, what is Line Source? Michael is asking.
Franco: Line Source is the new state-of-the-art speaker that we've been working on for a couple of years. We built about three hundred prototypes.
Ron: It is now shipping and selling as fast as we can make them.
Franco: Is this the big one, the really big tower? Yeah, it's big, and it's expensive, and it sounds amazing. I've heard this sets a whole new benchmark for outdoor audio and even indoor audio.
Ron: Alright, Franco, where are you coming to us from? Where are you recording from?
Franco: Fabulous Florida Keys in Florida.
Ron: I've been there. I visited one of your other businesses down in Marathon. Is that where you're at?
Franco: That's correct.
Ron: Yep. Let's make our friends in other places jealous. What's the weather like right now?
Franco: We're in the upper 80s, upper 80s paradise. We're starting to warm up very nicely.
Ron: Yeah, it sounds like it. And for those that are not aware, what is Coastal Source?
Franco: We are a manufacturer of high-performance outdoor audio and outdoor lighting systems.
Ron: Got it, and do you sell products throughout the USA, throughout the world?
Franco: Yeah, we have about a thousand dealers. They are throughout the US, some international, to be honest. We've been so busy nationally that we prefer doing business in our backyard. We really haven't aggressively gone after the international, even though we get many requests and only sell through dealers. But yeah, it's been a really good ride, and we're very happy to have the best dealers in the US that really make all the difference.
Ron: Awesome. I've known you since the early 2000s, and I'd love it if you would take our audience through kind of your back story. It's a story that goes back to your family in Italy. I'd love for you to share that if you don't mind.
Franco: Sure. Yeah. Going way back, my parents got married in Italy, and my mom could come over because parents had mined in the US sending money back to Italy, just like they always do in the old country. She became a citizen. Within two weeks after they got married, she moved to Ohio. Father had to wait about three years. But luckily, my uncle was stationed in the Navy in Jacksonville, so he kind of fell in love with Florida and, more importantly, the Keys because they had to stop in Key West. He convinced my parents that rather than my dad stopping in Ohio, getting stuck in factory work for the rest of their lives, come on down to the Keys. He literally said, "You'll starve for a while, but it's going to be nice in the long run. They basically came to the Keys right off. My dad started working maintenance for state properties that led to people asking them to build concrete walls and other things. He started a cask stone business, and my brothers, older brother, and younger brother started in that business very early after work when I was eight years old. We've been building things from a very early age. I never worked for anyone else. I got interested in electronics, audio in particular, and opened. My first store was about 18, while I was still going to college from there.
Ron: In the Keys?
Franco: In the Keys, actually in the building. Right now, we're sitting in the Coastal R&D headquarters where all the design stuff's done. This was the original Sound Source store. Here we are right now was the part of the showroom downstairs. There were car audio bays. Those are now our bays for sale, chamber testing, UV testing, things like that. Our workshop a couple of years after that opened another store in Key West. My background has always been in the company, which is a family business, outdoor environments. I was always in charge of our landscaping pools, hardscape, et cetera, and then electronics, automation, entertainment systems. My other brother Tony went to school for architecture, so he runs our development company, building custom homes, and then my other brother for interior design. We had a design center that was tile flooring, furniture, light fixtures. We all did that together, but we all had our own responsibilities. Then, right before we met, Ron, as you were my Crestron rep, opened our design center, which is right next door here, twenty-five thousand square feet. We're design-build firms that we're architects. We're engineers. We're landscape architects; we're interior designers, the GC, we're the integrator. We turnkey one hundred percent estate properties.
That knowledge, basically, of designing and building from scratch very high-end properties and then maintaining them for decades is where Coastal really came out of. We felt that there weren't products good enough for our design-build firm and our customers, that we started building strictly for our own projects, which led to the product getting out in the market demand building. Then about 2008, we decided to start selling to others.
Ron: Got it, the business that was D'Asign. When I visited you, I remember it pretty vividly because it was, I'm not going to lie. I didn't know what you guys were. You were unlike any other business I had ever called on. I probably said something naive and dumb, along the lines of, "Help me understand what you guys are." You were so different than every other technology contracting type business integration business that I've ever known. And I think what's so fascinating, and I want to say I think this carries into how you approach audio and lighting at Coastal Source. You guys didn't design that business because you had seen it done before. How did you decide to do that business because it's incredibly unique?
Franco: Yeah. It's definitely an evolution. We started with Castone and as we started growing up and even in our teens. We tried a lot of businesses. We love living in the Keys, but it's a challenging market. There are about 7,000 people spread out over one hundred ten miles. To be honest with you, the population that is a good fit for our business is pretty darn small. When we find the right customers, we're very much about customers for life, which means doing everything they need. If we were strictly an architectural firm or an AV integrator, which we had two stores, but I got to the point where I almost felt that I sold everyone a sound system and TV in the keys. It plateaued. We just kept on adding services. Since our homes are pretty much all vacation homes, people in most cases love a one-stop-shop. We're literally that when you come to our design center, you know, everything's there, the kitchens are there, the plumbing is there, the theaters, the waterfalls know. They could come and select everything with our staff of professionals.
The business model works for a busy business executive that wants a second home. Right. They're not dealing. You're not going to see an architect, not going to see an electrician. They're not going to see the plumber. They're not going to see the GC. We handle all those things. We're fair, I think, progressive, especially by key standards. We just started adding departments as we felt was appropriate. We just felt that that is not for everyone because many people like piecemeal things. We're not that kind of company. But we felt that that's true. Design, build most design-build firms are an architect working with a contractor. As you know, we do it all. We grow. We have our own nurseries. We grow five hundred species of palms. Usually, when we get into stuff, we get in deep. We don't want to do the same stuff that everybody else is doing. That's why we end up growing plants because we used to hire out landscapers that would put the same dozen plants on our beautiful jobs that everybody else got. We found that our customers would really like to have something special. We grow specimens. We grow a very particular type of plant. We just kept on adding those services so that we could continue to grow the business.
Ron: That's amazing, and I've got to put Michael clearly a fan and one of your dealers, he said Franco is the man up on the screen here, and he also says R&D at Coastal Source is next level. Talk to me about that, Franco, the approach to you design your own speakers and lighting gear. Originally, you said you were doing this set D'Asign for your clients. And I think you said this, or I certainly believe I know this. It's because of the harsh conditions of the keys, is that correct?
"When you build a business, you build a reputation."

Franco: Correct. Yeah. Our design center represents many manufacturers, including much audiovisual and art, entertainment, and automation that many of your viewers watch. In most cases, you could find very good quality products. But our failure rate on outdoor products was we felt was very excessive. When you build a business, you build a reputation. Customers expect a lot, you know. We found that we were not able to meet those expectations fully. Our first steps were here were to develop the testing procedures to tell our manufacturers what we need. We had no intention of manufacturing or designing things. We just wanted to do some base-level stuff so that our manufacturers could build better products. And basically, we spent a lot of time on it, a lot of testing, white paper, scientific type stuff, met with our manufacturers, even traveled throughout the US and offshore to meet with manufacturers and kind of heard the same thing over and over again in that great idea. We think you're on the right track, but we're not going to slow down our production lines because that's a niche market. People throw things away. They don't say they're boxes. We're happy with just selling them products.
At that time, we decided we're going to start this ourselves. As I mentioned, what I think makes us unique, we're not going to sit here and say we're smarter than our competitors, those kinds of things. We put a lot of work in. I could tell you that. But our experience of watching and these are properties we've done about 1600 major projects in the Keys, and that's from scratch—most of those we maintain. Our customers expect us to look at a project and look for problems in most of our customers. I'm going to say spend two, three, four weeks to maybe three months here. When they're here, they don't want their house being painted. They don't want their AV system to be down. As you know, you're an expert at it. But just the batteries that go bad drive them crazy, so we have a service for that kind of thing. When we go to a product, and fortunately, we've won state, international and national awards and our projects. When we look at them, we're not looking at how beautiful they are. We're looking for problems. That's our job to find solutions. I believe over four decades and harsh conditions outdoors. See what happens. Also, we've always been from a very early age, designing and building things at architectural cabinetry, whatever it may be, electronics, as I mentioned, I've got my first speaker at 13. I think it's that experience of one, what the customers want.
Number two, how does it need to be made to last up those truly? Number three is what it is like to sell because we have some fantastic customers and some tough ones out there. We know what it's like to sell. You've got to manage your business and your profitability. When you're installing systems, there are easy ways to them. There are hard ways to do them. Some incredible products are just too difficult. Reliability is huge. We know what it costs to roll a truck. We know what it costs to have a crew. We know what a pain it is to pull off a very profitable job, to go back and fix something. Coastal or D'Asign is not perfect, but we sweat the details, and we know the pain involved with a lot of these things. I think that's our edge. That experience of the whole picture from the presenting the product, demoing the product, getting customers by and delivering it, installing it profitably quickly, moving on to the next one.
Ron: Michael is blowing up the chat here, so I can't help but put a general theme. He loves your R&D and torture testing. He's even said, "The fish tank with the power supply. Now, that's confidence." This white box here, what is this thing up here on your desk over to your right.
Franco: Now, this one of our amplifiers. Yeah. I think that's a great example of simplification. We started with amplifiers, so we looked at what is the typical outdoor install, and that's an amp on the inside source, on the inside, drilling through the walls, crawling through the attic, making sure you got room in Iraq because the racks are always filled up, as you know, getting outside to the ground and then getting it implemented.
We decided that would be a lot easier than our amp lives outside. We make IP68. We have a patented cable system. Most of you know of Coastal know of it, but nobody ever cuts a cable in our systems unless you have to adapt to somebody else's. It's an IP68 fully submersible direct barrel cable. We even have them that are armored with stainless steel jackets. The idea is that you will never be splicing cables, which is so going back to that experience. We said, "OK, we're going to get into operating on a large scale number one, failures, underground connections." And there's no question about that. That's true of low voltage stuff is high voltage connections, even though the transmission lines out on the road. Connections are your number one problem. We focus on that right upfront. Develop the patented system. We've got many hundreds of thousands of dollars in tooling. What it is, is plug and play can have downsides, compatibility issues, things like that.
The reason we have so many uses, again, with that experience we've thought through, and I think most of our dealers will tell you that we have those solutions when the dealer comes up and says, I got this situation, I got that situation, we're all about building truly custom systems with the dealer customizing nothing. It's all plug and play out of the box, tested fast, reliable, high performance.
Ron: Talk to me. Before we went to live, you were teaching me. I've heard that Coastal Source is fantastic, but I didn't know a lot about your technology or approach. You describe that in a normal satellite type array that we've all seen out there by the pool or in the landscape, there are opportunities for, say, a technician to miss wire misconnect something potentially. You've thought of that in advance, and you have an answer. Do you mind describing that?
"Building great products is only part of the story. If they're not easy to install, if they're easy to mess up, make mistakes, it reflects on us. The dealer doesn't have a good experience. The owner doesn't have a good experience. We don't have a good experience."
Franco: Sure. Again, that's what we look for. We look for, what? Building great products is only part of the story. If they're not easy to install, if they're easy to mess up, make mistakes, it reflects on us. Dealer doesn't have a good experience. The owner doesn't have a good experience. We don't have a good experience. We're all about simplicity and eliminating variables. We want the stuff to go at the same time every time. Our connectors, as I mentioned there, they're IP68. They're gold-plated. There are twisted pairs there, tin-plated conductors. Even if that jacket gets nicked. There's a lot of technology that goes into our basic cables. From a performance standpoint, it's easy to say that I can just run 16 to, and I make my connections, and everything's great. Well, there's no comparison, fidelity, and performance.
But to your point, when a technician is out there working in the dark, and he's got eight satellites, and he's got a couple of subwoofers, he's got his amplifier, they're out there in this kind of sweaty and they're using silicone wire nuts, which are messy. Well, as soon as they take a positive and negative and swap those two, just get them wrong. You have one speaker pressurizing the area. One size depressurizes in the area. It's not a phase. We immediately lose bass response. That just can't happen with our system. Michael brought up the Line Source. You take a system generally what most contractors do. Not all will take a conductor cable. They'll run it to the full, cut into it, tap off the first speaker, then jump to the next tap off. OK, the number of connections can be staggering, and each one of those is a weak point. We currently go from our amplifier to our speakers, have a Y cable on it, and then go out to the speaker. Many of our systems are amplified or try amplified and almost always stereo. A lot of people believe in mono. A lot of people believe in small satellites and one subwoofer we don't. We do.
Ron: You just don't think it sounds as good as the alternative?
Franco: Exactly. We go along with this facility next door. We have a sound garden with about 15 systems, our systems, and our computer systems. Michael's been to our training down there. He knows all this stuff. We have very in-depth training. We also have I have a whole spare lot at my house with a nice tiki. It's all wired, and we do large-scale systems. We're not a lot on textbook technology. But we're much more reliant on real-world conditions, so we started with some of our basic systems in mono. OK, but we implemented them, and luckily with D'Asign right next door, not only are we implementing them in a test system, we're implementing them on properties throughout the keys regularly.
We take all the information. Everything is a compromise. There's no perfect thing out there. But we find that the theory of I'm closer to one speaker, I'm moving around. It should be mono. It just doesn't hold up in real-world applications, the fidelity, the sound stage. I think when people there's a lot of good systems out there, they play full range. For a lot of people, they're just fine.
When most people listen to a Coastal Source system, they hear something different. They hear something. They hear true stereo separation. They hear true full-frequency responses from each speaker. Now, as you walk away from the sub, things start thinning out. And that doesn't take that far. It's those things that make things sound more like music that we sweat the details on. It becomes from that amplifier the connections, the speakers, by amplifying try amplifying. A lot of our stuff is very similar to true pro audio systems. When I was going to get to so right now you have to run three of our cables up, left channel, a right channel and the subwoofer, the new Line Source, and we'll see this migrate is a single cable comes out of the amp, goes to any speaker, subwoofer satellite, left or right, in and out, no cables, one cable. And it does it all. You can't screw it, right? Right now, you can plug a satellite into a sub, which is not a good thing. It's like other people's systems. We continue to simplify that, remove the variables, remove the mistakes and create higher performance.
"When I decided to not go to bed early at the show and actually stay up and hang out with friends. They all migrated to the room where your speakers were set up, and they were turned out loud. Just as somebody would do saying to channel hifi situation, large crowds were gathering, listening to your Coastal Source tower speakers like for an hour like at the show late at night, people were sitting there listening, drinking their cocktail."
Ron: I've just put it on the screen here. Technology is behaving at the moment. I was able to bring up your website, and I brought up the line source. I want to say my first exposure to this. Tell me if the timing sounds right. This would have been maybe about a year, year, and a half ago. I was at a Pro Source event, and it was a late night. I learned when I decided not to go to bed early at the show and actually stay up and hang out with friends. They all migrated to the room where your speakers were set up, and they were turned out loud. Just as somebody would say to channel hifi situation, large crowds were gathering, listening to your Coastal Source tower speakers like for an hour like at the show late at night. People were just sitting there listening, drinking their cocktail.
Franco: Yeah. Our three-way speaker, I think, put us on the map. That's what most people are familiar with. Before the Line Sources came out, I got about 4:00. We got about four years of developing that, and it set the benchmark. I think performance line source is a whole new benchmark. And there's a lot of things that it has that are unique. It is a line array of twelve ribbon tweeters. The first time, ribbons have been used outside six beds and an integrated sub, which we love to do for four full-range sounds. But the detail, the sound stage is dynamic range. The power is unrivaled other than a real concert blind ray system. And even that is not going to be as, let's say, an audiophile, a musical. What we wanted to do is we wanted the speaker. People loved our three ways. They played very loud, very musical, and literally, I think you could check it with every one of our dealers has a demo system. The sales are typically made within seconds of playing. But people wanted more, and there's fewer people out there, a lot of famous people and other people that have dozens of them in their backyard, but they wanted more. We wanted high SPL. But systems aren't always played at that volume. What the Line Source does, even though it's a big, very powerful speaker, plays more uniformly throughout space than any other speaker, including our three ways.
A point source speaker like ours, other speakers, and most every doubling of distance lose six decibels of sound. Every three decibels takes you half the power or double the power to recreate. The line sources only use 3DB. In a typical application where you have a dining area, you've got across the pool and have a seating area. The line sources can be comfortable to listen to you at the dining area within eight feet of them, but still adequate volume across the pool with our three ways and many others are three ways. Still a fantastic speaker. It's very loud at that dining area to get all the way across.
Ron: What is the difference? What's the science behind that?
Franco: OK, so a point source radiates sound in a sphere. Low frequencies, I can tell you about some really cool low-frequency technology after this called Sub-Zero. But if you take a points source speaker, low frequencies, no matter what type of speaker it is, it's 360 degrees. As we come up in frequency to the very highest, it starts getting direction. But you could take that. There's a lot of parallels between our lighting and our audio. If you take a typical lamp, OK, and Edison base lamp bulb, it's a 360 degrees sphere device. That works very well for illuminating an area close to it. If you take like our landscape lights and LEDs in general, their direction, they're not 360, but they go a long distance. A point source is producing sound down up behind it, depending on the frequency, but a very broad area. It's a sphere coming out as you as a sound pressure wave. A line source developed a cylinder of sound. It's very focused now. We worked very hard to get it. We have a variable waveguide so that our line source performs in very wide sound dispersion. If you're close to it, if you're a midways way, it's got a mid-range of throw distance. Then the very narrow bottom is a long tradition. We have to do some tricks because a line source isn't a perfect fit for everything. But basically, what we're doing is we're taking the sound and focusing where the people are a ground level. Typically we do the treaters do arc at the top. Even if you're on the second floor, that works pretty well. Basically, what we're doing is we're taking a lot of the waste of the sound away and directing it where it's useful, and we can do that in a much more uniform fashion.
Ron: Got it. That makes sense. You look at the space, and you look at where the humans will be in that space, not the space at large. You don't need to sound pressure on the trees if there are no people over there.
Franco: Correct.
Ron: The chipmunks don't need to hear the music. The people want to hear the music. Yeah. That technology, that line technology helps is the best way or one of the better technologies.
Franco: I think that's how we look at things. We don't normally look at something. And I'll tell you that the development of the line source was a very interesting project in that we work with some great manufacturers and really know their stuff. Generally, our designs are a little unconventional, and I would even say vary or deviate from textbook sometimes OK, in ways that we find are practical and better suited to the task sometimes. What we get back is no, you don't do it that way. It's a funny story. We were going to introduce the flying saucers probably three years ago, and our prototypes came back very different than how we had designed them. It didn't have the variable waveguide. It really was meant for medium and long. We were trying to figure out how in the booth we can keep people at least 12 feet away because they didn't sound where the darn within 12 feet. We went through years of working on those to finally get it back to our original design, convincing acoustic consultants and engineers, etc.
We have those on staff also of what we're trying to accomplish. And it went very roundabout. But I would tell you if you have pictures of him here if you come and look at will, our conceptual design was about four years ago, and where we are now, we're probably 90 or 95% of it. But we went this route of disproving textbook technology to get where we needed to get to.
Ron: There's a theme there that your business D'Asign is unlike any other business, your speakers. If everyone looks out at the marketplace at outdoor speakers, the answer for the marketplace is their satellites, and there are buried subs, and then there's Coastal Source. Your stuff is so fundamentally different. It strikes me as it's really that entrepreneur. The fact that you've never worked for anyone other than yourself and your family, that you're just not looking at how others are doing it, you're just saying what's best for the task.
Franco: To be honest, I don't think we get much passion or enjoyment. We just don't copy. We're just not interested in it. This is a business. As you know, we come from there are two family businesses that own Coastal. They're both successful business, hardworking ethical families. Coast was probably built for the next generation is more than it is for us. We're not a business that has to be profitable to grow, to be able to support our deals. I'm not trying to say we don't want to be a profit. We do. We want to grow. We want to do all those things. But we're not about numbers and producing me-too products. We try to be very careful, though, in that we don't want to be different just to be different. We truly want to be different if it's superior. Yeah, I love that about you guys. It definitely shows.
Ron: I want to touch on a couple of other topics here, Franco. What you just mentioned is that two families own the business. I want to talk about family just for a minute. You guys are a family business, and you and your brothers are the second generations. You told me something I thought was super neat: you actually have the next generation working in the company or the companies. Can you describe that?
Franco: There are seven of us, call them G3 generation three, working in the company.
Ron: And are they working in Coastal Source or crossover family companies?
Franco: Coastal Source, I would say part-time. My two sons, one's an engineer and an architect. One's a landscape architect. They're involved with our conceptualized process. I'm kind of the crazy idea guy. They usually get the first shot at me, telling me how bad some of the ideas are until we actually put them in practice. They're very involved. With me, I migrated from the D'Asign starting in 2003. 2008 I was probably 50 percent 2010, I probably beat eighty percent or so. To be honest with you, I'm getting a little removed from the market. That's very dangerous. I think our strengths are I've literally made tens of thousands of connections. I've dubbed the holes, I've poured the concrete, I've climbed up the trees. I did fifty trees at Disney, from 3 a.m. until 6 a.m.
Ron: You were the guy on the ladder?
Franco: Man lift, luckily. But it's those things. It's really interesting. As the company grows, I try to hang on to a lot of that stuff because I know if I'm in my little R&D area here and I'm very fortunate, I have three of them which keep me entertained. If I start getting too far away from what's really happening with our dealers really happening in the field, I don't think we're going to be the same company. Between my sons and within 50 feet of where I am now, we have 80 people working at D'Asign. I'm very even though I'm not doing that every day, I'm very in tune. Obviously, I still hear about the problems. I still hear about the challenges. Yeah. They participate very much from that standpoint, but yeah. Oh, pretty much all our business, our nursery, our design stores, and Coastal, it's all a family affair. I have to say what makes us stand out from the crowd in addition, is our staff. I don't care how smart you are, how good your products are. We're only as good as our people, and we're very proud of our people. I think we try and treat them very well and make them part of the team. I'm a single person. As you probably know from some of the technology challenges we had, I think those are mostly on your end.
Ron: He's referring to my early days in Crestron in '03-'04. TPMC, Ted, anybody, and anybody get chills?
Franco: Yes. I'm a little old school in some ways, to be honest with you. Very. I would say I'm quite technically advanced. I think that Coastal does. I'm like the head engineer, but I let other people do many things that I'm just not as good at our support team, our sales team, our shipping team. As I mentioned, I don't care how good our products are. Best case scenario, that's half the battle to me. Frank, talk to me about the pivot to lighting. This may not be a pivot. It may have been there from day one. Yeah, you know what I think?
"I'm seeing more and more dealers are buying and installing lighting, making, lighting, outdoor lighting, specifically a part of their business."
Ron: Coastal Source, I think, as audio first, but now I'm seeing more and more dealers are buying and installing lighting, making, lighting, outdoor lighting, specifically a part of their business. What is the opportunity there? Maybe let's start there for those that are listening. What is the opportunity? Really twofold with the outdoors and with outdoor lighting.
Franco: OK, so let's go back a little bit because it's interesting of your perception. I've been an audio all my life. The US and our partners decided, well, I was always pushing for audio. We started when Coastal went national. We start fighting back, and I know many people industry as you do—one of our top reps, Mike Hench. When I approached them, and I showed them some of our Coastal audios. They said, "Franco, there's a thousand speakers out there. Do not get in this business. It's too competitive. It's all the same." A lot of people said no. We actually started with lighting for the first three years, and then audio came in after that. It's interesting that the perception, and I think that's kind of the CEDIA group perception. Also, our audio has a pretty loud voice, you know, both the next year, a few times, you know. Exactly. Yes. It's interesting how that perception. Let's go back to lighting. Lighting was first because we felt bigger opportunities for integrators to increase their business and expand their business. As you know, we've been hearing that automation is going to be a dying breed someday. It's amazing how it's hanging in there. But I do think that integrators must diversify in some ways. OK, so outdoor lighting offers a huge bang for the buck done properly. Now, a lot of integrators are concerned. What do I know about lighting? What do I know about trees? What do I know about outdoor environments? Many of my techs don't want to work outside, so there's a lot of negatives out there that we tried to address based on very simple systems, very predictable, very high level of education and training. But the opportunities are huge. One of the things I'll tell you is right now with D'Asign. Obviously, you mentioned business is very good. We're booked. Eighteen months, two years on design, both projects when we weigh a new lead that comes in. We're very fortunate to be selective, obviously be very careful of who you say no to and how you do that. OK, so we try and treat everyone well, and you know, but we have to, you know, for business sake, we have to. I can't say yes to everybody. It's not possible. We definitely not possible today. We learned a lot of things early in life, very early. One is no is a very powerful word. It takes a lot of courage, and it takes a lot of time. But know is sometimes the best decision.
We've said some big jobs, so. The jobs can be the average job on the lighting aspect, and the large jobs could be bigger than audio, and our audio systems can get very big. But as I was mentioning, I'm going to say that integrators. At least, let's call it a half a dozen a month will do lighting jobs and 100,000 to 300,000 dollars outside with our product. If you look at that job and the resources it takes, what it takes to sell it, what it takes to install it. We believe the throughput, the dollars per day you are earning with a fairly small, not programer level staff, is some of the highest return on investment you could ever do. When we weigh those leads, that D'Asign, we will weigh an outdoor environment job. I'm not talking about just talking, lighting and audio. I'm talking tools, landscaping, trellises, arbor's outdoor stuff, the way that about three to one over a remodel job or another type of interior job, because we know that inside everything is much more demanding. It's much more critical. On a positive note, integrators are getting a burst into interior lighting, which is a very smart thing. But you've got to compete with the electricians. I've been doing it forever—very small margin. Generally, we're selling a higher-end product. We've got the interior design involved. We've got the contractor. We've got the project manager, Paul. We got the owner involved. Then we've got the mechanics of the trusses, the air conditioning system, all that stuff. Everything's got to be symmetrical. Working in that environment is very challenging versus our outdoor environment.
Coastal strictly focused on the outdoors because if you're implementing a lighting system and want to move something, it's minutes. Our system is much faster than anyone else's, as I mentioned. Also, we're very familiar with, and all our dealers are. Christmas is coming. The house is overdue. We're moving in by Christmas. Trades are working on top of each other. There's a lot of stress. It's super dusty in the environment. You're trying to install your rack, and you've got all the guys outside, hardly any pressure, but focus on the inside. Even if it doesn't get done with our systems, you will get it done on time. But even if it doesn't, it's a whole different dynamic. The complexity is a fraction of profitability in our studies is considerably higher. Anxiety level is much lower. That's why we focus on the outdoors. We just think there's so much opportunity for integrators. We're more interested in a progressive business person than we are highly technical because we've built the business, we believe to be a great partner for someone who wants to grow their business, remain on the cutting edge of what we do, but do it profitably and not pull your hair out at night when things aren't working and things like that. Again, a different mindset on what we think business should be for our integrators.
Ron: Well, I'm curious. Out of the population of integrators, I'll just be broad. It sounds like you focus on North America primarily. What percentage of those folks do you think to have that focus on the outdoors, lighting and music?
Franco: Our dealers are heavily biased towards that. We have a thousand dealers. Obviously, the usual situation where you've got your very active ones and your less active ones. I would say in most cases. Our dealers get it. They don't always get the lighting, or they don't always get out their audio. Most of our dealers sell both. And it's a pretty powerful package when you are out there doing both. But I would say there's more of an obstacle in lighting because of that lack of confidence. In other words, I'm going to be embarrassed because I don't know what the trees are. My techs do not like digging ditches. Now, since we've been through all this for decades, we have the answers.
Ron: Also, let me ask, so you said trees. You're talking landscape design. That, to me, immediately walks into lighting design.
Franco: Correct.
Ron: An integrator may or may not have a lighting designer on staff or in their portfolio. What's the answer to that? Because to make a lighting sale, the specification, which means I need someone that understands lighting.
Franco: Correct. We have a full design staff. We literally will take now garbage in, garbage out. Right. But we have a very solid procedure of what an integrator needs to do on the job. Photos, basic information. What is your customer looking at? Obviously, the budget question, which you all know is is valuable sometimes and completely useless oftentimes. But we have to gather this information, and we produce full sets of plans, which are the layout, the type of fixtures, the engineering, the wiring, the whole gamut. And it's a presentation series. It's meant for you. What we're all about is we're all about seriously standing out for the competition, including our dealers. When our dealers go into a demo or a presentation, we want them to be so armed and ready that the competition really doesn't have a chance. OK, so now you have to do some work, our pieces of training are very important. We have many online pieces of training, but we truly believe if you know our product well enough. If you take the support that we have available, you will be super hard to beat unless that customer just not in that price range. We can't be trying to sell Coastal to somebody who wants to spend fifty dollars a fixture. But if that customer is in the proper category, the closure rate should be extremely high because people your competitors in most cases are landscape lighting.
I would say in audio, a lot of cases are not going to be armed with that presentation all the way it's been thought out. Then also that goes into your implementation. You've got this plan, and it's just a matter of plugging these things in literally within minutes. Then you need someone who knows a little bit about layout and things so that when they're aiming the lights and stuff like that. But that's what Coastal is about, was about a turnkey opportunity for our dealers with really no stones left unturned. Now, if you only do part of it, maybe you'll be partly successful. After they've done our design services several times, many people can just run with it. They no longer need the design service. They don't need the handholding. But it's all there for people that that need that in the beginning. And some people use it forever. Got to stay on lighting the design services. That's a service they can additionally hire a Coastal Source for to provide. There's a wholesale and retail value on that. Or is that how that works? Like many companies, we have kind of dealer steers or something like that kind of stuff.
It goes from a fee to a free service, especially if you close the job, you know what we can't afford. These designs take time, and we're adding to our design staff. We've had issues where people will go out to a home show and really not qualified people. We're doing design after designing for unqualified people. Our business mantra is we want to support. Obviously, the dealer supports us, and if you're putting the work in, we'll put the work in. We're not about charging fees, OK? It's there to discourage misuse. Other than that, we want you to get your design. We want you to make your sale, and we want it to be extremely profitable. Got it. I'm curious about maybe a little more of the engineering and lighting control and how that ties into, say, the control system. If there's a Lutron system on the projector control for a crustacean or vintage or whatever that is, how does the outdoor lighting tie into that? It could tie into several ways. Again, I think many integrators like to control everything to the nth degree so you can dam our systems. You could take, and there is a recommended list of dimmers at work with our system. Know it's a little different than indoors, though. What happens if you get too carried away with it as you have voltage drop to deal with? Alright. Indoors were high voltage, almost always not. There are some low voltage systems, and the distances aren't necessarily as great as they can be outdoors. When you want to dim a system, we recommend that you do it in a zone. They've got an outdoor dining area, et cetera.
We've got all the information on that if you want to do it in most cases. The lights are lamps properly between color, temperature, power, beam, angle. All those things affect the light. I'm going to say that we get asked about gaming a lot, but I'm going to tell you that 1/10 or 1/100 of a percent actually get implemented because most people want it to come on and go off. We've got everything from basic photocell and timers to you can control our transformers from the relay's from dimmers from switched outlets, that kind of thing. It's really a matter of how much control do you want? As I mentioned, without the ramps, it's really funny stories. We came out without the ramps. Many of our dealers said, why are you doing that? My electronics did not go outside. They go to my rack. We had outdoor ramps, in the beginning, a few years later, and it took us a long time to develop amplifiers that we can call Coastal quality. We have a minimum standard that we feel should be a Coastal product. That took several years. When we came out with those amps, the same dealers just said, why would you do outdoor amps? Why are you doing now? Because they got spoiled. OK, so simplicity. Yes, I could put it on my rack. I could integrate it. I can do all these things. Or I could take my Coastal lamp with a wireless streamer of many types. We make enclosure's form so I can go outside and I can just plug it into online play, or we'll take line level in, will take all these things that just simplify the job, OK?
The same thing, I think, is true for lighting. Yes, we have some dealers to get very advanced and things with control. Yes. Is that the standard? By no means. Most of our dealers love getting the job design right, implementing it right. People are enjoying it with minimal complexity. It's common in a lighting system, a Coastal Source lighting system. That system is turnkey timers as it goes on and off at the right time. It is not necessarily tied to the home control system. It's not a requirement, or I'm going to say a good number are tied into the control systems. But if I had to say, I'd say it's 20 percent are controlled by systems, and 80 percent are not.
Ron: Now, that's great. We've got a question here from a Canadian dealer. He says, "How can Canadian integrators get access to these products?".
Franco: We have an importer Coastal Source, Canada. They are in Toronto. You can go to our website, or you can call our customer service. But, yeah, we have a distributor importer in Canada.
Ron: Got it, and then we have a comment here from Michael. He says, "The Coastal guys represent an amazing product, which makes it easy for me to sell to the end-user." It doesn't get much better than that, does it, Franco?
Franco: As I said to be successful. I think you need a complete package, and that's what we're about. We're not just about some great products out there that never get off the floor. Genius products from other manufacturers, yeah, we spend a lot of time on R&D, but we try and spend a lot of time on the other things that manufacturers may not address. There are great competitors out there. There are great programs out there. Some manufacturers have services similar to ours. There are some great companies out there. Don't get me wrong, but we want to focus on what we think is important. Those of us that have been in the industry. I like to say we really don't need practice anymore. Right. That customer says, "Hey, give me a great deal, and I'm going to have to do a bunch more, or you've got to cut your margins."
Especially in these good times, we need to be focused on profitable, enjoyable, tap our resources as minimally as possible, allowing us to maintain our lifestyle. I think most of us in the industry are workaholics. That's a limited amount. Some businesses can run fairly smoothly or business divisions. Can we have a lot of business divisions, so we look at those? There's a quality of life aspect that sometimes we're our own enemies. We're trying to do things because we want to. Sometimes we force customers into them because I think they should have them. Again, we're looking for that balance that is hard to find. But I think there are several tools to allow our dealers to enjoy more of those things.
Ron: Two last questions for you. And I know I saw the comment. I'm just trying to scan here and find that it was from Michael, and he had made a comment not seeing it here immediately. But let's just talk demo. Let's say you have dealers. You have a thousand dealers. What is the demo gear that you guys have available for them for lighting and audio? And do they buy that, or can you describe the demo capabilities you empower your dealers with?
Franco: Yeah. One, we feel demos are critical, especially in the beginning. Now we all know there are dealers out there that really don't need to demo anything because our customers buy whatever they do, and they've got relationships and things like that. But we believe the demos are extremely powerful, especially when you're selling at a price point as we sell. We have lighting systems and what we make is what's called a bucket kit. But it's basically a kit that has everything in it where you can go and connect up within 15 minutes, 20 minutes, about a dozen fixtures. You do the customers' entry, maybe you do around their pool, or you do a feature tree or whatever it may be. You go, and you set it up during the day, you put it on a timer, comes on at night. Good idea to go back and visit that customer at night, move some things if they want, get it while they're excited, and then you tell them it's going to take it away, and they usually don't want to take it away, and they want you to have a lot more.
Seeing is believing. A little bit of a downside on lighting demos is there some work at night. Now generally, it's just that meeting with the client. Audio systems, we have those from a thousand dollars on up. Again, based on our plug-and-play system, they are extremely quick to set up and very predictable. You don't have all these connections or stuff you're dealing with. The close rate on a properly done audio system is a minimum of 95% percent. In most cases, that could be many thousands of dollars. But it'd probably take the number one demo that our customers get is. A three-hour deal is a three-way demo that retails for in the $10,000 range. We do not recommend that one that you asked your customers upfront for price budget, et cetera. You just play it back. Most people think you're going to get a couple of speakers on the wall, or maybe they're going to get a couple of landscape speakers, and you play it, and they just write you a check. To take it one step further, we have between us and our reps. There are five sprinter vans on the road that are fully decked out. Did you see our outward display is CEDIA?
Ron: I did.
Franco: They're pretty darn impressive. They're beautifully outfitted lighting and audio.
Ron: I was on Facebook today, Franco scrolling through my feed, and I saw one of your reps somewhere, but I watched the whole video on Facebook, and he was playing some beautiful acoustic music, but he was playing it. I want to say to your line, all of the speakers were arrayed in front of the Coastal Source branded van. It was a well-done demo, and it was being streamed on Facebook and is brilliant marketing.
Franco: We do that for dealers. We do it for training, and we also do it for dealers' customers. We pull up that to someone's own personal yard, and I think that's important. We also have demo programs for someone for their showroom outside. Some people put in their house outside. That's good. But when you bring it to the lighting or the audio to their home, they know there's no smoke and mirrors. This is what I'm going to get. It's a completely different ball game. I'll give you a parallel. Before we opened our design center, you didn't know us, a very state-of-the-art, eight to ten million dollar showroom. We had a very small, almost 2,000 square feet. We used to take customers to our job sites. We had this brilliant idea. The showrooms worked out very nicely, but it was a huge investment.
We said, "People are going to come to us, and we're going to show them everything, and it works." It is not the same, though, as us bringing our clients to another project where they know, and a lot of times, our clients will come out and talk to them. That client invested in it. That client's happy. They're not guinea pigs. We sell residential landscapes into the billions of dollars just in landscaping. If you lay out a plan and you show someone that there hasn't been experienced, that they're like, are you kidding? I wasn't born yesterday, but you bring them to a few people that have spent that kind of money and are happy with it. It's instant credibility, and as long as they have the bucks, their guard is down. Again, demoing on your client's property is the way to make sales. Just A lot of people will do a demo to produce and email to their customers. You need to visit your customer and produce and present that in person. People respect that. They see your investment. Often, I find dealers are very anxious to do the job and then just send it out. You need to follow through because of that little bit of a time investment of demoing at your customer's house. Going to meet with them, listening to them, presenting them in person, your close ratio will be off the charts compared to not doing those things.
Ron: It's brilliant. We have Eddie. He posted, "I think Restrepo works for Coastal." Restrepo's response was he's a happy dealer. Yeah. I think that's pretty awesome. Franco, we're at the time, and I know I personally learned so much. This has been awesome. How can the folks who are listening and watching this, if they want to meet you or learn more about Coastal Source, what are the next steps they should take? Definitely go to our website, contact our customer service people. I'm very accessible, pretty much all our team is. I'm primarily focused on R&D., But we have a full team of experts on technical. We only sell direct dealers. There is a dealer agreement, there is a demo requirement, but we're happy to share those things and share whatever we know. I've got to give one more. You got one more shout-out of love here. Jesse Silva says, "The staff is simply amazing.".
Franco: Thank you, Jesse.
Ron: Great job, Jesse. Franco. It was a pleasure having you on Automation Unplugged. Thank you for joining us.
Franco: Thank you for having me.
Ron: You are very welcome. Ladies and gentlemen, there you have it, the one and only Franco D'Ascanio. It's been a lot of fun for me to have known Franco for so many years. I knew he was big-time down in the Keys with D'Asign. Back in the day, I was his Crestron rep back in the early 2000s and then to see Coastal Source get launched and launched with lighting and audio from coast to coast. As marketers, we're doing integrators, marketing from websites, digital marketing. There is no doubt that Coastal Source is one of the fastest-growing and well-respected brands in the marketplace. We know that. I'm willing to say that because I see dealers telling me it needs to be on my website. It needs to be on my social media. It needs to be in my blogs and because they want to get the word out.
I've been chasing Franco for a little while to get them on the show. I'm glad we made that happen. Franco, I see you down there. Don't leave. But I'm going to sign off here. Then I'm going to wrap up with you. But folks, yeah. I appreciate the good words. Thank you, Tomas. Thank you, Michael. I'm going to sign off if you guys did not already know One Firefly. I haven't hit you guys with this one in a while. We are on Instagram. We've been on Instagram for about a year and a half now or so. And if you don't already follow us on Instagram, please do. Just look up One Firefly LLC, and you can find us. Often, we'll put quotes from our Automation Unplugged guest on there and lots of other good bits of fun information. Be sure to go over there and follow us. On that note, we've got a packed schedule of interviews for the coming months. If you want to be on the show, don't hesitate to reach out, and/or if you know someone you want me to have on the show, don't be shy. Reach out and let me know who you want. Drop it into the comments. My team will be sure to capture that. On that note, happy Cinco de Mayo, and I will see you all next time. Thanks so much.
SHOW NOTES:
Franco's interest and audio and electronics stem back to 18 when he opened a full-service, design-forward firm offering architecture, construction, interior design, landscape design, and retail furniture through D'Asign Source, partnering with his brothers. Today, Franco works with Coastal Source, a Marathon, FL-based company he also founded. Franco supports the Coastal Source team by leading research and development efforts as they continue to grow and scale their popular product lines.
Ron Callis is the CEO of One Firefly, LLC, a digital marketing agency based out of South Florida and creator of Automation Unplugged. Founded in 2007, One Firefly has quickly become the leading marketing firm specializing in integrated technology and security space. The One Firefly team works hard to create innovative solutions to help Integrators boost their online presence, such as the elite website solution Mercury Pro.
Resources and links from the interview:
To keep up with Franco, visit her website at coastalsource. Be sure to follow Coastal Source on Facebook and Twitter.
More Automation Unplugged
Want to stay up to date with the latest Automation Unplugged interviews? Head over to the One Firefly Facebook page and subscribe to receive a notification whenever Ron is live!