Home Automation Podcast Episode #180: An Industry Q&A With Steve Burke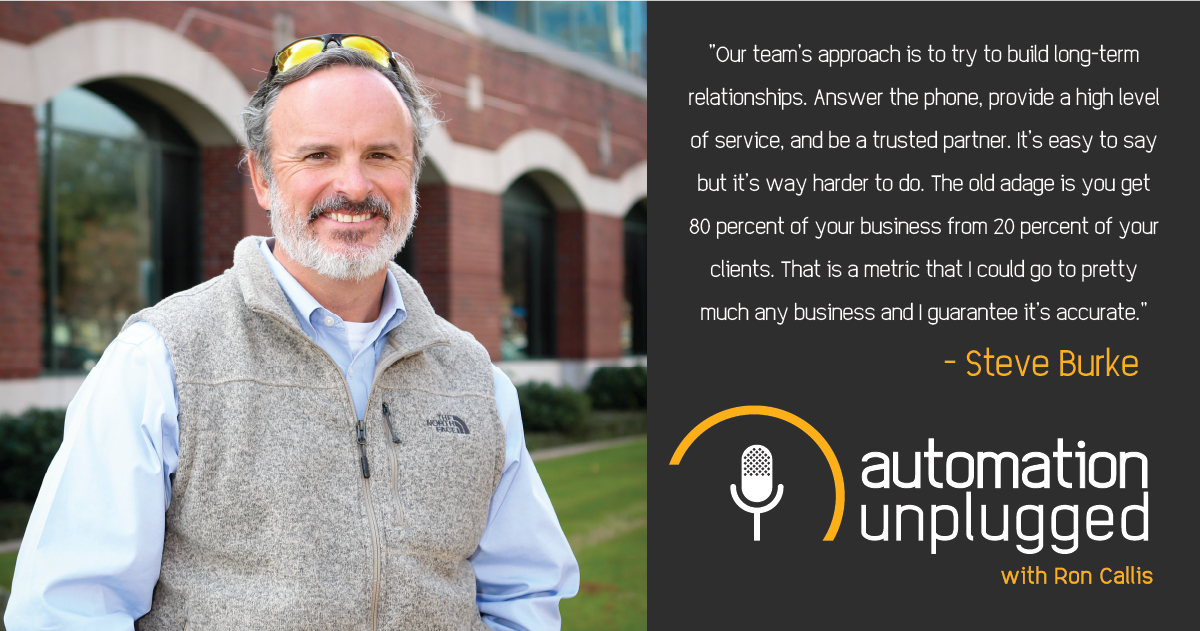 In this weeks home automation show of Automation Unplugged, Steve Burke, CEO at Texadia Systems shares his strategies for growth mindset and why Texadia serves both the commercial and residential markets.
This week's home automation podcast features our host Ron Callis interviewing Steve Burke. Recorded live on Wednesday, July 28th, 2021, at 12:30 p.m. EST.
About Steve Burke

Steve Burke is an entrepreneur dedicated to providing a high level of service to both the residential and commercial AV integration space. Steve has learned and grown throughout his 20+ career in the integration industry, including managing a large commercial integration firm prior to founding Texadia Systems in 2013. Texadia Systems was established to serve both the residential and commercial av markets with a focus on excellence and client satisfaction. Today, Texadia Systems has grown to over $10 million-plus in annual revenue and has been recognized in INC500 and CE Pro as one the fastest growing AV Integration firms in the US.
Interview Recap
The importance of taking care of your team and work culture
Steve's strategies for growth mindset
Why Texadia serves both the commercial and residential markets
Texadia's unique solution to the human resource limitations affecting the industry
SEE ALSO: Home Automation Podcast Episode #179 A Custom Integration Industry Q&A With Troy Morgan
Transcript
---
Ron: Hello. Here we go again. This is attempt number two, as technology did not cooperate. I have the one and only Steve Burke. Steve is the CEO of Texadia Systems. They are a Dallas-based residential and commercial technology integration firm. They are one of the fastest-growing firms in the business, and here we already have a fan. I'll put it on the screen, Chris Pruitt says, big fan of Steve. He runs a great organization in Dallas. First of all, Chris, thanks for tuning in. Yes, Steve does run a great company. I know that I've learned a lot from Steve in the years that I've known him. We're all going to learn a lot here because we will do it publicly in this forum. Without further ado, let's go ahead and bring in Steve, and we'll give this a shot. Steve, the second time's a charm.
Steve: Ron, I'm just so glad that neither one of us are very important that this isn't that big a deal, but if this was an earnings call. We might be in trouble.
Ron: We might. That is so true. Steve, let's give the foundation here, give our audience a little bit of an understanding. What what is Texadia? Who is Texadia? What's your role within the company?
Steve: Yeah, first of all, Ron, thank you very much for having me. It's an honor to be on here. I've been listening to and watching the podcast. I always get something out of it, listening to other entrepreneurs and other folks talk about how they do things and the opportunities and the challenges. I see. Thanks for having me a little bit about Texadia. We are a design-build, audio-visual integration firm. And I'm so glad that you said resi-mercial because I'm not resi-merical I am a commercial integrator that does residential and one of the few that my core competency is design-build on both sides. I'm comfortable in the space in both spaces. I built the business based on that model, and I've had success with both of those industries. There are a lot of things we can talk about that for three or four hours. But Texadia was started in 2013. I ran another integration company for 10 years. I was thankful for that opportunity but had the entrepreneurial spirit.
Ron: Steve, was that a residential operation, a commercial operation, maybe some perspective there?
Steve: Yeah, great question. It was a commercial group. We had started a residential group within the organization, and they had failed, and I was having success in Dallas, and I wanted to keep it going, and they did not. We parted ways. But, I knew the opportunity was there. This was coming out of town just post 2008. You could just start to see the change in the landscape and the houses being built. I don't think I forecasted everything that happened or would have gotten into the homebuilding business. But I did think that there was a place for technology within homes and personally was very interested in it and still am today.
Ron: Got it, so you in 2013 started Texadia. Now that name obviously is referring to the state of Texas. Are you Texas born and bred individual, or that you're definitely demonstrating your Texas pride there?
Steve: I am not, Ron. I was born in Montreal, Canada, and I had a buddy, so he called me a Texanaidian. Which I then transferred into the name of my fantasy football team. I had written my business plan, I had everything ready to go for my new company, and I couldn't come up with a name, and I had 40 or 50 things written down. And I just wrote down Texadia, and I said, you know what? I've got to pull the trigger, and I'm going for it. Here we are. We are Texadia.
Ron: Got it. Now, I know the answer to this because I asked you just before we went live. Still, I think it's fun for the audience if a lot of our listeners think about when they started their business, if their owner-operator, a lot of businesses have a slow and steady growth model where if they hit, making up some numbers here and obviously scale differently if it's residential or commercial. But maybe in year one, half a million dollars in revenue would be fantastic. In a year or two, we break a million dollars. You were on the cover, and this was my memory. I remember looking at one of our industry mags, and I think it was April, correct?
Steve: Yeah.
Ron: It was CE Pro. And I remember this company, Texadia, and they're doing millions of dollars. Maybe you could tell your ramp from launch to growth. What did that look like?
Steve: Yeah, I was fortunate. I had a non-compete agreement that I honored. I had a year to prepare. And I was fortunate that many of the team members that I built in Dallas came to work for me, and we hit the ground running. I think we did 2.8 our first year. We made a small acquisition on the residential side. I think by year two, we had done 5.4, and then we went to 6.2 two years three—rapid growth. But I had a tremendous amount of experience with me. People who know me, I don't think anybody is ever going to tell you I'm the sharpest guy in the world, but I think my strength is surrounding myself with incredibly smart people. I really focus on that part of the business. I know what I'm good at, and that's finding business. And then I need people who are smarter than me to go out there and make it work. That's how we build Texada. It wasn't me. It was a collection of people who worked really hard and did great work.
Ron: You guys came out of the gate firing on all cylinders and growing rapidly. We in the world, yourself included and me and all those listening we've been through on some occasions, hell and back the last twenty-four months. How has that been for Texadia?
Steve: Let me take a deep breath. I answer that question is. My first answer to that question is we're still here. The second part of that question is, is that we are stronger or smarter. I think we're tougher. We talked about it earlier. All the things you learn from failure. It was rough. We were fortunate with the PPP. But the residential business has been booming. My commercial is just now starting to open up, and I expect Q4 and 2022 to be a huge year for us. Just a ton of projects that we see coming up on the horizon. It was painful, and I think it was painful for a lot of people. I just made a huge investment in my office, took on 15,000 square feet, was forecasting 20-25% percent growth. We were just trying to sustain. We're very fortunate that we've got some very big relationships, strong relationships with billion-dollar organizations. We're really good once we get in with a customer of keeping them. We do a good job of that. That really helped bring us through. Then residentially, it was nuts just trying to keep up with that. We've been really fortunate, and we're excited about what's coming up.
Ron: Is resi still nuts? Do you primarily work in the Dallas Smart Dallas Fort Worth market, or do you travel around Texas or outside Texas?
Steve: I use this great company, One Firefly. Not sure if you're familiar with them, but they've actually generated a lead for me in Austin. Really nice one. But I decided we weren't going to do it. Residentially, we're going to stay within a couple of hundred miles. Well, Austin's one hundred eighty but really one hundred miles. And I did send that lead to the person on your show last week, Mr. Pearson. I hope he gets some success with that.
Ron: No way, that's great.
Steve: Absolutely. But commercially, I'm doing work all over the country. With the relationships that we've built, they know our teams, we know their processes, and we get asked to travel. We're wrapping up a project in Tempe. We'll be heading down to Houston a couple of weeks, and there's plenty of work to do here in Dallas. It's an interesting time for us.
Ron: You said the commercial is starting to open up. What type of projects is opening up? I know people listening are in different parts of North America, and they're in different parts of the world. Their experience may not be matching yours. Yeah, but what do you see change?
Steve: We're fortunate that we are in a great state of Texas, and it's a very friendly working state. For people looking at making commercial real estate moves in the first quarter of 2020, the pause button was hit. If you think the world's going to go back to some sense of normalcy and you're a big company, are you really going to train a millennial over video conferencing while they're at home? The answer is no. You might have a hybrid, but you need to have space. They're starting to look at opening up space. My personal belief is they're going to get more space and maybe open up cubicles a little bit and have more room so that we're not people aren't jammed on top of each other, which was the old model. But if you're a cultured person and you want to build a culture, you've got to be with people. I sell video conferencing systems for a living. I know how effective they are. I know how great they are for having one-off meetings and talking to people or being able to do stuff remotely. It's incredible, and it's great. But it doesn't be being able to walk out of your door, go down to the engineering department and say, hey, guys, you have a few minutes for me to go over this project.
That is opening up. When somebody relocates their office and moves from 25,000 square feet to 50,000 square feet, that's structured cabling, security access control, 15 to 20 hotel rooms, conference rooms, boardrooms, trading rooms, etc. Cetera. That is opening up again. Then you can add in hotels, which is going to be ramping up. You talked about Infocom and CEDIA. People want to get back to interacting with human beings. I know I do. I know you do. And I think the rest of the world does, too.
Ron: I completely agree. I'm praying and hoping that the Delta doesn't go too bananas and take us off course this fall. I'm putting that out there. It's getting a little wonky out there. But, for now, we're staying the course. We're looking forward to seeing you and your team and our other friends and folks around the industry here real soon. You mentioned culture, and you commented that culture is easier to build when you're face to face. What is the culture at Texadia? What was it before the pandemic, and is it different now? Is there anything that's changed?
"Be the bar. One of our techs yesterday, a client, went out of their way and wrote an incredibly nice note to us, thanking us for our efforts and how much she enjoyed working with our company. That's what we're trying to get everybody in the organization to focus on."
Steve: I don't want to say things changed. For me, it's become even more important if you look at just the ability to get resources for all of us is very difficult. I just think it's important to let people know that you care, show that you care, and then set an expectation that you want to be the best as an organization. Right. For us, we call it the bar, be the bar. Right. One of our techs yesterday, a client, went out of their way and wrote an incredibly nice note to us, thanking us for our efforts and how much she enjoyed working with our company. That, to me, is what it's all about. J.D. just demonstrated his passion and his commitment to being excellent. That's what we're trying to get everybody in the organization to focus on.
Ron: Any ideas or practices that you'd be willing to share with those listening about getting your team aligned around that? You said, "We strive for excellence, and we call it the bar." Any methods, meeting practices, or ongoing activities from you down through leadership, down through the company, or inversely that you think to lead to a company having better alignment around what I'll call the mission and the core values?
"One of the things we strive for in leadership is setting one-on-one meetings and just having a talk. What's working, what's not. How are the people doing below you? Are they worn out, or are they burned out, or are they excited? We can address issues that way, reaffirm our core values, and then get back on track."
Steve: I think it's the hardest part because there are so many assumptions that the message is getting put out there and that everybody gets it and is doing it. I'm guilty of that. I'm guilty of that with my sales folks. I'm guilty of that with my operations folks. One of the things we strive for in leadership is setting one-on-one meetings and just having a talk. What's working, what's not. How are the people doing below you? Are they worn out, or are they burned out, or are they excited? We can address issues that way, reaffirm our core values, and then get back on track. It's so easy whether you have a personal issue, you have a bad day. Everybody, every one of us, has had that. And you've got to pick yourself up. But when you show up to work, we want to get we want you're right. Going back to the sports analogy we discussed earlier, we're a team, and it's not about me. It's not about you. It's about us. How do we work together? How can I help you be successful? How can I put you in a safe environment where you want to perform and do your best? We're not perfect at it by any means, but it's what we strive for from a leadership standpoint. I really feel that the people that are driving do a really good job for us.
Ron: I've heard you say once or twice with me and in our various meetings, and you said the statement, that Ron, what is it? Second place is the first loser. By the way, I've been known to say that once or twice as well. My son is 12, and he's been known to say that once or twice. But all jokes aside, you made a really profound argument about why it has to be that way, and you made it about jobs. Do you want to maybe expound on what was a proposal on the street?
Steve: Absolutely. We could go bid on 50 projects and come in second place on every one of them, and then we have no revenue coming in. I'm not able to provide benefits for my people. I have to let people go. I'm not able to compensate people the way I want to compensate them. I'm not able to have this deliverable that I want to be exceptional. You've got to wake up every day and come in with a mindset that you're going to do your absolute best to win. You may not win, right. But you've got to have the mindset that you want to compete and that it's the real world. We've got some really, really strong competitors out in the marketplace. It's incredibly competitive. What do you do to differentiate? What's your follow-up? How long does it take you to reply to people? All these little things that go through a sales process and a deliverable process can make people say, man, that was a great experience working with Texadia. I can't wait to tell my friends or go shout it out on the Internet?
"My dad was not of the generation where everyone gets a participation award, not in his DNA. That's not when he grew up. That was ingrained in me as well. Many that know me well, know that I'm a very competitive person. I love competition. I love the sport of competition."
Ron: Yeah, now that makes sense. And I love that. I think it was ingrained in me even as a child. My dad would lovingly joke with me. You realize the second place is the first loser. My dad was not of the generation where everyone gets a participation award, not in his DNA. That's not when he grew up. And that was ingrained in me as well. You know, and many that know me well, I'm a very competitive person. I love competition. I love the sport of competition.
Steve: But that's what it's all about. Right? That's what we're here to do every day. And I can tell you from an early age. I never like to lose. Even though my development as a salesperson, like I would be in a bad mood for a couple of days after a loss and see with my salespeople and they get upset, and I'm like, go take the day off, go out a couple of beers, do whatever it is and then let it go. Because yesterday is gone, we got to get focused on people who want to work with us and how we can generate revenue with somebody else. I wish we were at one hundred percent on our close rate, but that's not reality. Going back to your mindset, you've got to be competitive. You got to want to win. You've got to want to put in the work, and you're going to see results. That's what it's all about. It's just a true sports metaphor, no matter which way you look at it.
Ron: I mentioned it last week when I interviewed our friend in Austin, Chris, and his amazing company. Anyone should tune in to show 179. I want to say I mentioned it there, but now you're making me think of mentioning it again. I just finished the book called Winning Goodness. I'm going to flip to my phone here because I'm going to mess up his last name, and I don't want to do that by Tim Grover. Tim Grover, Winning. Steve, have you read that book?
Steve: I haven't, but it's going to be next on my list.
Ron: It's fantastic. He was Michael Jordan and Kobe Bryant's trainer, and he just got into the psychology and across the sports world, the business world of the most elite performers on planet Earth. He's been their coach and trainer and just some really neat, profound takeaways. You would, I'm sure, would love it. You don't need it that you probably would relate to a lot of the delivered messages.
Steve: Ron, that's the whole thing, right, with development. You think you know everything. I forget 90 percent of the things that I look at. You've got to be trying to improve your game constantly. Whether it's a book or a podcast, I get a lot out of just listening to the folks on your show because I relate to them really well. It's interesting because we all face the same challenges. We might handle them differently. But at the end of the day, we're all competing.
"We're not all recreating the wheel. Many of the problems, people problems, H.R. problems, sales problems, marketing problems, operations problems, finance problems, scaling problems, economic problems, micro-economy, macroeconomy. We're all in the same battle. There's just so much we can learn from each other."
Ron: Yeah. Now, I appreciate that. I do this show for you and your peers in the industry. I obviously love doing it, and I love learning, and I similarly consume content. A similar format, but for marketing agency owners and for entrepreneurs like I can't get enough of these other perspectives because we're not all recreating the wheel. Many of the problems, people problems, H.R. problems, sales problems, marketing problems, operations problems, finance problems, scaling problems, economic problems, micro-economy, macroeconomy. We're all in the same battle. There's just so much we can learn from each other. That's on that theme of learning. By the way, I'm acknowledging I'm getting lots of comments over here. Let me give Mario a shout. He says, "Yes, Montreal." Thank you, Mario. Thanks for tuning in. We have our long-time listener, Tomas, tuning in from Panama. Thank you, sir. Thank you to everyone else. I have Maggie and Wes and Angel. They've tuned in. Thanks, folks. I'm going to go back in time again only because I occasionally come up in industry talk. I know that you and I have both gone through this, and there might be a lesson or lesson for you that would be beneficial. You made an acquisition early at the inception of your business, and in that process, we don't have to get into anything that's not appropriate. But what went well in that process, and what are some lessons learned that others might benefit from?
Steve: Yeah, what went well was, we had two guys that worked for me that were really good revenue generators, aggressive, young, hungry. What went wrong from my perspective was I didn't put an operating agreement in place. At some point with a multimillion-dollar pipeline, they said, "Hey, we're going to go do it on our own." I was left with no recourse.
Ron: Let's slow down there. Let's pull on that thread. You didn't put an operating agreement? Now knowing what you know, what is an operating agreement, and if it had been done "properly," what would you have done?
Steve: Yeah, so an operating agreement is really just kind of the rules of engagement for the purchase and the departure. Right. You're putting in all the potential things that you can think of that may happen, and you may miss something, but the more you have in there, the clearer it will be when you choose to part ways. It's really a legal document that outlines that and gives you the ability to hold the other party accountable if they don't follow that process, which happens quite often.
Ron: Steve, that sounds very expensive. You're going to have to pay lawyers thousands of dollars and take many of your hours and many of the other parties' hours. Can't you just do a deal and wing it and figure it out? Paul Starkey, the one and only, just tuned in, gave us an attaboy, and told us to keep doing so. We're going to do that. Paul? Thank you, sir, for the concept of doing, buying, or selling a business. I've heard many people complain that lawyers are expensive and that all the time and difficult questions, it's hard to schedule and take the time to do all of that. What's your strong argument as to that? Doesn't matter. You still need to do it.
Steve: I would say that it'll be the best money you ever spend. There are so many different things that can happen from an acquisition standpoint, stuff you can't even think about, and you don't know when it's going to happen. To have a tight operating agreement that says, "Hey, this is the rules." Whoever wants to end the relationship, you know, is it worth 50 grand, and you're buying a two million dollar business? It's worth one hundred grand is worth one hundred and fifty.
Ron: Don't tell too many lawyers, Steve. They might hear you in raising their price.
Steve: But it goes back to, how much time are you going to waste chasing this or what do you have the possibility of losing? Right. It's just really important. I encourage anybody who goes through that acquisition to find a good lawyer, vet them, and make sure that somebody will take care of you.
Ron: No, I completely agree. That's sound advice. Paul is a tuned-in from Vital Management. They're doing lots of coaching and grooming of businesses and lots of what might become future acquisitions. I think that is very sound advice, Steve. Now, in terms of back to the idea of lessons learned, are there any particular books or podcasts or blogs or any coaches or are there things that you tune in to, Steve, that are top of mind for you in terms of sources of content or education and or that you find yourself when you're networking say, with your friends, NHTSA or at Infocom, that you pass on to them and say, hey, this thing was really helpful?
Steve: I don't really have anybody that I can just say, "Hey, Ron Callis is the guy I follow in this way, I get all my stuff from. But, LinkedIn is a great source of different information and different perspectives. From a podcast perspective, "How I Built This" is one that I love.
Ron: I love the "How I Built This" podcast. Big fan of that show.
Steve: But when you hear about a couple that built Cisco Systems and sold it for nothing, but they're both happy, and it's very interesting. I get inspiration from that kind of people as well as just kind of interacting with them. When I go, I'll be coming into Indianapolis for NHTSA. There are many entrepreneurs there that you get to spend time with and listen to and learn from. I'm a very interested person in other people's journeys and other people's successes. I'm not very comfortable talking about my own, but I am interested in listening to what made somebody jump. What was the push for them to get them to start their own business? Because a lot of people talk about it. Very few actually do it.
Ron: I'd often say when you hear of the success stories of these businesses, or maybe there's a sale, or you hear of some industry leader that that goes on stage and talks about their success is what often is not part of the conversation, is all the pain and challenges and lessons that have been purchased along the way. There's a reason, not many. You've grown to a ten-million-dollar business. There are not many businesses in America, maybe globally, that have grown to be ten million dollars. You're a very rare air when you've achieved that.
Steve: Yeah. When you're not sure how you will make payroll, it's hard to go to bed. I'm very fortunate that my right-hand woman, Donna, who you're very familiar with, but she takes care of that, and we've never missed payroll. We pay our bills on time. Little things that help you sleep at night or help me sleep at night are things you have to do within your business. It's constantly evolving. If you got sick, you got to weigh up. You think you're doing great. And then all of a sudden, you're like, what just happened? Reset. OK, here we go. It's hard. It's exciting. It's difficult. It's challenging, and it's rewarding. There's a lot of things you go through. But at the end of the day, I just want to make sure that we're taking care of our people and that day that they're proud to work at Texadia.
Ron: Amen. What's your opinion of traction and the EOS philosophy? I know that there are more and more implementors serving or attempting to serve the commercial space. We are an EOS business. We adopted that philosophy, many of their philosophies, a couple of years ago. I know you've read the book Traction. What's your opinion on that stuff?
Steve: It's a way to set internal goals and measure them. Right. It's a hold yourself accountable book for how you operate your business. For me, I am a busy sales yes guy, right. I am driving revenue. Absolutely. We can get it done. And then I come back, and they're like, we're up for six weeks. Are you nuts? I'm like. We'll figure it out. What you learn as you grow a business is the importance of process. If you want to scale a business, you can't wing it because you'll get exposed, especially on a commercial job. Yeah, we're running behind. We're the last guy in on a project, OK? Yeah, we're two weeks out. Well, I've got you scheduled here. I don't have time in two weeks to figure it out. Even if you just take a couple of things right from a kickoff meeting to how you start a project to sharing information within the team to drawing's to the expectation of the deliverable programming client sign off. What are you doing? How do you do it, and what does that client experience? For us, I wish we were better at it. I wish I could snap my fingers, and we'd be perfect. It's just it's constantly evolving for us.
Ron: Got it. No, that makes sense. This is a topic that I've been working on here in my business, and so it's of particular interest personally. I find myself asking a lot of the business owners about the success of the more successful business owners, what they do in this regard. What is your cadence or methodology around meetings? What types of meetings do you have? Do you critique or challenge yourself to say, are these meetings really necessary? I.e., how do you have only the right amount of meetings that are high-performance meetings? Effective without wasting time?
Steve: It's one of the reasons I started my business. I was so frustrated with the meetings that I would go to. I was like, what's the point? What are we doing here? One of my biggest pet peeves is a vendor who comes in and wants 90 minutes to tell me how television operates. I know what it does. I know how it works. What do I need to know about selling it? You want to take up 90 minutes of seven people on my team's time, OK, you want to pay me 10 grand for that time? I set limits when I have vendors, and they come in for lunch and buy us lunch. I'm killing two birds with one stone. I want to respect those guys because they are very important partners for us. But internally, I don't like people that make a 30-minute meeting last an hour. We have a great meeting room in our space. We built them out for our clients to see. But have a purpose, have a point going back to planes, trains, and automobiles, it's so much more enjoyable for the listener and respect other people's time. That really is what I see that goes on with meetings. You can ask some of my sales guys. When I hit my threshold with a vendor, I just leave. That's how I let them know that they're over their time.
Ron: What's an example? You can name them or not, but it could be the person or the brand of a meeting or a vendor. Maybe they've systematized it through their company of someone that you think really does an amazing job of delivering the valuable information and the right amount of time. They do that month in, month out, quarter and quarter out. Does anyone that resonates with you is really hit and triples or home runs with you and your team regularly?
Ron: Not to through anyone under the bus, but is there anyone that we could allot and say, man, I really like I really value and appreciate the method of what they do, or is everyone on the border of being OK?
Steve: I don't want to say any specific vendors, but some groups come in, and we don't need to see the PowerPoint. Right, I know what surveillance does. I know what a transmitter-receiver does. I know what a switcher does. Let's talk about how it's going to value our clients and get to know when we get to know each other and build relationships to where my salespeople know they can call you if they've got an issue or a challenge with a design. If it's a new technology we haven't seen, it is highly unlikely, but maybe Crestron is coming out with a new product and a new launch. Sure. We're going to take a look at it. We want to understand the value of the marketplace and do that. Video conferencing cameras. 4K, pan tilt zoom. Where are we going to go after that? It's just a matter of they got a job to do. I understand that.
Ron: But be efficient, be mindful. These are great listening tips. Suppose there are any manufacturers or vendors, by the way. I've been working with you and Donna for several years now, and I know if I'm going into a meeting, I'd better be prepared with one. What point I'm there to make and I'm going to deliver it. I'm going to field the questions, and then we're going to part.
Steve: Ron, it doesn't help that I'm off the charts ADD, and I lose interest right away, right. Suppose it's not interesting to me. Every time we get together and we kind of have a focus, we get to it, and we achieve what we're trying to do. And we've been doing a lot of work together and really looking forward to the result of it.
Ron: Amen, I appreciate that. How are you going to continue growing? What sort of technologies, whether that's verticals or technology solutions you, Steve Burke, really excited about the future?
Steve: To me, we're probably eating two of the Internet of things, just the impact of the network on the home and the calls we get of the wires saying, I can't get this to work, I'm trying to do this. My kids are playing Xbox. I'm like, you know, why don't you call Amazon Tech support and get them to help you? Because that's where you bought the products. They're like, what do you mean? I'm like, I'm a professional integrator. We build custom networks. We put our name behind them. We manage them. We manage the technology we put in. That, to me, is just going to continue to grow. Right. As you look at the control of lighting, led lighting shades, when does a transition happen? It's insane with all the legacy technology out there, and you're trying to get it to work commercially with how we present our business. It's about service and support. At the end of the day, I've got many structured cabling companies like electrical contractors that are bidding and projects that come in. They do them, and then they disappear because they don't know how to service and maintain. They're not interested in servicing and maintaining. They're interested in moving on to the next big project.
My approach and our team's approach is to build long-term relationships, answer the phone, provide a high level of service and be a trusted partner. It's easy to say it's way harder to do. But the adage is you get 80 percent of your business from 20 percent of your clients. That is a metric that I could go to pretty much any business, and I guarantee it's accurate. How do you focus on taking care of the people that you have gone out and built? That's part one. Part two is I've hired a group out of Florida to help me with my search engine optimization, and we are rebuilding our website. We are rebuilding our presence on Google. You may know this One Firefly, but I want Google to be the top salesperson at Texadia Systems. I want you to find Texadia if you are trying to build a new house or are looking at upgrading your boardroom, and you have horrendous sound, and you don't know about echo cancellation or acoustic treatments. There are all these different avenues with how the world is evolving and changing. 2021, where will we be in 2023? 2025? It's a combination of all these things and then having a technical strong sales force that can come in and do a consultative needs analysis to our clients and solve their problems. Know that's the long answer to that, Ron. But I'm excited about all these opportunities that come in. And I'll give you an example.
We had one come in six weeks ago, and I thought it was a service issue. I sent it to my service team as a Legacy Lutron system. We sold it for $9,000 and then just sent him a quote for $85,000 to redo the whole thing. Eighty-five grand. He thought that it was just a small system. You never know. You've got to keep pushing those buttons and going through all the different sales channels that are out there and position your business right. Marketing is incredibly important, and you got to do it. You've got to get it to the right audience at the right time.
Ron: Looking at service and the idea of I don't want to formalize it overly, but I'll say maintenance agreements, or it could be service philosophy from your company to your customers. The idea is if you put that into a contract or something formal that they agreed to, maybe they pay something monthly. What have you learned from your experience, your multi-decade experience running that in the commercial world? Are there practices that have transitioned effectively to the residential world that have made you better positioned to serve your customers?
Steve: Well, we're still old school, and we don't outsource our service. Right. It's all internal. We've evaluated it. We'll continue to evaluate it. I think it's a great idea on paper. Still, we build relationships with people through our service department, and I am hesitant to give up those relationships on the commercial side. It's one of those big challenges, right? We got a client, we did a four hundred thousand dollar project a year and a half ago, and the guy's like, I have no interest in video conferencing. OK, but we're going to run an extra CAT6 just in case you change your mind. In June, he's like, "Hey, can we get video conferencing in?" "Yeah, you're ready to roll. We actually ran the cable." We have a service and maintenance contract with that person. It's some stickiness to the client. If you really want to manage a service contract appropriately due to your service visits, document your service visits, document the service calls, and showcase the value that you brought the client before for a large commercial real estate company that has buildings all over the country, they don't want to manage these conference rooms. They put them in, and they're like, "Who's got it?" Nobody really wants to. Nobody has that expertise. What we've done is help them standardize on equipment. Let's get the same products in every conference room so that the end-users know how to use them.
Then let's come up with a service agreement with how we do it. One of the things that we do in the idea that is a huge differentiator for us is any time somebody comes to your house, comes to your business, talks to you, you're going to get a report with pictures of what we did or what we're going to do or what challenges we ran into. It's one of our core values. It's communication. It's one of the hardest things to do with people effectively. It's very hard.
Ron: Easy to say, hard to do. But you just look at an email, right. And somebody takes it in a harsh tone and gets upset. No, I didn't intend it that way. You want to give everybody going back to giving everybody the chance to be successful. But communicating those things with your client really ensures success and ultimately can help you build a long-term relationship. If that's what we strive for, we're not a one-and-done man. We want to be with you till you sell or you're no longer in business.
Ron: To pull the thread on that to be specific or granular if you're willing to share. I'll just take it residential and commercial on residential. When you're doing this, all of your residential customers get offered a service plan, and do they sign up for something, some level of service? And if so, does it happen upfront or at the end of the sale?
Steve: Yeah, we're actually working through that. Going back to when I assume that all my salespeople have that in there and that they're positioning that within that, I found out that that wasn't the case, that we're scared of it. I didn't want to lose the deal; I didn't see the value. Now it's part of our proposal process that it's included. You should have that discussion when you have the proposal with the client. It's a very thin line to walk, not to give a client service. I constantly try to tell people that you pay two hundred bucks a month to have your pool cleaned. You pay three hundred bucks to have your lawn mowed. Is your Internet or your technology for your business important to you? It is?
Help me help you because I hire great people to help the service maintain it. I train them. We constantly want to respond to their needs efficiently, and I can't do that for free. If it's important to you, then here's the opportunity, and here's how you can do it. And what's amazing is, is a lot of people do get it right. You would think that many people, we still get some no's and they call us, and you're like, yeah, we can be there. Right now, it's 10 days. Right. Which is insane.
But that's the labor market for us. But if you have a service contract with us, we're probably going to pull a tech off and get somebody over there. And I'll probably pay that check overtime to make sure that I get that client taken care of because you're going to prioritize that kind of commitment to us that they want to pay for that service. And I want to meet that expectation.
Ron: I'm mindful of time. I just want to connect the dots there. Is there anything different there related to commercial, or is what you just described similar or analogous as to how you think about or manage the commercial side and service?
Steve: The commercial side is much different in that the businesses operate from 8 to 5. And there's nothing worse for a client who's watching the last episode of Game of Thrones, and the TV goes off and 9:00. Do we need to do an Apple reboot remotely with those? I would say it's easier on the commercial side and for the publicly traded clients that have to do earnings calls. Hey, can we come and do a full systems test the day before, please? Right. Let's go through it, make sure you're comfortable. And if I need to have somebody onsite for that call, just to make sure, let's do that. It goes back to defining those expectations within the client and whether they have the resources or need us to help them.
Ron: Makes sense. You mentioned the word labor, and you and most of the folks listening are certainly, if they're in the United States, are very busy right now, particularly if they have a residential division. Residential right now has been and commercials ramping up. How are you guys managing the concept of growth while you have a bandwidth restrictor in people yet? Do you have an answer, or at least the way that you're thinking about it? Because I know it's a lot of the conversations that I'm personally having with people.
You've got to get outside the box, right? You've got to look at different types of industries to bring in people. From our perspective, when we bring somebody in if you want to be a technician at Texadia, you must have attention to detail. If I were to go and apply to be a technician at Texadia, I would not get the job because that's not who I am or what I am. I'm a big picture guy, and we were one hundred miles an hour. Investing in training, and you're going to swing and miss. That's really just a mantra for business. But you got to keep swinging. We've had a couple of people in this week from different industries interested in making that transition. We're going to make them an offer, then we're going to train them, and we're going to invest. Are we going to be successful? I don't know. But being in Texas, we are fortunate that people are calling us as well, saying, "Hey, I'm a Crestron programmer. Do you have any work for me ?" Yeah, we do. We'd love to talk to you. Maybe if I was started another company back and in 13, it might have been AV recruiting now because I get calls from those people every day. It goes back to why you've got to take care of your people.
Ron: What I heard you tell me is that you're pulling in people from outside the industry. You're looking at the type of people you want within the given skill set needed for the role in your company. You and your team are going out and soliciting and, in fact, looking at people that maybe don't have all the training to do the job, but they're the type of people you want doing the job.
Steve: Well, I just hired a sales guy with absolutely no AV experience, an electrical engineer from Texas A&M, smarter guys you're going to find. But a guy who has been making sales for twenty-five plus years, knows the process, knows how to meet people. And I can teach him AV. I don't have to teach him the sales process. I don't have to teach him how to take care of people and drive a sales cycle. It's a risk. Absolutely. Is there a chance I'm willing to take? I did, and I'm excited about it. I really feel like I'm going to be successful with it.
Ron: I think that's brilliant, and I don't hear enough of that. Frankly, our industry has an opportunity to step up and bring in outside talent and train them up, hire great people and bring them into our space. That's definitely what we practice here at One Firefly. And it sounds like that's what you guys do as well. That's maybe one of the many reasons you guys are so successful. Steve, it's been an hour, my friend. For those that are listening or watching and want to learn more from you and or Texadia, what would be the best ways for them to reach you or to get a contact?
Steve: This email address is being protected from spambots. You need JavaScript enabled to view it. or www.texadiasystems.com. We've got a great form you can fill out and come straight to me, and somebody will call you within an hour, I can assure you. Thank you very much for having me on. It's great talking business with you and just fun to be with you.
Ron: Thank you, Steve. You are welcome, my friend. Thank you for coming to the show, and we'll definitely be talking to you soon.
Steve: Alright. Thanks, Ron.
Ron: Alright, folks, there you have it, the one and only Steve Burke, CEO of Texadia Systems. He had a long career running a commercial integration firm and then, in 2013, went out on his own and launched the business that we all know now is Texadia. And it's really inspiring to look at their growth and really what they've become in their marketplace. Really neat business. I've enjoyed my team, and I have enjoyed getting to know Donna and Steve and the team over there. On that note, folks, we got lots more shows scheduled. Actually, I was just working with my team earlier this week on our scheduling, and we have really a packed schedule of guests for the months into the future here. Definitely stay tuned.
If you have not already done so, I'll put our podcast where you can just go to your favorite podcast software and search for Automation Unplugged. You can subscribe. And that way, you get all of the weekly shows in that format. And on that note, I am going to sign off. I'm going to thank you all. I do see a closing comment here with Paul. I'll go and put you on the screen here, Paul. Paul says, "Thanks, Steve. Agree to find net new talent is our number one growth issue." Paul, you know that I completely agree with you in that regard. Thanks for that comment. Folks, if you want to contact my team or me, definitely reach out, visit our website or give us a call. Hopefully, here in the coming months, I'll see many of you in person live at one of the upcoming many trade shows. On that note, I'm going to sign off and thank you all so much. See you next time.
SHOW NOTES:
Steve has learned and grown throughout his 20+ career in the integration industry, including managing a large commercial integration firm before founding Texadia Systems in 2013. Texadia Systems was established to serve both the residential and commercial av markets, focusing on excellence and client satisfaction. Today, Texadia Systems has grown to over $10 million-plus in annual revenue and has been recognized in INC500 and CE Pro as one the fastest growing AV Integration firms in the US.
Ron Callis is the CEO of One Firefly, LLC, a digital marketing agency based out of South Florida and creator of Automation Unplugged. Founded in 2007, One Firefly has quickly become the leading marketing firm specializing in integrated technology and security. The One Firefly team works hard to create innovative solutions to help Integrators boost their online presence, such as the elite website solution Mercury Pro.
Resources and links from the interview:
To keep up with Steve, visit Texadia System's website at texadiasystems or email Steve at This email address is being protected from spambots. You need JavaScript enabled to view it.. Be sure to follow Texadia Systems on Facebook and LinkedIn.