Home Automation Unplugged Episode #196: An Industry Q&A with Brenna Basden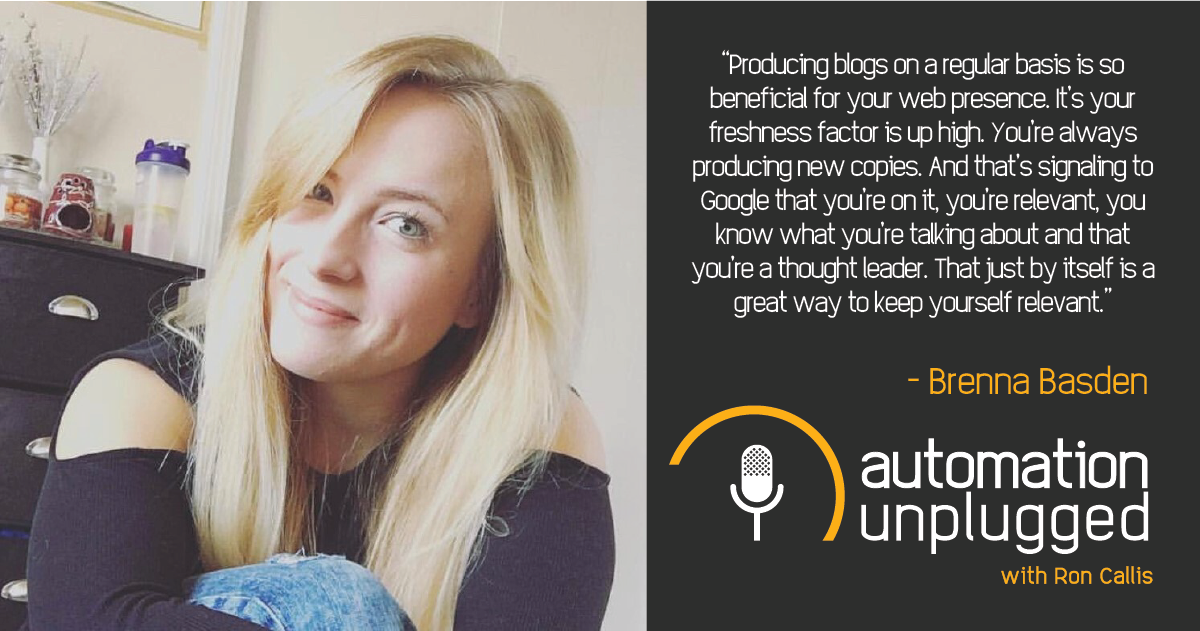 In this weeks home automation show of Automation Unplugged, Brenna Basden, Copywriter and SEO Specialist at One Firefly shares trends in copywriting and SEO it's role within a website.
This week's home automation podcast features our host Ron Callis interviewing Brenna Basden. Recorded live on Friday, December 10th, 2021, at 12:00 p.m. EST.
About Brenna Basden

Brenna Basden graduated magna cum laude from the University of North Texas in 2014 with a Bachelor's in English Literature and Certificate in Technical Writing. After college and spending some time as an assistant manager in retail, Brenna moved into a marketing position for an oil & gas company in Houston, TX, where she wore many hats in marketing for a few years. In 2018, she left the oil & gas industry, moved to Austin, TX, and started her journey as a content writer at One Firefly. In early 2019 Brenna joined the product development team working on the copy for One Firefly's award winning Mercury Pro website solution for integrators. In 2021, Brenna was promoted to SEO Specialist at One Firefly, where she now lead our SEO strategy and team. Outside One Firefly, Brenna is a cat lover, enjoys all things fitness and is a music fanatic.
Interview Recap
The role of a copywriter and their impact in marketing
Trends in copywriting and SEO it's role within a website
SEO bad practices to avoid.
Fitness trends and their health benefits
SEE ALSO: Home Automation Podcast Episode #195 An Industry Q&A With Bill Simpkins
Transcript
Ron: Hello, this is Ron Callis. We are here for another episode of Automation Unplugged, and we are coming to you on a unique day; we're coming to you on a Friday and from a unique time. So it is Friday; I hope you all have a cool, exciting and hopefully relaxing weekend planned. I know that for me, this is Science Olympiad season. So for all my parents out there that have kids in middle school and high school, you know what that is. Science Olympiad is a sport that schools compete in; there's 25 different categories of science and engineering, and math. My wife volunteered me to be the Science Olympiad build coach. So I've had kids on Zoom in the evenings after work, and then on the weekends, they were building stuff, and we're building catapults and trebuchet days and musical instruments and Rube Goldberg machines and all sorts of craziness. So that's what's coming up on my weekend. And the honest truth is, I'm looking forward to it. That stuff's a lot of fun for me. But you are not here to listen to me. You're here to listen to our guest. So today, for Show 196, we have one of our own One Firefly teammates, Brenna Basden. She's a content writer, and she recently moved into a position here at One Firefly as an SEO specialist. We're going to be talking, of course, about Brenna's background and her career before One Firefly. But we're also going to dig into writing and content creation and SEO. And all of those hairy subjects that I know, many of you know that you need to do, but you don't always find the time to do. So we're going to gain some wisdom by talking to Brenna. So without further ado, let's go ahead and bring her in. Brenna, we finally made it happen despite all of our technical snafus.
Brenna: We did. I'm so honored to be a part of Automation Unplugged alongside so many industry elites and even some of our other One Firefly peers. This is really exciting.
Ron: So, Brenna, why don't you tell our audience, How long have we've been trying to actually do this? What happened in our last attempt at going live?
Brenna: Well, we attempted to do this last Tuesday and we had some issues with the software. That's how it goes sometimes, and you roll with what you can. We decided the best decision was just to reschedule. That's what we did and here we are.
Ron: And it almost blew up on us 10 minutes ago, but we pushed forward here we are.
Brenna: Oh man, it did. What can you do?
Ron: What can you do? You just keep a smile and keep pushing forward. Brenna, What does it mean to be a content writer and an SEO specialist at One Firefly? What do you do?
Brenna: Well, what I do currently, I guess I'll back up a little bit. I joined the One Firefly team in 2018, and I had come to the company with a couple of years under my belt, working in marketing for a small oil and gas technology company in Houston. And that was my first experience in marketing. I wore hundreds of hats. We all know marketing involves so many hats, and I was wearing all of them over there, which was great. But at the same time, because I was new, I was kind of becoming this quote "jack of all trades, but master of None" type of situation. And I really wanted to dive into content writing because that was what I was good at. That's where my background was. And so I moved. That's what led me to One Firefly. So in 2018, I started as a content writer here, and it has been a wild three and a half years now, and I just recently was promoted into a brand new role as SEO specialist. So I'm really excited to dive into that position right now. I'm still in the process of getting onboarded, and I'm doing some training in relation to SEO. And so I'm still responsible for some of my content writer tasks. But I'm so excited to jump into this new position that I think will be kind of speeding up in 2022.
Ron: What does it mean to be a content writer at One Firefly? What does that job do and what do you do and why do you do those things? Why do we do that type of work for clients?
Brenna: So to be a content writer at One Firefly, it's a big job. It's challenging in a really great way. If I summarize it as small as I can, we're writing copy in the form of blogs, landing pages, custom copy on websites, newsletters. We used to do social, but as we've grown, we now have a specialized social media team who have taken that off our plates. So we're creating copy to help keep our clients relevant and fresh online, and also to make sure that they're being found by their ideal target audience. The people that they want to get in contact with and do projects for. So the content that we're writing, we're setting them up as industry thought leaders, but we're also creating content that answers relevant questions that their audiences are looking for, that they're researching new products. "What are the benefits of certain technologies?" "How can I find a landscape ladder or landscape lighting designer in my area?" Things like that. We're creating copy that helps our clients get found by who they're looking for.
Ron: Got it. If you don't mind go a little bit into your background, what did you end up studying? And, you know, kind of maybe a little more detailed this course that led you to ultimately deciding you wanted to grow your career in a digital agency and writing and SEO. Did you start out in in marketing or what did you do? What was that area of interest, going back to college?
Brenna: Yeah, let's travel all the way back in time to college. My journey to where I am today has been really wild all over the place. I actually went to school back in 2010, for music theory, and I've played piano all my life, big music nerd, big music theory nerd. And that was where I thought I wanted to go initially, really quickly realized that's not what I wanted to do. I still do music as a hobby and on my own, but I decided it wasn't something I wanted to do professionally.
Ron: What do you do with the music theory degree?What's the normal career path for someone?
Brenna: It can kind of go in a lot of places. But what I wanted to do it for, was I wanted to become a music theory professor. I basically wanted to teach it. And barely even starting freshman year of college when I realized it wasn't what I wanted to do, so I was lucky in that I figured it out pretty fast. So it didn't extend my college career very long. I was able to switch it out pretty fast, and I decided to move in to my second love, which was English and English language arts and writing and linguistics. And all of that, all of the things that were involved in the English degree. So I moved into that and my focus was going to be teaching English Language Arts. I was going to teach high school. I got all the way to the end of my senior year of college, I was student teaching. And when I got into the classroom, which I don't know why, but at my school you don't get into the classroom until the very, very, very end. That's all theoretical, and then real-life application happens at the very end. And that was a huge wake-up call for me. I was in the classroom teaching and observing, and I was like, "Oh my gosh, I don't want to do this." So it happened again. And this one was scary because it was at the end of my college career. I was about to graduate, and I was like, What do I do? So I spoke with my advisor, figured it all out. I ended up switching my degree to English literature, which really didn't involve a big change because a lot of those overlap there. So meanwhile, going through school, I was working as an associate in retail and just making money for college, and I was doing that part-time. But when I was in my last year of college, I was promoted to assistant manager, and I was able to handle that while taking classes. So I said, why not? I like my team, my job is fun right now, I'll make more money. Cool. Get some new manager experience. So I stayed in that role until after I graduated just to kind of continue supporting myself and figure out what I wanted to do long-term because retail just wasn't for me long-term. And while I was figuring it out, I actually was contacted in 2016 by an old family friend who was the CEO of a small oil and gas technology company in Houston, and he decided to give me a chance. He said, "Hey, we have an open position for a marketing person here. Brand new entry-level," and based on what he knew about me and my work ethic, my personality, perhaps my background at school, he thought I might be a good fit. He knew I was going into it with very little to no experience with marketing. But I learned so much, I decided to take the job. So I moved to Houston, and I was really excited about it because this was kind of putting me into a new career path out of retail into something that could just be potentially super fun and challenging. And there are so many ways you could go. So I took it, and as I said, I think at the beginning of this "I wore so many hats in marketing in that in that position, I did everything under the Sun, SEO, email marketing. What else did I do? A networking event planning, I did even some branding and some logo creation. I did so much. It was an awesome experience, but as I said, all of those are their own fields and their own specialties, and I really wanted to hold in on one and get really good at it. And that's what eventually led me to One Firefly.
Ron: What was your first impression of the custom integration industry? Did you know about it before you joined us?
Brenna: I did not know about this industry. I did not. I was overwhelmed. I think it's a good way to put it.
Ron: It can be intimidating.
Brenna: There's so much. And you know, now that I've been here three and a half years. While I've learned way, way more now than I did, obviously when I started, I think that it goes to say that in this you're always learning. Everything's changing. It's always evolving. There's new trends coming down the pike. You have to stay sharp to stay on top of everything. And I think that's great. It keeps it from getting boring. You're always learning new things in order to be successful at your job. It's a big industry to take in and to learn. But it's awesome. I think this industry is so interesting.
Ron: You and Debbie on our team were principal copywriters for our Mercury Pro product, our Mercury Pro website product that we released in September of nineteen. But the reality is that product is ever-growing, and we're adding new content every month. Why don't you maybe talk about what your experience was writing the copy for that website product, that is the base framework for hundreds of websites throughout our industry now? And so, keep in mind, our audience may not know what that is. So in your own words, describe the project.
Brenna: Sure, I was brought in to the Mercury Pro copy project kind of early and maybe not too early, maybe in a year or so into my role at One Firefly, and I learned that the reason behind that was, besides being confident in my ability to write copy for the product, we had Debbie, who was a very, very seasoned veteran writer. And then we had me who was new and had maybe a different take on writing creatively. And so we brought in kind of a newbie and a veteran together to create this product. And I was definitely nervous because I knew the pressure, the weight of this product, and I wanted to deliver. What it did was it forced me to really put on my creative writer cap. We wrote this copy for a particular buyer persona based on some research we had done. Who is the ideal client that our that our clients are wanting to target? And the copy that we're creating for this website model needed to speak to those people. And so we had to do research not only on buyer personas but of course on the technology, the solutions that our client's customers are looking for. And we had to write about it in a way that those people can understand, and that's engaging, and that speaks to the solutions. And you have to be creative all at the same time. So it was a big take on. But I really think that that kind of catapulted me into the industry. I was forced to learn so much in kind of a more limited amount of time, and I'm really grateful to have been part of that product because I think that it was a big stepping stone for me, getting more involved and educated into the industry.
Ron: From your perspective, what's the importance of the written word on a website? A website has, of course, images and videos, and then it has copy. What is the importance of that and maybe speak to both the visitor that might be reading it, but also the Google side of the equation and kind of the balancing act that has to happen?
Brenna: Sure. So when writing copy, we're looking at it from two perspectives. One, we're looking at it from the audience and who we're writing to and what are their intentions? What are they searching for and how can we make sure we're answering those questions? And are we providing information that they're looking for in a high-quality, valuable way? And then the other side of that coin, when we're creating copy, is we're also writing for search engines, primarily Google, and we're making sure that the copy we're writing is easy to understand, to navigate, to index on the search engine side, so you can have amazing content that answers questions all day. But if it isn't optimized for the right search queries, if it's not easy to understand, if it's not well organized, Google's going to have a hard time presenting that information to the right people. And so, you know, as as writers, we're having to kind of balance both of those sides as we're creating copy.
Ron: What is the process? And I'm going to say from a research standpoint if you are going to write about a topic, we are doing more work on the commercial side of the world these days and we're still doing the resi and the resimercial, but we're picking up more commercial clients. And so there are topics that are now in our mix that maybe historically we didn't write about. I'll say unified collaboration type technologies, huddle rooms, zoom rooms, team rooms, like as a writer, what do you do when you're handed a subject that maybe you haven't written before?
Brenna: That's a great question because that does happen pretty often. I'm saying in this industry; we're not writing about motor ideas every day; we're writing about new stuff. I'll say from personal experience when that happens, the first thing that I do is I have a conversation with the account manager, who's a little bit more client-facing. And I've had communication with our clients regarding certain long term, long-tail key phrases around new services or products that they want us to speak to. So I'll have conversations with them. I've also, had the client call speak with them and get that firsthand. It's conversation with those who are not only selling it, but really, really understand what it is, the benefits, how they're selling it, why? To whom? And, get those answers so that we can really appropriately speak to what we're writing about.
Ron: I want to pull a lot more threads on some of the words you use, like long-tail phrases and keywords. But before I go there, I want to respect the question that Wes has put forth., "Hey Brenna, are there emerging trends or new technologies that have been becoming more popular recently regarding content requests or editorial directives? Does anything stand out?" It could be, I guess, either brands you're seeing being requested more or maybe solutions or services that are now being requested for you and the writers, maybe that worked, you know, in years past. Anything that jumps out at you.
Brenna: If I'm understanding the question correctly, are we speaking about topics that we're writing about?
Ron: That's my interpretation of his question. I don't think he's talking SEO methods or writing methods. I think it's a topic topically from an editorial calendaring standpoint. Are there things being talked about that are being requested more now than in the past?
Brenna: I see. That's a great question. I think with this industry, things are always changing and new things are always coming down the pike, it feels like every month. I would say things that are maybe more new that we're writing more about. I think we're speaking a little bit more to wellness technology. You know, air-water purification, circadian lighting, that was kind of a really big trend that was predicted to hit the market back in 2020. And while it's been a slower trend, I think the value of it is really starting to resonate. And so we're continuing to write about wellness technology. We're also starting to focus a lot more on commercial. So we're talking about integration with Zoom and different types of software-based video conferencing solutions and how those are getting integrated into not just conference rooms, but how are they helping with hybrid models in the workplace, especially now that a lot of people are working remotely, but they're still having to cater to, you know, onsite teams as well? So we're writing a lot about solutions related to hybrid workplaces and working from home. It's still a really big one that I'm seeing. Yeah, I would say those are probably the biggest things I'm seeing right now.
Ron: Let's talk about the copy on a website. The words on a website may be on your company page, maybe on your process, or maybe on a... or it could even be a gallery or a case study page. And then there's also the copy in the format of this thing called a blog. Can you maybe speak from your perspective as a writer, content creator? The benefit of a blog on a website and the benefit of a blog in a marketing strategy like when that content exists, what else then is now possible?
Brenna: Oh man, so many things. I'll start off by saying blogs. Producing blogs on a regular basis is so beneficial for your web presence. If your freshness factor is up high, you're always producing new copies. And that's signaling to Google that you're on it, you're relevant, you know what you're talking about and that you're a thought leader. That just by itself is a great way to keep yourself relevant and online and found. So I would say right away, that's one benefit of blogging. But when it's optimized for long-tail key phrases or search queries, if it's optimized correctly for what is being asked online by your target audience, you have an even higher chance of being found by the right people, being found on page one of Google for those questions for those search queries. Also producing blogs, you have the opportunity to share new or to repurpose the content shared on your social media channels. Send it out via e-newsletters. You're sharing new copy, you're actively getting it in front of your audience, not just relying on Google service, but you're saying, "Hey, look, here's new content. Check it out." That gives people the opportunity to share it with others as well. It's kind of a snowball effect, there's so many benefits to blogging.
Ron: How realistic, in your opinion, is it for a website to get found in search if the website does not have a blog, so let's just say that's not part of the strategy. What are the other things that a business should be doing in terms of SEO? And then what do you think are some reasonable expectations they should have from those efforts?
Brenna: Well, if you have a website great, you definitely should. If you're not blogging, you are lessening your chance to be found online because you're not refreshing your site, and you also are not accumulating your URLs, pages that Google can index and present on their search.
Ron: How important are those pages? So let's just pull that thread. So the idea that a blog adds pages to a website, if I'm not blogging, what would that mean? I would need to be doing adding pages to the website? I mean, because you could do that, that's a viable option, right?
Brenna: Adding new solutions pages?
Ron: Yeah. Solution pages or other pages to the website other than a blog.
Brenna: You can. But, you know, eventually, you're going to run out of solutions pages to be creating and also, one of those really helpful things about writing blogs is you can speak to your audience. You can answer the questions that they're asking online and be found for those answers or tools or solutions. You can get so creative with what you're writing about and with the proper research if you know what your audience is researching. You can curate copy that answers those questions. And if you're doing it regularly, the value of your site presents the performance of your website, getting people to you and ultimately leading to sales. It's just much bigger.
Ron: Is there a method that should be practiced? And I'm going on record here saying One Firefly, I think, does not do what I'm about to ask you to talk about, but we might do it in the future. But is there a method to going into blog content, maybe that was written two years ago, three years ago, four years ago, five years ago, and actually doing something to it so that Google might give it, you know, a new take or a new look to maybe help you show up in search?
Brenna: Yes. That is a real SEO strategy that a lot of SEO specialists do and departments do. Refreshing content is a really important thing to be doing and not just to be refreshing it, to be refreshing it. You want to be intentional about what content you're refreshing. Do you have blogs out there that speak to product reviews? Maybe they need to be refreshed because that product is different now. Or maybe you have some time sensitive blogs where you're talking about holidays or you're talking about something that if it's found on search, maybe won't resonate as well as up to date. Perhaps best practices on how to design a conference room that has changed so much just in the last year or two. So knowing what content you want to be refreshing and why that's a really important thing that marketing departments should be doing. And also, it does help with the freshes factor. You know, Google sees that you're regularly updating your content for relevancy, and you're not just changing the publication date; you're not just putting 2021 in there; you're really re-optimizing the content to help your readers. Google sees that and rewards you for it. Then also as you create new content, you have more internal links, and internal links is just one strategy out of so many related to SEO that will help your performance and help you relieve the right content get found in front of the right people. But as you're writing new content, you have new links that you can use. And so going back to old copy that maybe at that point you didn't have a lot of relevant links to help your readers click and learn more things about certain topics. As you grow and you create more content, you have more opportunity to internally link relative topics together to help your reader click and learn more things about, maybe home theater design or networking infrastructure. When you write more content around that, you have more opportunity for internal gain. And sometimes it has to happen retroactively because, like I said, when you start, you don't have a lot to work with, but as you grow, you have a lot more to work with. And so it definitely helps to go back and just look at those older, maybe higher-performing blogs on your page that could perform even better if you update the internal links, the content and side of it, things like that.
Ron: I'm talking to integrators every day. I'm looking at their websites and I'll look at a website and the owner is very proud because they have a blog. And I'll look at that blog and it will be it'll be written about home theater, right? And I look down at the bottom of that blog, and it maybe has the term it maybe it's tagged home theater. And my first immediate reaction is that this blog is a cool blog and it's going to be beneficial to visitors on the site. But it's probably not going to perform great for search because there's a difference between, you know, national SEO and local SEO. Can you maybe speak about that and what that is, and why that matters to these local service-based businesses?
Brenna: Sure. So if you want to write a blog and you want it to be found for home theater, you would think, "OK, that's going to be a key phrase." I want to put home theater in the title and as I go on home theaters and then you publish it, wait a couple of months, you look and you do some analytics, and you see that you're not showing up for home theater. There's a lot of reasons for that. One, home theater is a massively high volume search term. It's huge. And at the other end of the coin you're not searching for or you're not optimizing for your area. So our clients they're going in and they're doing product projects in their area. So it's really, really important that if you want to be found for home theater, your next step there should be optimizing not just for home theater, but for the locations that you service, even take that a step further because again, home theater, even if you tag a geo-location to that, it's still going to be a pretty high volume key phrase. So dialing it back a little bit more, and really, this is where research comes into play. What is your audience really searching for? A lot of people are not just typing "in-home theater, Austin, Texas" They're asking a question about home theater. They want to learn about what's the best TV I should get for my home theater? Or maybe a TV projector?
Ron: Yes. Acoustic panels for my home theater. Maybe the best. Who's the best installer home theater installer here in Austin?
Brenna: Yeah, exactly. "I need a home theater designer who's the best home theater designer in Austin." They're asking questions. These are called long-tail key phrases. There are a lot more specific. But, if you optimize your copy for these long-tail key phrases, while the volume search is smaller, the quality of leads, the quality of clicks that you're going to get from that is a lot higher because they are those people are looking for specific answers and you're really catering to the people in your area asking those questions. So the chances that you will get connected to someone who maybe doesn't turn into a sale the first day, but they find you and they remember you, they say, "Oh, this person knows what they're talking about, they're in my area they offer this service their blogs are really interesting and they seem to know their stuff. I'm going to keep them in mind." They might keep you in mind, or they might contact you right then and there, just depends on where they are, and they're on fire journey. You want to really be specific, that's the key.
Ron: What interests you about SEO? When we posted that at One Firefly, we're going to create this new role, you applied from within and we interviewed you amongst members of our team and you were awarded that new position. What is it that about? What is it about SEO that excites you or interest you?
Brenna: The first thing that really interests me about SEO is that it's always changing. Google's always updating their algorithm, the things that they measure with your content and your website to make sure that they're bringing the best answers to search queries, people who are asking questions online. So SEO practices are always changing, and I think that initially is what intrigued me because it isn't this static thing. If you want to be good at your job, if you're in SEO, you really have to constantly be on it. You need to be researching. You need to be knowing where to go to find these updates, and you need to be making sure that what you're doing on your website, your content, things like that, you're reflecting those changes. It's very complex. And I think when I started as a writer, I didn't have a ton of knowledge about SEO, it's pretty rudimentary, but I started to be a little bit more curious about it when writing blogs because I was asking questions. I would be really proud about something outright, and I'd be like, "I want to go see who's read it and who's who? Where has it been on the search page? How many times have people read it? And how long were they on that page?" Those are things I really just wanted to know because I was so proud of a piece I wrote. And all of that, though, is very related to SEO. So I think that that's kind of where my curiosity sparked was when I started writing for One Firefly. As writers, we do already follow like a set of SEO practices to ensure that the content we're creating is being found by the right people. But we didn't really have a writer on the writer's side who was intimately involved in the ongoing algorithm, changes and SEO best practices and making sure our content was really answering the right questions. As we write now, we're looking a little bit more into formatting copies so that it can be found in rich snippets on Google. Or, as Google search engine results pages display changes. You want to make sure that your content is formatted properly so that it's being displayed correctly and still being displayed on page one. So we didn't really have a writer who was intimately involved in all of those things. And now that we have that need as we grow, there's more SEO production. I was like, "I want to learn more about that." I wanted to see how I can work with the AMS, with our account managers, because they're obviously very involved with SEO. They're doing our keyword research, they're doing our reporting, our analytics are all of that stuff, and the writers are writing. So I think that I might be kind of this nice liaison that brings everyone together on the same page related to SEO and making sure we're actually implementing the things that we're finding.
Ron: Why is SEO changing? You said you enjoy it because it's always changing. There might be some people scratching their heads saying, Why is it changing? What is happening in the ecosystem? That means the methods practice need to constantly evolve.
Brenna: Yeah, I think that's a great question. So if we look at Google, it's goal is to make sure that when someone goes onto their browser and types a question or types whatever they want to search about. The results that show up on page one are the most relevant results for that person. I mean, Google's its own business. They want to perform as best as they can to keep people using Google, to keep people on Google. And so they want to bring up only the best results, so to do that, they're changing their algorithm based on users. So how are users searching for things? That has been changing drastically. We have people using mobile much more. We have people who are using voice to ask questions. So Google's changing their results based on things like that. Then also because they want their quality, the quality of their results to be great, as great as they can be. They're also making sure that whoever is coming up on their page, you know, their website is secure. They don't have any Black Hat types of optimization that they're really answering the questions that they have high quality content. And all of that is all of those things now, you know, that's not how it used to be. And so Google is slowly changing the way that they measure content to make sure that it's reflecting those things.
Ron: Rapid-fire here we'll call this the lightning round. What are some things that you should not do if you actually want to have your website show up on page one of search? What are some SEO best bad practices?
Brenna: First thing, hiding keyword stuffing. So that's kind of a big thing. I think a lot of people at this point know what that is. Google is bringing up results based on key phrases and queries. So you might be like, "Oh, I really want to be found for all of these questions and all of these terms. I'm just going to stuff them all into the back end of my site or maybe in the footer and make the type." Anyway, so here, keyword stuffing, that's a really big no-no. Google will penalize you for that one. Another one is link farming, so backlinking. One of the things that Google looks for when grading or deciding the quality of a web site is how many backlinks you have, which means how many other sites are linking to you. And a lot of people, when they figure that out, they would create link farms and just create new sites and link themselves from it and just accumulate a number of backlinks. Well, Google now knows if you're doing that. And so that's definitely a bad practice. You want to get quality backlinks that are genuine, that come from relevant sites and that ideally have a pretty high domain authority as well. I could go on. Those are two pretty popular ones, but there's definitely more.
Ron: Those are great, and I'm mindful of time, and I know that you are big into fitness. And I know that because here at One Firefly we use Slack and we have a Slack fitness channel. Now I'm in that channel only so that I can be made to feel guilty. I'm not the best practitioner of everything that you guys do in that channel, but maybe talk about the role of fitness in your life.
Brenna: I love this this topic so much. We do have a fitness channel, as you mentioned on Slack. We have a lot of different channels there that are related to personal hobbies and interests, so we can watercooler chat with our other teammates about books and food, and one of them is fitness. And right now, we're doing a weekly fitness challenge that's led by one of my teammates, Liz and Wes has led it before in the past, I've done it before that too, and she puts in a challenge every week. We do it if we want. But what's really encouraging about it is so many people participate and encourage each other to participate as well. And it's so fun that the channel is especially special for me because I've loved fitness now for, goodness, I don't know, ten years? But it really holds a special place in my heart because when I first got into the fitness realm, you know, I went into it for aesthetic reasons. I think everybody does when they're first kind of like, "I'm going to start working out because I want to look different." So that's kind of what brought me into lifting, I wanted to look different and really quickly. Now it's really I lift because it makes me feel incredible. So my main area of fitness is lifting weights. I love to lift heavy. That's like my thing, and I love it because it makes me feel so confident. There's nothing like going into the gym and lifting super heavy and being like, "Heck, yeah, I accomplished that." I lifted heavier this week than I did last week. There are so many ways that you can challenge yourself, and on the other side of the coin lifting is so beneficial for you. It's not just like you build muscle, or you change the way that you look. I mean, it helps with joints, you can gain bone density, it helps speed up your metabolism, so you do actually burn more calories at rest when you have more muscle mass. There's just so many benefits to lifting and I love being an advocate for it because I think a lot of people are afraid of lifting heavy because they think it's going to make them really big and bulky, and they don't want to be bulky. That was my thought about it as well before I became knowledgeable in lifting. And I learned that really to get big, that has to be your goal. You have to really intentionally want to get big for it to happen, and it's going to take a long time. And really what gets you big quote unquote isn't even lifting, it's how much food you're eating. So I love just preaching about lifting and the benefits of it and trying to flip that narrative of, "Oh, lifting makes you big," because it really doesn't.
Ron: What's your cadence? How often do you hit the gym? Is this a once-a-week thing? Is this an everyday thing?
Brenna: I am in the gym, I have a home gym I actually accumulated all my own weights and stuff. I work out about five times a week. I definitely prioritize recovery. Rest is just as important as exercising. So I definitely prioritize that. So if I'm ultra sore, then I'll take it down a notch. But about five times a week, I'm in there lifting pretty heavy.
Ron: And I want to venture. I know my listeners are eager to learn this, that you can do a lot of pull-ups and you can do more pull-ups than me by a lot. How many pull-ups, if you were challenged to go, we're not going to make you do it, but if you were to go and crank out some pull-ups, how many could you do?
Brenna: The max that I've tested is 15, 15 strict pull-ups, no bans, no chipping. I mean, getting to 15, it's hard, if you were to see me do it, I'm definitely struggling on like 12 to 15, but I but that's my max, and actually one of the recent challenges in the fitness channel was to pick one exercise that you want to do over the course of a week and decide how many reps of that exercise you want to do and try to do it. And so for me, I was very ambitious and chose three hundred and fifty pull-ups in a week, and I can thank Wes for that one because Wes said three hundred and fifty for himself first, and I was like, "Oh, I got to do it too."
Ron: You had to do 351. Did you do 351?
Brenna: I didn't; I should have done one more. I just did three hundred and fifty, so I did fifty per day, and it got hard really, really quick. But that was, sticking back to fitness and goals. I felt so proud and accomplished after that. And yeah, I mean, it's just one another reason that keeps me going keeps me wanting to work out and create these challenges for myself. It's an awesome feeling.
Ron: Do you work out in the morning or do you work out at the end of the day? Like, how do you manage that? Does it give you energy after you do it, or are you tired after you do it?
Brenna: That's that's a good question. I work out in the evening, and so when I'm done, I'm kind of ready to wind down. So that might factor in. I would argue that people who work out in the morning probably say differently. I am actually envious of those who can get up at 5:00 a.m. and go running or go to the gym or go wherever they go to work out because I would love to be able to do it in the morning and just kind of get it over with. But I've been working out at five, six p.m. for so many years now that that's just what my body clock is used to. So when I wake up, I'm a zombie. But after work, I'm like, All right, time to go to the gym.
Ron: I know that we have some team members here at One Firefly that do get up at four or five and hit the gym. And we got to say more power to them. There's a lot of will and determination there. That's not easy to do. But it's not easy to work out five days a week, either. So all of those have a one up on me. Well, Brenna, it has been a blast having you on Show 196 of Automation Unplugged for those that are tuned in and want to get in touch with you or learn more about you. Is there an email or any other channels that you'd want them to to to get in touch?
Brenna: Sure. I think the best one is email, so it's B and then Basden at One Firefly dot com.
Ron: Awesome, Brenna. It was great having you on the show.
Brenna: Thanks for having me. It was so fun.
Ron: Awesome. All right. There you have it. The one and only Brenna Basden, and she is a force of nature, both when she's writing content and doing SEO and when she's out there in that fitness channel and lifting weights and really sticking to it.She's been doing it for years, and there's a lot to be said when people can stick to something year in and year out and when they're willing to share it. And she and all the other Fireflies share openly in that fitness channel. And that's quite inspiring. So team, today is Friday. We are going to do a show next Wednesday, and I believe we also are going to do a show right before Christmas on the twenty-second. So stay tuned, and I hope you all have a wonderful weekend. Thanks so much, everyone.
SHOW NOTES:
Brenna Basden graduated magna cum laude from the University of North Texas in 2014 with a Bachelor's in English Literature and Certificate in Technical Writing. After college and spending some time as an assistant manager in retail, Brenna moved into a marketing position for an oil & gas company in Houston, TX, where she wore many hats in marketing for a few years. In 2018, she left the oil & gas industry, moved to Austin, TX, and started her journey as a content writer at One Firefly. In early 2019 Brenna joined the product development team working on the copy for One Firefly's award winning Mercury Pro website solution for integrators. In 2021, Brenna was promoted to SEO Specialist at One Firefly, where she now lead our SEO strategy and team. Outside One Firefly, Brenna is a cat lover, enjoys all things fitness and is a music fanatic.
Ron Callis is the CEO of One Firefly, LLC, a digital marketing agency based out of South Florida and creator of Automation Unplugged. Founded in 2007, One Firefly has quickly become the leading marketing firm specializing in integrated technology and security. The One Firefly team works hard to create innovative solutions to help Integrators boost their online presence, such as the elite website solution Mercury Pro.
Resources and links from the interview:
Brenna can be reached directly by email at This email address is being protected from spambots. You need JavaScript enabled to view it..