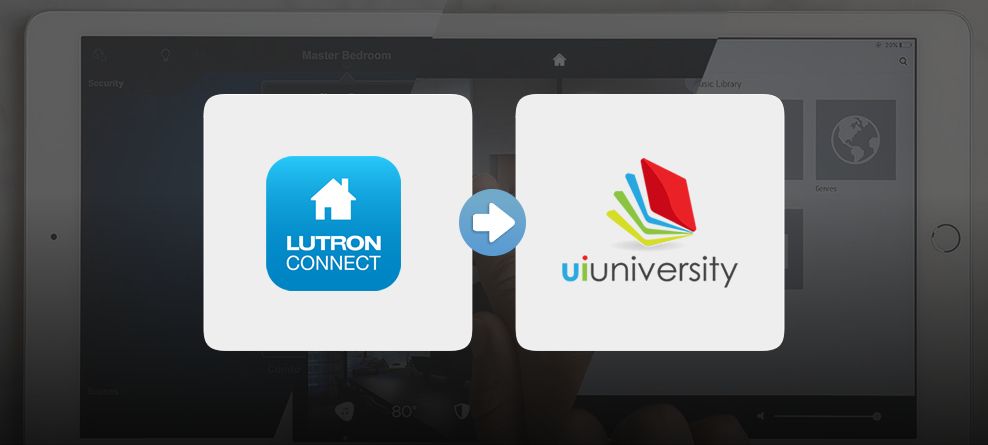 One Firefly Adds Lutron Connect to UI University Training Video Collection
Davie, FL – One Firefly, LLC, an award winning marketing agency that caters to custom integration and security professionals, today announced the addition of Lutron Connect to their UI University video library collection. The Lutron Connect library features 15 videos of custom-branded content that seamlessly guides users through the various aspects and functionality of the Lutron Connect app.
"This content is going to prove invaluable for all Lutron dealers who would like to enhance their customer service and user experience," said Ron Callis, Jr., CEO of One Firefly, "The Lutron Connect video library showcases many of the latest features and functions available in the app today."
UI University makes it easy for technology contractors to educate both prospects and clients using rich HD videos that depict how to operate the various aspects of an iPad-controlled system. For each video, the integrator's logo is prominently featured in the opening and closing sequences, while a watermark of that same logo is displayed throughout the duration of the video, creating a fantastic branding opportunity. The addition of Lutron marks the fifth manufacturer to be featured in the training video series, joining Savant, Sonos, Control4 and Elan.
The Lutron Connect App for RadioRA 2 and HomeWorks QS allows users to control their home's shades, temperature, keypads and more with their iPhone and iPad.
One Firefly will be adding more manufacturers to the UI University library in the coming months.
To purchase the Lutron Connect library or learn about UI University visit https://www.onefirefly.com/uiu
FOR IMMEDIATE RELEASE:
Tuesday, August 8, 2017

MEDIA CONTACT:
One Firefly
Rachel Barnett
This email address is being protected from spambots. You need JavaScript enabled to view it.
954-921-2393

###
About One Firefly
One Firefly, LLC is an award winning marketing agency that caters to custom integration and security professionals including designers, integrators, installers, contractors, consultants, distributors, and manufacturers. One Firefly is headquartered in Davie, Florida and has been operating since 2007. One Firefly clients span the globe.
About Lutron
Lutron is the leader in the lighting control industry and offers a wide selection of energy saving dimmers and lighting control solutions.