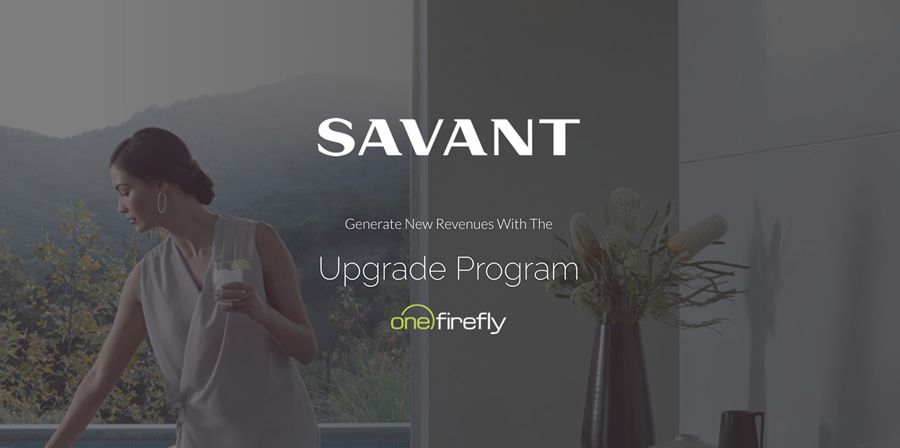 One Firefly Partners with Savant to Deliver an Innovative Marketing Campaign for Savant Integrators
Davie, FL – One Firefly, an award-winning marketing agency that caters to technology professionals, announced today that it had partnered with Savant to offer an exclusive marketing campaign for their integrators. The campaign, which is scheduled to commence August 2019, is designed to help integrators connect with their clients through an integrated digital and physical mailing initiative, promoting the latest features from Savant, including Siri voice control from the Savant Pro Remote.
"This campaign is designed to provide Savant integrators additional resources to help communicate the latest available features to their clients," explained Angie Larson, Vice President of Sales Operations for Savant. "We are excited to team up with the team at One Firefly to deliver integrator business and marketing tools"
As part of the campaign, up to 1,000 custom-designed postcards will be shipped on behalf of each integrator to their existing client list. The postcard is branded with the dealer's logo and contact details and will feature beautiful imagery touting the latest Savant features. Additionally, One Firefly will coordinate a sequence of three emails over the course of the next five weeks targeting the same client list.
These tools are available to all Savant Integrators through One Firefly, with Savant sponsoring participation for all Savant Ambassador level integrators. Savant Integrators who are interested in participating in the campaign will simply need to provide One Firefly will a few simple details to get started.
"Technology integrators are often too busy to sit down and truly focus on marketing," remarked Ron Callis, CEO of One Firefly, "Our goal with Savant is to make the process as turnkey as possible, with minimal involvement or setup time required from the dealer."
For more details and to learn more about the campaign offered by Savant and One Firefly, please visit www.onefirefly.com/savantupgrade 
For more details and to learn more about Savant and their Ambassador program please visit www.savant.com
###
About One Firefly
One Firefly, LLC is an award-winning marketing agency that caters to technology professionals in the custom integration, security and solar energy markets. One Firefly is headquartered in Davie, Florida with staff located throughout North America and has been operating since 2007.
###
About Savant
Savant Systems, LLC is a recognized leader in home control and automation, and one of the fastest-growing smart home companies in the luxury and mid-markets. Savant's powerful Pro technology brings together the four pillars of automation – climate, lighting, entertainment and energy – together in a single application interface for the homeowner. This comprehensive whole-home control system, available through iOS and Android, delivers the premiere experience in all of home automation and is available through Magnolia Design Centers and Savant's global network of Authorized Integrators. Learn more at www.savant.com.