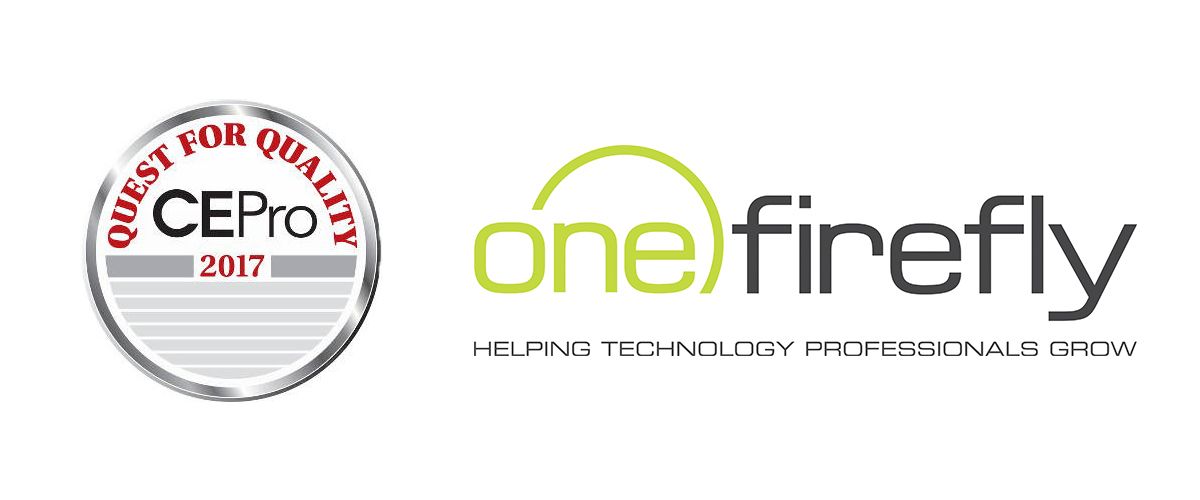 One Firefly Recognized in CE Pro's Quest for Quality Awards
DAVIE, FL - One Firefly, LLC, a marketing agency that caters to custom integration and security professionals, is pleased to announce it received "Category Kudos" in CE Pro's annual 2017 Quest for Quality Awards for the Software Support category.
The Quest for Quality Awards seek to acknowledge outstanding service by distributors and manufacturers within the integrator industry. CE Pro, the leading trade publication for professionals involved in the custom electronics business, surveyed more than 7,400 integrators to identify the companies that went above and beyond to provide top-quality support. This year, two new categories for software support and recurring monthly revenue support programs were added.
The "Category Kudos" section, according to CE Pro, was added to recognize companies that were passionately praised by dealers, yet did not have the voting numbers so easily accessible by larger companies.
One Firefly attributes that recognition to their customer-focused approach.
"We are focused on continual improvement in all areas of our business," said Ron Callis, One Firefly CEO. "We take our clients' feedback, both positive and negative and strive to make the necessary changes that will make a positive impact on the client experience. Our growth over the past two years has demonstrated that this client first focus is winning us fans and clearly defining us as market leaders."
One Firefly's single-minded attention to the integrator industry is what sets it apart from other marketing agencies. By committing to habitual communication, immersion in the ever-changing professional AV and automation industry, and superior project management, the One Firefly team is able to deliver high-quality service and support. 
For more information about One Firefly, please call 954.921-2393.
###
About One Firefly
One Firefly, LLC is an award-winning marketing agency that caters to custom integration and security professionals including designers, integrators, installers, contractors, consultants, distributors, and manufacturers. One Firefly is headquartered in Davie, Florida and has been operating since 2007. One Firefly clients span the globe.