One Firefly's Lead Concierge Honored with Two Industry Awards during CEDIA 2016
DAVIE, FL - One Firefly, LLC, a marketing agency that caters to custom integration and security professionals, is pleased to announce it received the CE Pro BEST and the Residential Systems Best of Show awards for its new Lead Concierge service. The announcements were made in Dallas, Texas at the Custom Electronics Design and Installation Association (CEDIA) Expo.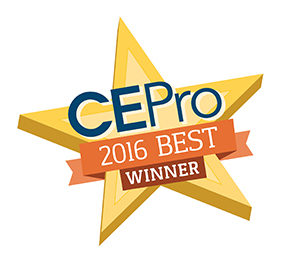 Lead Concierge, a personalized live chat service aimed at helping integrators engage with website visitors in a thoughtful, intelligent manner, was officially launched on September 13, 2016, after months of development with the aid of actual technology integrators.
"We're thrilled to be honored with these two awards," said Ron Callis, CEO of One Firefly, "We really pride ourselves on continually developing innovative solutions to better serve our clients and the industry at large."
CE Pro magazine is the leading trade publication for professionals involved in the custom electronics business. CE Pro's BEST (Best Electronic Systems Technologies) Awards recognize the most noteworthy new products and technologies in the industry. This year's 173 entries were judged on innovation, functionality, competitive advantages and benefits to the integrator by a dozen credible industry leaders, along with the editors of CE Pro.
Residential Systems, a trade publication, has been serving the business of custom integration home AV and automation since 2000. The Best of Show Awards honor outstanding products exhibited at CEDIA. A panel of anonymous professional integrator and journalist judges evaluated the entries based on written submissions and visual inspections on the CEDIA show floor.
While live chat services are becoming more and more abundant, Lead Concierge distinguishes itself as the only live chat service manned by experts in the custom integration and security industries. The USA-based personnel operate on behalf of customers via the custom-branded chat window on a client's website. The chat window will generally be placed in the lower right corner of a client's website and may remain passive or can actively pop up after a predetermined time and invite the visitor to ask a question. Interactions are recorded, and leads and service requests are immediately delivered to the client's respective points of contact.
Learn more about Lead Concierge: https://www.onefirefly.com/lead-concierge
###
About One Firefly
One Firefly, LLC is an award winning marketing agency that caters to custom integration and security professionals including designers, integrators, installers, contractors, consultants, distributors, and manufacturers. One Firefly is headquartered in Davie, Florida and has been operating since 2007. One Firefly clients span the globe.