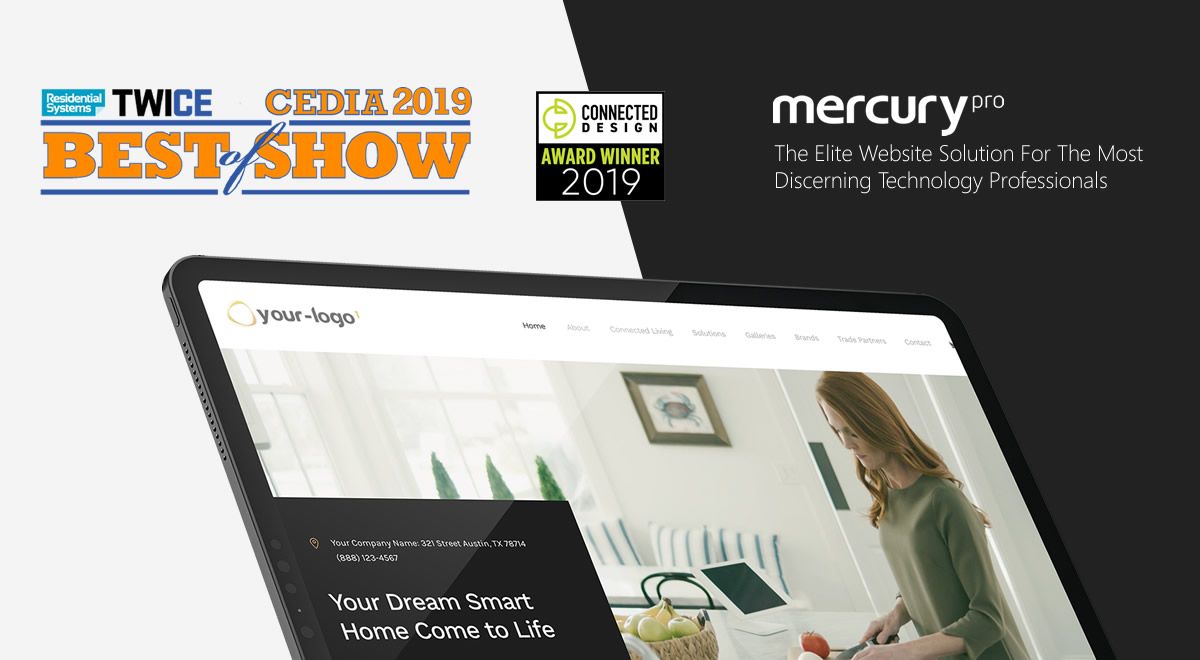 One Firefly's Mercury Pro Nets Multiple Industry Awards At 2019 CEDIA Expo
Davie, FL – One Firefly, LLC, an award-winning marketing agency that caters to technology professionals, announced today that its Mercury Pro website product had netted multiple industry accolades at last week's 2019 CEDIA Expo in Denver, Colorado. Mercury Pro, a premium web solution launched in August 2019, was awarded Residential System's "Best of Show" award as well as Connected Design's 2019 Award.
"Mercury Pro was far and away our most extensive product development effort to date," remarked Ron Callis, CEO of One Firefly, "It's immensely gratifying to be recognized for a product that will benefit so many technology professionals."
Mercury Pro is an innovative web solution that is a premium step-up product from the agency's existing Mercury Collection websites initially launched in 2014. Mercury Pro features a wide array of customizable website theme options; carefully crafted, industry-focused copy designed to speak to specific buyer personas; compulsory SEO configuration; and access to One Firefly's exclusive library of photos and videos. With Mercury Pro, One Firefly aims to help custom electronics professionals present their brand message to the world through mobile-first web design that features the industry's best luxury lifestyle video, imagery and messaging.
Residential Systems announced the winners of their annual Best of Show awards at the CEDIA Expo last week in Denver, Colorado. The products were nominated by the manufacturers and a team of judges was employed to walk the floor and rate the products on a number of criteria, including its value, impact, and how unique it was to the market. Residential Systems entries were judged through the lens of the residential technology integrator.

Connected Design's 2019 Awards commends the best-designed technology and products that the Smart Home industry has to offer. Products and software solutions submitted for consideration in the awards program were judged by an esteemed panel of experts from the custom integration and design and architecture communities prior to their selection as the first-annual winners.
For more details and to learn more about Mercury, please visit www.onefirefly.com/mp
###

About One Firefly
One Firefly, LLC, is an award-winning marketing agency that caters to technology professionals in the custom integration, security and solar energy markets. One Firefly is headquartered in Davie, Florida, with staff located throughout North America and has been operating since 2007.