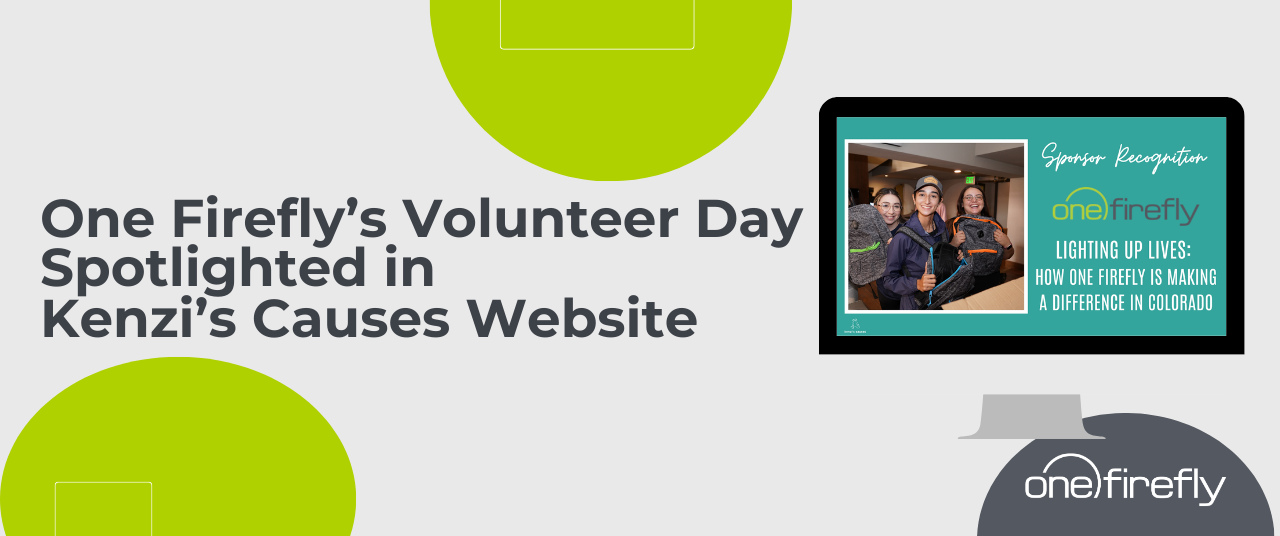 ONE FIREFLY'S VOLUNTEER DAY SPOTLIGHTED IN KENZI'S CAUSES WEBSITE
Coral Springs, FL, 9/23/23
– One Firefly, a digital marketing agency that caters to technology professionals in the residential and commercial custom integration markets, announced its recent collaboration with Kenzi's Causes, a non-profit organization dedicated to supporting underprivileged children and their families in Colorado. The partnership culminated in a heartwarming volunteer activity during One Firefly's annual team event in Denver, Colorado, this past July. The One Firefly team dedicated their time and efforts to stuff backpacks with essential school supplies, ensuring that students in need are well-equipped for the upcoming academic year. In addition to the school supplies, the team also penned inspirational first-day-of-school cards, aiming to boost the confidence and spirits of the young recipients. Kenzi's Causes has graciously highlighted this collaboration on its website, showcasing the difference One Firefly has made in the lives of Colorado's students. The feature, "
Lighting Up Lives: How One Firefly is Making a Difference in Colorado
," delves into the volunteer day's details and the partnership's broader impact. "We thank One FireFly for their exceptional service, compassion, and love," stated Kenzi's Causes on their website. "Their generous contribution has enabled us to further our mission of Packz 4 Kidz, which helps us reach out to more children, instilling confidence in them as they step into the classroom." One Firefly invites the community, partners, and media to read and share the feature, amplifying the message of unity, compassion, and the importance of community involvement. Click
here
to learn more about One Firefly's team event. #
About One Firefly
One Firefly is an award-winning marketing agency that specializes in custom-tailored marketing solutions for technology professionals in residential and commercial markets. The company was founded in 2007 to help businesses in the AV and integration industry grow and succeed through effective branding, digital marketing, and web development. A four-time honoree on the Inc. 5000 list of fastest-growing companies in the U.S., One Firefly is proud to have built a reputation for delivering purposeful marketing solutions to the niche audio-visual space. For more information, visit www.onefirefly.com.
About Kenzi's Causes
Kenzi's Causes is a Colorado-based non-profit organization committed to elevating the lives of underprivileged children and their families. Through various initiatives and events, they aim to provide essential resources and moments of joy to those in need.For more information, visit www.kenziscauses.org.