Home Automation Podcast Episode #15: An Industry Q&A With Blake Richetta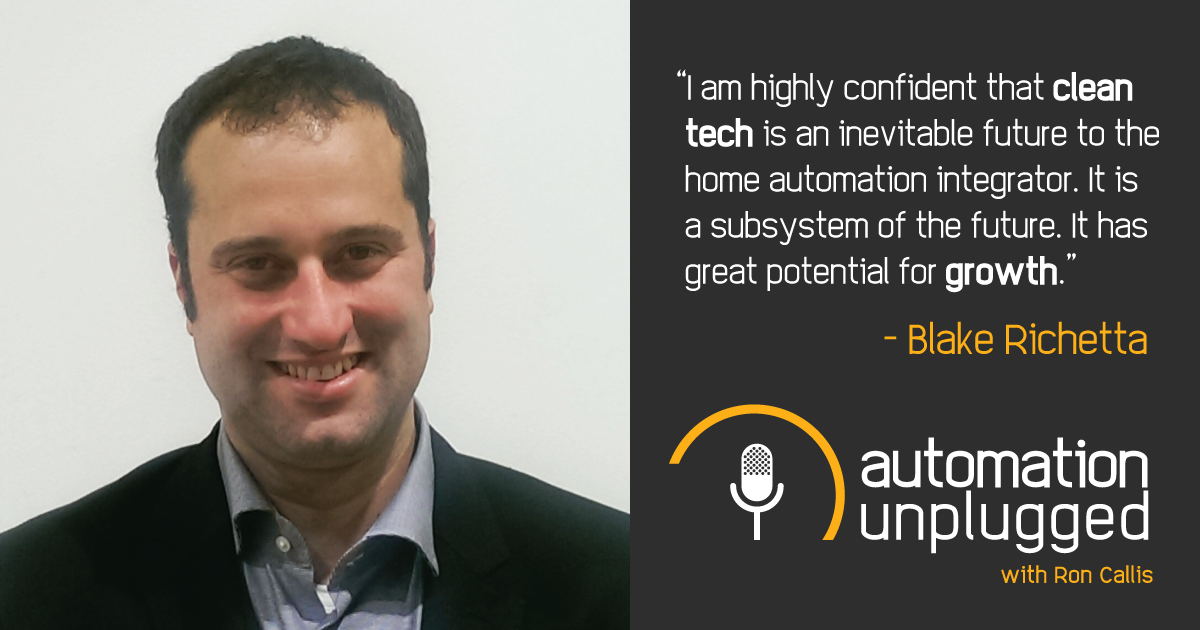 It's time for integrators to go solar.
This week's home automation podcast features our host Ron Callis interviewing Blake Richetta. Recorded live on Thursday, August 30th, 2017 at 12:30 p.m. EST.
About Blake Richetta
Blake Richetta graduated from Edinboro University of Pennsylvania with a Masters in Business Administration in 2001 and shortly thereafter he began a 15-year career at Lutron Electronics, the world leader in lighting control. While at Lutron, Blake successfully designed and implemented an industry-leading business model for the RadioRA and RadioRA2 products. His approach to building the distributor and installer channels and the overall channel strategy for the RadioRA business advanced the global market for smart home lighting and automated shading, contributing to the overall growth of the home automation industry.
After departing Lutron, Blake joined Tesla Motors as North American Powerwall Sales Manager, bringing his expertise in selling high-end residential technologies to the nascent energy storage industry. After a brief stint at Tesla, Blake joined Sonnen, Inc. as Vice President of Sales, drawn by the company's innovative capabilities and high quality, technologically advanced residential storage products and services. Sonnen's innovation in energy storage goes beyond smart batteries to include the "Sonnen Community", a peer-to-peer clean energy trading as well as Grid Services platform which uses a "Virtual Power Plant" by way of aggregation.
In June of 2017, Blake was promoted to Senior Vice President of Sonnen, Inc. and named "Representative of the Global CEO" for North American operations. In his short time at Sonnen, Blake has led the US organization into a period of rapid sales and organizational growth. The company's new manufacturing facility and "InnovationHub" in Atlanta, Georgia opened in April 2017. Outside of work, Blake enjoys spending time with his family, including his wife Priya, and is an active volunteer and philanthropist in his hometown of Santa Monica, CA.
Interview Recap
Here are some of the topics Ron had the opportunity to discuss with Blake:
Blake's background with Lutron Electronics and Tesla Powerwall
How Blake landed in the solar power/cleantech industry
What Sonnen batterie has planned for the U.S. and CEDIA in particular
Why integrators should be interested in solar storage
Blake breaks down the state of clean energy technology and the role that it will soon play in the AV and automation industry.
SEE ALSO: Home Automation Podcast Episode #13: A Custom Integration Industry Q&A With Richard Glikes
Transcript:
---
Ron: Hello everyone. Ron Callis here with One Firefly and another episode show number 15 with Automation Unplugged. Thanks for joining me. It's 12:30. A little bit after 12:30 on Wednesday August 30th. Summer is coming to an end. School has started. My son just started school earlier this week and I appreciate you guys tuning in. We've got a fun one for you today. I'm going to go ahead and bring my guest in. So let me let me make a few clicks here. We have Blake Ricchetta, Senior V.P. of Sonnen Inc. The American branch division. I'll let Blake clear that up for us for the powerhouse German solar residential storage company. And Blake and I have known each other for many a year and Blake agreed to come on the show. Blake how you doing sir?
Blake: I am just charged buddy. How are you?
Ron: I am doing awesome. So we're going to talk in more detail about this here in a little while but I'm actually going to see it in person next week in San Diego. Right. You're going to be out there at CEDIA.
Blake: Yes absolutely. We are bringing the clean tech industry to home automation some pretty big deal.

Ron: That is a big deal now by the way. Let me just check our Facebook page. We're streaming live or at least in theory we're streaming live here on Facebook. So Blake bear with me as I update our page here. Just make sure that the stream is working most of the time technology cooperates. But. Unfortunately it's not bullet proof, all right it looks like we're live. All right cool. If you're out there watching whether you're watching us live or you're watching us after are you watching the recording please share this content share this on your network like your friends your neighbors or your industry peers all those folks benefit from this conversation. It's certainly going to be an interesting one and I know that I'm looking forward to learning a lot and hopefully you guys are as well. Now Blake can you share with our audience your background? You were born in the automation space over at Lutron so to speak. And can you provide a little more color and detail as to what your professional career started? And then we're going to want to figure out what Sonnen is and transition that forward. Can you help my audience understand your background?
Blake: Absolutely. So like Ron, I started out Lutron Electronics the world leader in lighting control and I spent 15 years at Lutron, it is very near and dear to my heart. You could definitely call me a Lutronite, during the course of my career at Lutron I focused incredibly heavily on one single product line and taking that product line from kind of its infancy not really knowing where it fit over to being the recognized global leader in RF residential lighting control which is the Radio Raw product line. So Radio Raw Classic which is what it's referred to now was my focus from 2001 until 2009. We actually started working on Radio Raw 2 in 2007. We didn't, well 2006, we didn't launch it until 2009 and then I focused on Radio Raw 2 from 2009 till 2016 or really '15 actually when I left Lutron. So my focus was Radio Raw, I actually changed my last name to Blake Rochetta instead of Richetta. And my main focus was the build proper channels of distribution for those products and to create a proper selling model and within the home automation space.
Ron: Can you provide a little more detail when you say you were setting up distribution channels for Radio Raw 2. What did that include? What did those channels consist of?
Blake: Yeah. So we obviously saw the integrator as a key part of all this. We also found a very nice business model with the what I call home automation wholesale distributor. So I was responsible for building the added model at Lutron and then taking the model that we built with AVID to build high quality integrators through a distributor and even have tiers of restricted distribution and training programs and marketing programs and partnership programs that associate it with the home automation integrator that buys through AVID. We took that model and replicated it in Canada with Windbrook and then in Mexico and then we started looking at other distributors as well. And you look at that channel now, home automation wholesale distributor for Lutron is extremely robust in the Radio Raw business that goes across the powerhouse the we have an excellent relationship and volume tone in Southern California. I shouldn't say we anymore but.
Ron: You did it for enough years. I'm sure it's a habit.
Blake: You can take a Lutronite out of Lutron but not Lutron out of a Lutronite.
Ron: Did you, I'm gonna change topic. Did you watch the McGregor Mayweather fight this weekend?
Blake: I did.
Ron: And did you see, I'm an MMA fan. So that's close and near and dear to my heart. And did you see when Mayweather and McGregor would get close and all of a sudden McGregor would start taking his fist. It's called a hammer fist and then they start pounding the top of the head of Mayweather.
Blake: Mayweather turned around every time. Yeah. .
Ron: Exactly. But it was it that he meant to do that it was reflex. He had been doing it for so many decades that you know sometimes things just slip and it's habit. So that's right. Long way of explaining away you're saying.
Blake: Yeah. So that was the extent of it. And I also launched the Radio Raw business through the Best Buy enterprise with Magnolia Design Centers and trying to focus on that very not Magnolia Home Theater but Magnolia Design Centers which is that higher end part of the Magnolia brand. That is sort of a semi custom home automation integrator but still very active with Control4, with Savant, and with the home automation space. And although their average home system is not maybe as large as some of the independent integrators, they do a pretty nice job. And so we launched our Radio Raw business with them. Of course differentiating from the Homeworks business which is more for the ultra high end integrator. And it was extremely fruitful and Magnolia then bursted into a bigger business and we launched the Caseta product line which has become a significant product through Best Buy Core and really expanding the market for lighting control.
Ron: Were you also involved in the Caseta launch?
Blake: Absolutely yeah especially with Best Buy. Yep.
Ron: Now how many years were you in over it at Lutron?
Blake: 15 years.
Ron: That's a good career.
Blake: I was a lifer.
Ron: I'd say that's almost you almost qualify for retirement privileges or the military rules about where you go. What is it called and not is it retirement but when you then get paid for life based on your tenure?
Blake: Now that's pretty similar to Lutron, get to 20 years and you're good.
Ron: I was going to say you're a lifer at that point. I sit behind a desk. So let me ask you so how did you go from that career 15 years at Lutron, industry leader in lighting control world leader in lighting control to the solar power space? Specifically you've landed in a subset of solar and the solar storage space. How did that transition happen?
Blake: Yeah pretty simple. I had been in communication with a friend of mine who was the President of Bang and Olsen for several years we built the relationship at Lutron together when we were selling lighting control systems and change through being all of them. And this man was a. His name is Shawn Nielzean which is spelled z-e-a-n Danish guy wonderful individual tremendous human being. And when he left being lawless and he left to become vice president of sales operations globally for Tesla. And the reason why he did that is because certain people that are very important. One company really love Bang Olsen products and thought that the Bang Olsen store was beautiful and said this is a great thing that we should benchmark and utilize on the Tesla stores. And so he went to Tesla and we started communicating pretty regularly and there was definitely an interest on my end on the clean tech space and on fighting climate change. From a personal perspective I was very passionate about it. I really believed in the Tesla brand and what Tesla was trying to do to change the world. And I couldn't imagine leaving Lutron. Well Mr. Spiro the founder of Lutron, the great man that started the company and built that wonderful organization was alive and so I just didn't see it as something I could do and I couldn't imagine resigning. Mr. Spiro even though he was 88 years old. And so when Mr. Spiro passed away in 2015 it started to change my mind about where my career would go. And I love Lutron and I didn't see any reason to leave Lutron. But at the same time the pull that I had that loyalty that undying loyalty that I had Mr. Spiro had passed. And so I looked at Elan new Mr. Spiro in some way. And I made the jump over to North American Sales Manager for Tesla Powerwall. The idea of bringing the residential systems background, the technology system, the how to sell an emotional experience about something in a house that is not super easy to understand and how it transforms your experience within the home. That's what we learned at Lutron and we were very good at it and we were very good at associating the value of lighting control and light in general to maximize the space. And we did that so well that of course the idea was I could bring that to what could be considered relatively straightforward and maybe boring topic which is storing sunlight energy in a battery and using it in your house. So I went over to Tesla to lead the Powerwall business for sales in North America. And that was a very interesting experience and I learned a ton at Tesla. And as I was at Tesla I was also learning a ton about the energy storage industry in general and clean tech because obviously I was a home automation guy specifically a lighting guy going over to Tesla and I started learning about this company this crazy little company not really little but little compared to Tesla.
Ron: Did you actually get to meet Elon Musk?
Blake: Elon was around. Yeah. Elon was around on a regular basis.
Ron: You broke bread with Elon?
Blake: Well let's just say Elon was around a lot and he was yeah he was around and he is a he is a very powerful figure.
Ron: He's almost like a mythical figure you know he's like at least in the allure of the media and what you have watched documentaries about him you know so just to know that you were hanging out with the fella and trying to help one of his businesses succeed. That's I mean that's kudos to you. That's pretty cool.
Blake: I certainly don't think Elon would consider us friends in any way. But at the same time the reality is that I did work for him and that I tried very hard to build his business. That being said.
Ron: So you landed. So you then went from Tesla , Tesla Powerwall all over to Sonnen. Can you tell me and my audience , by the way Troy says hello. I've got Troy Morgan and he says Hi Blake. Oh so I got some people watching and commenting here. Thank you out there. If you're out there please share this and comment if you have questions for Blake please let me know and I'll read them off to him as I see them show up. But can you tell us about Sonnen? I mean something inspired you to make a move and I'm real curious to hear more about your current company.
Blake: Thank you because that's really I think what's most important for the home automation integrators that are watching is that basically when I was at Tesla I started learning about this company, this crazy German company called Sonnen and the reality was that everyone in energy storage was benchmarking Sonnen. And even though Sonnen is not the kind of brand name the brand equity that Tesla has from a actual doing perspective of energy storage Sonnen is a leader. So I started looking at what they were accomplishing which is out of this world compared to anyone else. And of course this was interesting enough to me that I wanted to start talking to them because I felt like there was a real potential for me to make a difference in their company like their American expansion which had just started pretty much the same time I started Tesla is when Sonnen came to the United States. So I then interviewed and before you knew it. I took the role as Vice President of Sales for Sonnen and I left Tesla and then in June of this year I was promoted to Senior Vice President to oversee the whole Sonnen organization and engineering manufacturing sales marketing and the factory and everything else so it has been a very exciting time. And as far as the Sonnen brand let me just say that what you're looking at is a company that's got as cool of a story in some ways as even Lutron and Lutron has an amazing story. So we have two founders Christoph Osterman and Torsten Stevenhoffer. And these two guys are obviously German and they're from Bavaria and they're both in the renewable energy industry for years. They're both very passionate and they had been basically following the scientific papers in Germany that were very explicitly saying that there was a major challenge coming very immediately in the renewable energy industry in Germany. And then if there was not energy storage deployed in a meaningful and substantial way across the country that renewable energy would hit a wall. Renewable energy would not be able to go any farther. That is to say solar as well as wind energy. And so they decided to take it upon themselves to build a residential energy storage system that's grid tied which this is back. This in 2007 back when Tesla they were still talking about Roadster I mean the Model S wasn't even a product yet it was it was so far before any other energy storage system. People didn't even know what the purpose of energy storage would be. And then in 2010 they had their proofs of concept they had done a lot of cool research. They had a bunch of prototypes and they officially started Sonnen and Sonnen in German is the plural of sun. So there's really no English translation that's perfect to be like suns. But the idea was obvious right which is you can see from our lips our beautiful symbol which is just this little lit up circle , it is the idea of storing sunlight energy and utilizing it , harvesting sunlight to self consume on a local basis while the sun is down. So the idea is that the sun never sets on a Sonnen powered house. How you can get through the night on stored sunlight and the vision was that instead of just having a solar array on your home that produces energy and then puts it into the house during the day and shoves all the rest of the energy into the grid during the day as well. And then at night you're pulling all this energy back off the grid instead you would be locally building it organically and consuming it. And then this would be radically better for the electricity grid and would actually enable a renewable energy future as opposed to what does not really enable renewable energy future which is just having solar. So these guys ..
Ron: Can I get a clarification?
Blake: Yeah.
Ron: So you had mentioned that the renewables market was reaching a bit of a roadblock or a plateau and just so I understand. So that's wind or solar. Is there another major category?
Blake: Biofuels. Certainly biofuel thermal and so there's a lot of yeah a lot of things that qualify under renewable energy of course it's the idea that it's renewable within the earth and then you're not extracting a set resource that is not replaceable. So for instance when you burn fossil fuels this is not replaceable unless you were to wait a few million years for our own bodies to turn to oil. So the idea of renewable of course is that you don't have to worry about that kind of thing. And it is renewable within the earth, it doesn't extract from the Earth and most importantly that there is not a high carbon footprint from burning it. So obviously when you burn fossil fuels you get a high carbon footprint which contributes to fundamentally climate change and the overall destruction of our environment and our way of life.
Ron: But the roadblock. And thank you for that clarification. But the roadblock was the fact that these things, these forms of energy ultimately need to be stored in order to harvest them over the 24 hour day for example sunlight only coming out during the day. And so and you and I have had conversations so you educated me that well during the day most people are at work. So when you're getting your maximum energy production you actually are at a lull on the energy grid in terms of the demand when it's needed. Right. And so how do you offset that or what do you do with that? The answer is you need to store that energy.
Blake: Yeah that's exactly right Ron, so basically the fundamental idea is that when you put a solar array on your roof and you're producing renewable energy during the course of the day you have your load within the home , within the remainder of the generation and usually you size the system so that you can try to produce as much as you utilize in a 24 hour cycle. First of all the intermittency and unpredictability of renewable energy makes that a very difficult equation. But you do your best. So you size a system of your solar contractor by putting a solar panel on the roof that's big enough to produce enough energy that would cover the load the 24 hour cycle. But the problem is of course you're not going to be able to self consume that generated energy during the 24 hour cycle because the only time it's going to be produced is when it's sunny. So when it's sunny you produce all this energy. So let's say you produce 30 kilowatt hours of energy during the sunny hours but you only utilize 10 kilowatt hours during the sunny hours. Then the other 20 kilowatt hours of energy have to do something. And so what happens today in a solar situation is it just gets pushed into the grid. And this is called grid feed in or export and it is also known as in the policy side of things net metering. And this is another thing..
"I always thought selling energy into the grid you make money or it covers your energy bill."
Ron: That's a good thing, right? Or is that not a good thing. I always thought selling energy into the grid you make money or it covers your energy bill. I mean it's not so big here in Florida. I don't think , maybe you could tell me but I thought that was a good thing. But that actually is problematic from what you've been educating me?
Blake: Hey look you know it's good when you first start a solar industry to just get it going. But in Germany, you are in a situation. We were, the Germans were in a situation where it really could not go much farther because what happens when you shove all this energy into the grid is eventually you create something called the duck curve. So if all the watchers are out there if you'd like to Google something exciting, Google duck curve and what happens with a duck curve is when you're shoving energy into the grid you're fundamentally pushing the load down and that becomes the belly of the duck. And what ends up happening is you're putting this energy into the grid that is not like a coal burning power plant that's seventy five years old. It's not perfectly operated by the grid operator and by the utility company. So they don't exactly know what the frequency is of the power that you're pushing into the grid. It's not exactly a perfect sine wave.
Ron: I'm going to do something very bold here Blake. I am going to attempt to bring the duck curve here on the screen so the audience still sees you , you're in the bottom right corner and I've got I just typed in solar duck curve and I see a chart here and yeah I see a tail and a belly and then I see ahead.
Blake: Right. Okay so everybody can see the duck. So what happens is not only are you shoving energy to the grid that is not necessarily regulated well so can actually be a stress in the transmission and distribution lines to the power grid because it's not controlled like a coal burning power plant is where the power grid the electricity grid operator is controlling it. So not only are you putting some stress on the grid there, but you also have this energy traversing the power line over many miles maybe , it's not necessarily just going into someone's home next door because they might be at work as well. So you lose efficiency of voltage loss which is not so great. And then also what you're seeing in the belly of the duck is you're offsetting what's called intermediate load potentially as opposed to offsetting peak load an intermediate load so base load is the easiest load to produce energy with, base load is the foundation of load and it is the cleanest and it is also the power plant that never shuts off. Intermediate load is not quite as clean and it doesn't always, it's not always on like the base load power plant but intermediate load is usually on and it's relatively efficient and cleaner. And then peak load is a disaster . Peak load is peaker plants they're called are the , they are the enemy in this whole fight against climate change because 70 percent of carbon emissions that are generated from the energy production on the grid come from peak load and peak load is where you have a power plant that's very nimble it's very fast it can shut off and turn on in 15 minutes but it's also very inefficient. Simple cycle natural gas for instance and it's inefficient and has a high carbon footprint. So when you're pushing energy to the grid in the belly of a duck you're offsetting an intermediate load which isn't even the best load to offset in the first place this is typically the case. It's not always the case that ..
Ron: I don't want to put out a spoiler alert but I'm going to propose that Sonnen batteries in the home can provide the power that these peaker plants that are pumping our environment full of bad stuff are currently the solution. And if we had a grid where there was power with batteries in your house and my house and your neighbors house that could provide that, that would be a good thing.
Blake: Yeah. So in summary..
Ron: Am I oversimplifying it?
Blake: No , no you're not. And let me simplify and capstone the duck because what happens in the belly of a duck is one thing but what happens when the sun goes down is the most critical problem everyone . Which is you have this massive and very rapid change from the belly of the duck to the head of the duck and this gets worse and worse every year the duck gets fatter, gets a bigger belly and a higher head every year when you have a high solar penetration. And what that means is that within an hour, the electricity grid must be so nimble it must react so fast that it has to deal with this tremendous decrease of renewables that go off line because the sun goes down in order to do that so quickly. What I just told you they can't rely on intermediate load and baseload power plants to make that rapid change. They have to actually put in major peaker plants have to fire up and they have to fire up a bunch of other resources to deal with the change in frequency so these are frequency assets on the grid that the electricity grid is to spend money on just to deal with that change in the ducks head which actually increases carbon footprint. So to answer Ron's question. Imagine if you eliminated the entire duck. Imagine if you killed the duck. You chop the belly off and cut its head off. Imagine if you flatten the entire load curve. How would you do that? Well instead of feeding energy to the grid during the day you stored all of your excess solar generated energy and then in the evening you discharged and completely took yourself off of what's called the evening peak. You offset evening peak. There's also an important thing in colder environments maybe not Florida where Ron is or Southern California but in much of the United States there's a morning peak when it's cold outside. So in the winter in the fall. Why wouldn't it be a good idea to eliminate both the morning peak as well as the evening peak? Those are the times where the most dirty energy is produced by far. And those times have currently when you just put a solar panel on your roof they get no assistance from solar whatsoever. So the idea is to flatten a load curve. The idea is to self consume , become self sustainable and organically build your own energy with your own little power plant, build it in your home and then you utilize it not only for your own home but imagine this dovetails into Ron's previous point. Imagine if the grid operator. That is to say the underlying operator of the electricity grid and hopefully all the integrators out there know that this is a multi-billion dollar industry the electricity grid utilities as well as grid operators. So imagine if the utilities and grid operators could utilize your stored sunlight in order to stabilize the grid. Number one to prevent the problem that occurs with renewable energy. And number two to actually add value to the electricity grid that otherwise would not exist. This is huge. So in summary imagine this, imagine that you take care of the renewable problem. Plus what if there's such a high amount of renewables on the grid from solar farms and wind farms that you actually have more renewables than you have load. So in Germany for example, there are days in August right now we're 110, 120, 130 percent of the electricity load during the day is coming is being handled by renewables. That doesn't make any sense. It's more than 100 percent. So what do you do with all that energy? That excess energy that's grid wise. Well our grid, why not put it in energy storage systems and park it in batteries and then use it later on as opposed to doing what's called clipping it which is what you just shove it into the ground because that's what happens ultimately when you have such a big renewable footprint. So imagine if you were able to handle this renewable problem and actually defer investments for the electricity grid in a bunch of stuff they have to do to handle the renewable issue. The problem the challenge there. Why is it such a small amount of renewables in Florida where Ron lives when there's so much sun. Well because the electricity grid in the utilities in Florida in some ways fight renewables not because they're against renewables like people think it's because they can't handle renewables so easily. But then the second thing is imagine if you're actually able to add value. Imagine if you create what's called a virtual power plant by aggregating thousands of energy storage systems together in a network of distributed energy storage systems that can be utilized at any time to offset peak periods for things like demand response and even to really make that the electricity grid even more calm and more stable from a frequency perspective than perfect sine wave perspective with something called frequency regulation. So imagine right now in Florida either there was a peak period happening which wouldn't happen right now but let's say it's in six hours or four hours there's a peak period happening and where Ron lives and right now we need energy to be powered to be discharged. We need certainly a lot of energy in Orlando. Instead of sending energy from the middle of Florida at some peaker plant traversing the power lines over 100 miles, imagine the more efficient because it's a shorter distance, cleaner and obviously cheaper because you don't have to build a 70 million dollar power plant. Peaker plant, if you just had a bunch of energy storage systems in Orlando discharged back into the grid in a decentralized decarbonisation digitalized way that really helps the energy transition because that's more efficient. It's more local it's cleaner and then by discharging all those batteries into the grid in Orlando you prevent the need for the peaker plant entirely and the end of this story is that we've already done this. This is what everyone talks about in the United States a virtual power plant VPP.
Ron: You channeled Barack Obama there for a moment you did the hand and the thumb and..
Blake: Oh no. Sorry not that, that's oh no.
Ron: Not to make it political. I'm down with Barack Obama. I'm just saying you channeled in there for a moment.
Blake: I'm good at mimicry. The end to this, it's such a powerful part. We have done this in Germany, everyone talks about this all the time in the United States in the energy industry like it is this Holy Grail that someday we'll be able to do including my former employer. What's crazy is that it's already done. We have the largest network of distributed energy storage systems in the world. It's called Sonnen community. We have 20000 real installations that actually work, not just a bunch of stuff on shelves that have never been interconnected to the grid. And in Germany there are eight thousand people right now in the Sonnen community.
Ron: The Sonnen community is not really a neighborhood but it's a distributed network across the whole country. Correct?
Blake: That's right. A distributed network of energy storage systems Ron, that does two things. One, most fundamentally and scientifically it is a virtual power plant which I just explained to you. So we actually work with the German electricity grid and the grid operators to utilize our energy storage systems when needed to offset peak periods for demand response from voltage support, frequency regulation all this fun stuff. The grid operators pay Sonnen. To use our batteries because it's way cheaper than them building a dirty peaker plant. And to put other resources transmission and distribution resources that can be deferred we're considered one of the cheapest non wire it's called transmission and distribution investment in the grid. So it's an alternative.
Ron: Wouldn't utilities want to buy these batteries for people or fund them in some way if in effect it prevents them from having to put a capital investment at a peaker plant? Is that a better investment or is that discussion happening anywhere at least in North America? I was having an Internet connectivity issue you were doing robotic there for a moment. No no that's OK. I have you back now. So go ahead. Sorry to interrupt.
Blake: Ok yeah no problem. So the end of the Germans during a move out of the US is that the Sonnen community today in Germany, we're already getting paid for these services that we provide the grid and what we do with that money is we apply it to people's electricity bills. So we go from having a small electricity bill which is what you would get for just having solar having zero electricity bill at a certain amount of kilowatt hours per month. Zero they pay nothing for energy because they're part of this community fundamentally supporting the grid. So that's one side the second side of it is it's called a peer to peer clean energy trading platform which we have kind of coupled to the virtual power plant argument in the United States those two things are still kind of separated but we've connected them because it's sort of an emotional connection to being in this neat community. So people see their energy production and consumption their little power plant their organically locally grown energy that they consume. And then when it's time for them to discharge back into the grid because it's needed, what we say to them is they're selling that energy to another Sonnen community member who needs to pull energy from the grid in another part of the country or another part of the community. So just imagine a lake and you put a gallon of water into the lake that's like discharging into the grid. Then on the other side of the lake someone takes a gallon of water out of the lake. It's not the same water. So to be clear it's not the same electrons but it's a gallon of water and it's ubiquitous water electrons same thing no matter which water electrons you're looking at. And so we say that the person that put the electrons into the grid so the electrons and the person taking them out is not the same electrons. So this creates this idea of the Sonnen community. And as long as you balance how much energy is put into the grid versus taken out then you fundamentally make it so that people believe that they're producing clean energy, utilizing clean energy, and there is no carbon footprint the entire community. And oftentimes we don't have enough clean energy being put into the grid to handle all the energy being taken out and so then we actually buying energy from solar farms and wind farms and whatnot in order to balance everything else is a zero carbon footprint. So to move that to the United States, the United States is much more difficult than Germany when it comes to all of this because in Germany you have one vote in the Bundestag which is basically their parliament in Berlin. And Angela Merkel waves her hand and things are done. And the policy is set and they're very proactive to solar and to renewables and to fight climate change and even more so now since the Paris Accord and also since what has happened recently with the US's involvement in the Paris Accord. The Germans are going farther as are the French. In the US, you have 50 states. It's like 50 different countries. Everybody has completely different rules. You don't even have one grid infrastructure in the United States. You have multiple grid operators and multiple physical grid infrastructures. There's no actual connection from Florida to California and the grid infrastructure.
Ron: There's no way to send power from Florida into California?
Blake: Not a clear way. No because there's no actual logical proper connection between the multiple grid infrastructures that exist across this country. And that's because of the desegregation that we have in our government and in our society and the way that we operate. And I don't think there's anything wrong with that. The United States is obviously an incredible country but it makes it very difficult for us to do things in a uniform manner when it comes to dealing.
Ron: You have your work cut out for you. Is that what you're saying?
Blake: Exactly right. And to answer your last question we can move on. Yes. Utilities in the United States want to look at buying energy storage systems that are completely decentralized because decentralization just from a flow of electrons perspective and voltage loss perspective and actually costs to decentralization is better for the future of the electricity grid. We always say the future of the grid is decentralized, decarbonised and digitalized which the integrators out there will like its intelligence as opposed to one giant coal burning power plant. It's not intelligent at all. So yes these utilities are interested in their talking to us in a big way. And we're doing pilots and we're doing programs with them that will completely change the face of the American electricity grid. We've got exciting things if you Google Sonnen Community USA Arizona. You'll see press releases about the fact that we are launching The Sonnen community in Arizona and we're going to be doing it in a pretty big way with some incredible friends. And I guess the best way to summarize this is instead of what we get in Germany which is national. In the United States , we're partnering with one progressive utility at a time with a production homebuilder or major property developer. And unlike the home automation industry where you guys have a hard time getting anything sold at all to production home builders, in this industry it's the other way around. If I'm able to tell K.B. Homes of Pulte D.R. Horton or Eleanor that I can make it so that their customers in one community, one masterplan community that they build, get no electricity bill to a certain amount of kilowatt hours a month by working with the utility and providing grid services and having solar plus energy storage all of a sudden those production homebuilders are very very interested especially in California where it's gonna be the law in 2020 to build all homes with zero net energy.
Ron: Well so can I ask a follow up question on that. So I have a question here which is you know for the audience why Sonnen coming to CEDIA and why is Sonnen looking at you know home automation contractors or technology contractors or health technology professionals we still have a bit of a naming identity crisis.
Blake: Yeah. Well let's just call it the home automation integrator because that's what I've told my team.
Ron: All right. That's on your Powerpoint. There you go. It's done. It's home automation integrator naming conundrum is resolved but you have you. What I'm hearing you say. I want to make sure I clarify that you have you are actively, you and your team are actively out there pursuing utilities and builders and you are looking at the automation space as a potential channel for sales and installation. And if that's the case then you would be in a position to bring opportunities or builder relationships to those companies. Is that an accurate?
Blake: That's a great point Ron and there's really two sides of this guys and this is so important so I hope you are still tuning in. I know because of my background I am highly confident that clean tech is an inevitable future to the home automation integrator. It is a subsystem of the future. It has great potential for growth. It will be transformative I believe and I liken this to the same thing that we did at Lutron in 1998 when we brought this funky weird high voltage being called lighting control to this space a bunch of audio-video people and I hope that we'll look back at CEDIA 2017 and in 2030 and say wow that was the beginning of clean tech. Why do I say this, because of two things we operate to be clear we operate in the solar channel today. So solar contractors sell our products and a couple them with solar arrays and we love the solar channel. These are great guys. The challenges that the solar contractor may not be as passionate about selling an emotional connection and I can say this to any solar contractor I'm on the phone with them every day. Emotional connection to something really cool something really forward-thinking something that just connects to you and to your passion things like energy independence energy security a carbon-neutral living bullet proof solar net-zero living this sort of thing which I can explain in any kind of sales training. These are things that make the forward-leaning eco-conscious affluent person very excited. So the affluent customer today is excited about fighting climate change and I realize that that's a subset. Let me be very clear. I realize that as a subset of the affluent segment out there there's a lot of affluent people probably the majority who don't care about climate change at all but there is a subset who really do. And when you see this message properly they get excited about it. I know because we do it every day. But the solar contractor struggles because the solar contractor is completely focused on our ally. So if you sit downwith a millionaire or a billionaire and you start talking about how you're going to lower their electric bill a little bit oftentimes the afternoon customer starts to roll their eyes or even get potentially maybe insulting. And so in the middle class the solar contractor does well because they go in they say we're going to lower your electric bill and that's the argument in the affluent space. The early adopter space they struggle unless a Sonnen salesperson is with them and helps them with the sales pitch. I think you know where I'm going with this which is that the home automation integrator already has these clients already knows how to talk to the affluent space and absolutely could sell energy storage and clean tech and energy storage system is like the nucleus of the clean tech subsystem. What I mean by that is clean tech or clean technology a solar panels quite dumb. It's like a TV in the home automation ecosystem.
Ron: TV these days are pretty smart.
Blake: I'm sorry. I apologize. Let me put it this way, the TV tends to be a commoditized element in the home automation space and there's a lot of intelligence that can be added to a TV but the TV itself is sort of commoditized right. And when it comes to solar panels it's the exact same thing. Solar panels are commoditized but as soon as you add intelligence to the solar panel and specifically we are metering the solar panel and looking at the solar panel looking at the renewable energy generation and then we're also metering the grid and we're balancing those two so the energy storage system becomes the nucleus of all of that.
Ron: So you're bringing the network not just a battery but you're bringing the intelligence, the processing power, the connection to the mothership in terms of balancing what's happening on the network. Where's the demand at? We have the supply and metering that out. And you know I heard you and I know you and I have spoken a few times Blake, have really maybe dug into this topic. It's fascinating me and it's fascinating me that you're coming into this space that I've worked in for 18 years and I want to do whatever I can do to help you and your company. I believe in what you're doing.
Blake: Thank you.
"You mentioned peer to peer network and the fact that you're setting up a peer to peer exchange of sorts for energy and that's interesting because that's also what's happening in the crypto currency peer to peer financial markets."
Ron: But this concept and by the way we are running longer than I normally run and I still have like 100 questions I want to ask you. So we'll have to perhaps do this again. But you mentioned peer to peer network and the fact that you're setting up a peer to peer exchange of sorts for energy and that's interesting because that's also what's happening in the crypto currency peer to peer financial markets then those things are volatile and they're new and they're on the front edge but they're also very easily could be described as the future.
"We want to bring the home automation integrator in to the clean tech space in a meaningful way by making an aggregation of the projects you do relevant to utilities."
Blake: If you Google block chain and soon and you're going to see we're the only company in the world in energy storage it's already working on a block chain technology for our VPP for a virtual power plant in the Sonnen community. So you know the end of this story Ron is that I think there's there's two things here. The home automation guy one, is that this is an energy source energy subsystem the connectivity between these different elements in the home is really Sonnenized and we would love to tie into the home automation system through Control4, through Crestron, through Savant, and more importantly and there's a lot of applications. The second side of this is that we want to bring the home automation integrator in to the clean tech space in a meaningful way by making an aggregation of the projects you do relevant to utilities. So can you imagine if you sold 15 jobs in Greater Orlando and those 15 projects all could be unified if the homeowners wanted them to be unified only if they wanted and that they would actually be paid by the utilities to use their energy, their stored sunlight like even if it's an affluent customer that's not too worried about money every day. This is a pretty cool idea.
Ron: I don't think the money conversation is compelling because I mean maybe for some I don't want to make it sound like all of our high end customers don't care about money but it's less of a driver and it's I mean we do marketing for hundreds and hundreds of integrators and I can tell you it's less of a driver. But yeah I think being on the front edge of the future the bleeding edge or the front bleeding edge is bad. The front edge understands the larger space of what is likely to could be could be conveyed as the future of energy transmission in America. I would think that that is very compelling and an integrator could sell that all day long.
Blake: You're on the vanguard of that Ron and that's the reality is that you would be able if he's if an integrator wanted to get involved in this. would Sonnen and does is do that subsystem but we also go back out to the grid, we talk to the utility we have that virtual power plant software layer that's already ready to go . Home automation companies have no idea how to do any of this stuff for manufacturers wise. So we already have that figured out. Home automation companies have the home figured out believe me right now. If we were able to tell our utility partners that not only can we discharge stored sunlight but we could ask the Control4 question system to change the temperature by one degree that demand response service has a huge value of financial value. And even if the people that are doing this don't worry about money that much, just the bragging rights that they're part of this community and in providing demand.
Ron: I think all of them would love to bring that up at a cocktail party on Friday night that they're a part of this future smart community-based .
Blake: Exactly, smart grid is exactly right and they're doing demand response in a clean way and they're getting paid for it which is nice even though the money might not be that big a deal to them. But it's really cool. So I think man, we have something here that is so important because let's just be frank , the solar contractor and they know this , can not take us into the other subsystems of home automation effectively and right now this multi-billion dollar utility space is trying to figure out how to talk to HVAC and lighting and shades. And I'm thinking hello.
Ron: These parties don't even know each other exist and you might be the dating consultant that introduces them.
Blake: That's exactly right.
Ron: Not sure if you considered yourself a dating consultant but there you go.
Blake: We could call it that Ron, matchmaking services.
Ron: There you go. That's funny. So for our audience that are going to be in San Diego and we have to also assume there's people listening and watching that won't be in San Diego. What are ways that people at the show could see you and learn about your products and your plans for the home automation industry and that outside of the show. How do people get in touch with Sonnen?
"If you want to revolutionize your home automation business and add a much more emotional and good feeling subsystem to your business let's get you into clean tech."
Blake: Thank you. If you want to revolutionize your home automation business and add a much more emotional and good feeling subsystem to your business let's get you into clean tech. Come visit us at booth 2838. That's 2 8 3 8 again, with Sonnen we have a wonderful class that I'll be putting on with a lot of this content but obviously way more content powering smart homes with renewable energy. And that's Friday September 8th. From ten thirty to twelve it is in room 16B as in boy and its course M P T S N 0 0 1 It's worth point .75CUs. We would love to have some home automation guys come to our class. Today, very few home automation guys even know what Sonnen is even though we're this huge name in clean tech. And so if we don't have a lot of people in our class we will be sad so we hope that we can get some folks that are interested in this great new category to come see us.
Ron: Awesome. Let me just click on this here. There we go. So Blake I probably have about 10 questions or so that I didn't get to. And yet I think we've broken the record now we're at 51 minutes on this recording approx. No it's good I could go for a couple more hours I think it's fascinating.
Blake: It's hard when you're introducing an entirely new industry category.
Ron: It's hard to do that in 30 minutes right.
Blake: Well it's not like I'm introducing a new speaker a new video switcher. Whatever. Not anything wrong with it.
Ron: Not that there's anything wrong with that. All right. So Blake thank you very much I appreciate your time I know it's valuable. Thank you for coming on the show and sharing with my audience. That was fantastic.
Blake: Thank you sir. Thanks everyone. Hope to see at CEDIA. Let's stay charged.
Ron: Stay charged. And what was your booth number one more time at CEDIA?
Blake: It's 2 8 3 8.
Ron: 2 8 3 8 and one more time. If they're not at CEDIA how do they learn more about your plans for the home automation space.
Blake: Well that's a great question. You know what. For home automation guys I'm willing to just talk to us directly and start the conversation. So it's This email address is being protected from spambots. You need JavaScript enabled to view it..
Ron: I'm gonna type this all in Blake so I'm actually going to type this here into Facebook so let's do that's really. Yeah. I'm going to say Blake's email. Well let's see if I didn't break something. Don't let me near computers often. Let's see. I'm Blake's contact info All right. Blake's contacts. All right. So guys if you're watching it's now they're on a post right on the Facebook Live Feed and feel free to reach out to Blake directly. So again Blake thank you very much sir. You have an awesome rest of your day and I'll see you next week.
Blake: I'll see you at CEDIA buddy.

Ron: That's right and my audience out there thank you for tuning in. Hopefully this was fun and educational. I know that I learned a lot and we will if you guys like it give me feedback. Shoot me an email or give me a post and we'll see if we can't have Blake on here again later this Fall to to hear how things are going with his introduction of solar power and smart grid solutions into the home automation industry. So on that note gang well and if you're heading out to California next week I will see you next week
Show Notes
Blake is Senior Vice President of Sonnen, Inc. and named "Representative of the Global CEO" for North American operations. In his short time at Sonnen, Blake has led the US organization into a period of rapid sales and organizational growth. The company's new manufacturing facility and "InnovationHub" in Atlanta, Georgia opened in April 2017.
Ron Callis is the CEO of One Firefly, LLC, a digital marketing agency based out of South Florida and creator of Automation Unplugged. Founded in 2007, One Firefly has quickly became the leading marketing firm specializing in the integrated technology and security space. The One Firefly team work hard to create innovative solutions to help Integrators boost their online presence, such as the elite website solution, Mercury Pro.
Resources and Links from the Interview:
You can also learn more about Sonnen at https://sonnenusa.com/en/ Be sure to follow them on Facebook.