Home Automation Podcast Episode #74: An Industry Q&A With Cullen Harwood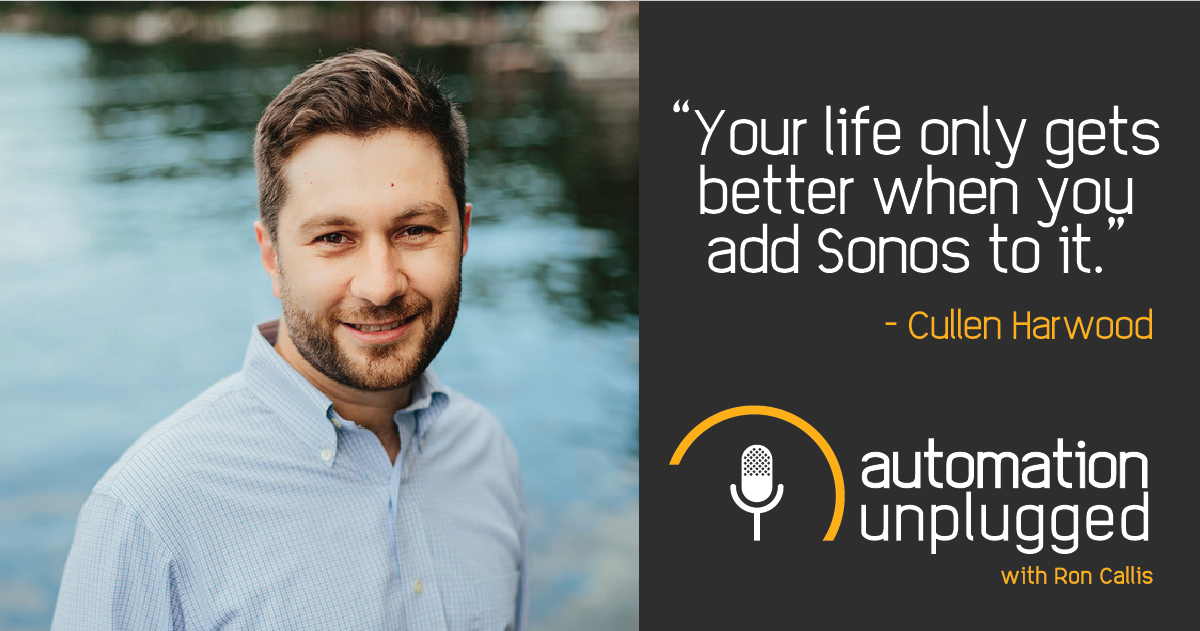 Pedaling magic, pedaling happiness
This week's home automation podcast features our host Ron Callis interviewing Cullen Harwood. Recorded live on Wednesday, May 8th, 2019 at 12:30 p.m. EST.
About Cullen Harwood
Cullen Harwood has been with Sonos for 6 years. He started as a Regional Salesman in the IL/WI/MI markets and progressed to lead their National Strategy for the AV Integrator vertical (a vertical within their Installed Solutions channel).
Recently, Cullen took over Product Marketing for the Sonos Architectural line (including Amp and Sonos by Sonance).
Here are some of the topics Ron had the opportunity to discuss with Cullen Harwood
Distributed audio trends in 2019
Cullen's background in finance and investing
Increased interest from the customer in a quality network
Recent successes of the launch of the Sonos amp
SEE ALSO: Home Automation Podcast Episode #72: A Custom Integration Industry Q&A With Mike Teolis
Transcript:
---
Ron: Hello everybody. Ron Callis here with another episode of Automation Unplugged. This is episode 74. It is Wednesday, May 8th. It's about 1:42 PM. Yes. I know it's a little more than an hour after our normal starting time, but that's just the way the cookie crumbles today folks. So I am happy if you are here live and, and hanging out with us and, or if you're watching or recording or listening to a recording that's fantastic to you know, personally. I've been doing a bit of traveling. I actually just came back from the Pro Source Power CI event out in San Antonio and I'm going to throw up a couple of pictures here just for the fun of it and had really some fantastic working sessions there. So here you can see that I was teaching a bit of a work group and this was around HR and hiring strategies relating to the concept of top grading. And I was actually looking for the book. I was speaking about a particular book called Who from Jeff smart and that was a lot of fun. And what else did I do? I had the opportunity to speak to the entire power group and deliver a presentation on designing marketing strategies for strategic growth. And that was also a, tremendous amount of fun and I appreciate the opportunity from Pro Source to invite me to deliver that content. Of course. Got to hang out with all of our great customers and future customers at that event. And that was pretty fantastic. But I am here with you now and we have an awesome guest and someone that I've been wanting to get on the show for some time and let's go ahead and bring in the one, let's see if I can make technology behave here. And there we go. We have Cullen Harwood with Sonos. Cullen, how are you?
Cullen: I'm so good Ron. Thanks for having me on.
Ron: Awesome man. So where, where are you coming to us from?
Cullen: I'm in our headquartered office in Boston, so we have dual headquarters in Boston, Massachusetts, and Santa Barbara and a 3000-mile long hallway in between. There is not a meeting invite that goes out that doesn't have a zoom link in there. And so we've got all that. We have a really open office concept with a ton of these individual conference rooms. And I am in one of the individual conference rooms in Boston today.
Ron: And, it looks like you found good internet and we have a good image and good audio. So far so good.
Cullen: Great. Because I come when I'm in high def, I think I look much better.
Ron: Clearly high def is where it's at, you know, and Ultra HD is really where it's at. You got to go for that 4k action. Totally. So Cullen, how much of your time and curiosity do you spend there at headquarters versus a and is Boston though headquarters or is the West coast?
Cullen: Well, we do, it is considered a dual headquarters. So while I'm like a trick, our CEO sits out in Santa Barbara and most of our C suite does sit out in Santa Barbara on the West coast. We do consider both offices to be headquarters. We also have an office in Seattle and that would round out our US presence. And really, with a couple of small exceptions, we treat all offices equally. And small exceptions being just small exceptions for roles. So every office has everything from marketing to software development to hardware development, all occurring in each of those offices
Ron: In the Sonos universe. Does everyone that works for the company work out of one of the two or one of the three facilities in the US at least the US staff?
Cullen: Yeah, I'd say most of everybody does. In the go-to-market organization with our sales team, you'll see a handful of people remote. I think we're at something like 50 or 60 remote employees on that team. And there are one or two other people here or there. Fridays are a little bit more dead, but sure, that's true. It's Friday, Friday of course. Totally. but yeah, our sales team is local and we have account managers, trainers key account managers that are across a spread across the U S but for the most part, I would say that those Sonos employees are focused on one of those three offices.
Ron: Got it. Now for our audience, and by the way, if you're out there watching or listening, don't forget to like this. You got to throw us your really hard questions for Cullen. Don't throw me any hard questions. Give him the heart and I'll be sure to put those up live on the feed and we'll, we'll have him, we'll watch him sweat here live. It'll be fun. I'm just kidding. Just kidding. No hard questions. Only easy. Only softball pitches please. But we are so anyway, Cullen, what is your current role at Sonos? And I know it recently shifted. What are you currently doing?
Cullen: As of four weeks ago? I am now the product marketing manager for architectural. So that would include our entire architectural line would be noticed by Sony a product that we launched in February. It would be the Sonos amp that we launched back in September now. Wow. September now. So it's actually coming up quickly on its one-year birthday. And then anything that we would be working on hypothetically going forward in the architectural line would all.
Ron: Theoretically if there were other things coming that you might be working on, then you might be responsible for marketing.
Cullen: So Sonos does not comment on our roadmap. Roadmap is private until it is public, at which point it will be public. You can rest assured that we are evaluating the whole home space to ensure that we are creating the ultimate home music.
Ron: By the time you missed your caveat, you're supposed to say something here to make legal happen.
Cullen: As a real quick reminder. Views and opinions are my own. They are not endorsed by my employer. And now I can say, oh almost whatever.
Ron: Now you can say whenever you see I got your back there. I'm going to make sure you walk along the right line here. All right, so you're in charge of marketing with architectural. What were you doing prior to that?
Cullen: Yeah, so before that I was the national sales manager for the AV integrator channel at Sonos. So what a lot of people call a custom install. We do refer to as AV integration at Sonos. That's a shift in a part of a larger strategy. About 18 months ago we started..
Ron: JJ threw up a comment for you. They're calling, he says love the new Sonos architectural speakers.
Cullen: Totally. Thanks a lot. JJ and JJ was one of those people. I said I came from a dealer as reporting meeting. JJ is one of those people in particular that we've gone to. Well not a member of our dealer advisory board. Is somebody that we've gone to for product feedback. We've seeded product out to as one of those Sonos advocates that we're, this ties in perfectly actually. So I was the national sales manager for AB integration as a part of the larger installed solutions channel. So, so what was CI? We now call installed solutions. And our strategy was to go work on our advocacy. This is the second oldest channel at Sonos is the custom install channel which means that we have a whole history of good, bad, indifferent that we needed to go address. And so JJ is one of those people that quickly recognize the value of the shift in strategy. And so mad. Thank you my friend. For, for your input on the Sonos by Sonance is one example.
Ron: Yeah. No, and JJ does a live show and he's done live content from your headquarters. If I recall.
Cullen: He has indeed. And we went out, we had a team out visiting them in Houston and he did a live show with Andrew Bonitas, who's the director of the channel. And Chris Thorpe, who was head of field sales doing a Q and A same thing, live Q and. A. there were no softballs in that one though.
Ron: Yeah, no, for sure. And, and using these as we were joking in using these cutting edge marketing techniques such as Facebook live, which on occasion cooperates and maybe more often doesn't cooperate, but fingers crossed this, this stream will stay live. Totally. So Cullen before you so I always like with all my guests, your guests number 74, believe it or not, on this little show called Automation Unplugged.
Cullen: Broke the top 100. It's amazing.
Ron: I'm impressed. I'm happy for you. Have you from both of us. Can you take our audience through kind of your background? I mean, how did you land here? You're in a very senior position at a fantastic company that's just if I'm recalling just recently went public and you know, it's just been on this meteoric rise of success. How did you land here? Where, what's your origin story?
Cullen: Ah, so it's been about six years, just over six years now that I've been at Sonos. And it was not a conventional path by any means. I started out, I graduated unemployed like 56% of my class nationally, which made us the largest unemployed graduation class in the history of America. And I ended up at a hedge fund of all places. I do have a deep love of all things finance and sales and trading. And I ended up at a hedge fund and doing sales inside sales and market analytics. And we weren't very good at what we did. We were down 50% from our all-time high, which meant half of your money was poof. Gone.
Ron: I think that that's not good. Like that's not a good statistic for a hedge fund. You want the opposite of that. They put money in to make money not lose money. Is that what you figured out? Maybe this money thing isn't my thing.
Cullen: That was awesome. I had this sobering moment. But you're right. I had the sobering moment where I was, I'm doing sales and I'm talking to an investor and they're just, they're not even screaming. They're just crying. Half of my retirement is gone. What did you do? And I realized I didn't do anything other than I need to get outta here. I can't handle this anymore. So while I do have a deep love for all things sales, trading and finance, I also do have a deep love for high tech and technology. And happened to walk by. I'm a millennial, so I was living at home and happened to walk by a Sonos dealer every single day who had a Sonos display in his window as I went to go catch the train. And finally one day I snapped and said, that's it. I wonder, I've been a long-time owner of Sonos and said, I wonder what these guys are doing. And I happened to email, you know, the right person the day before a job posting in Chicago went live. And they said, well, this would be perfect. Let's talk. And I ended up as a regional salesman for four years and then became the national salesman and then ultimately moved over to product marketing. So it was not a conventional path. But my all time favorite comment was one, one very one of my very first meetings, a rapid taking me to a dealer and the dealer goes, you're from outside the industry. Like, what are you doing here guy? Like I don't recognize you. Where are you from?
"It's not common to see folks from outside find this space. I know at One Firefly, I make a point of hiring people from outside of the industry and bringing them in and showing this awesome industry and how they can grow and build a career here. But it's certainly not common."

Ron: I was almost about to make a similar comment. It's like seeing folks in our space, in our industry. You know, I've, I was brought in here 20 years ago by Lutron and I haven't escaped yet and I have no plans to try to escape. But it's not common to see folks from outside find this space. I know at One Firefly, I make a point of hiring people from outside of the industry and bringing them in and showing this awesome industry and how they can grow and build a career here. But it's certainly not common.
Cullen: But it's not surprising that it's this incestuous little industry either. You know, for all the quote unquote flaws or frustrations or whatever else, any dealer, manufacturer, rep, anybody else has. At the end of the day, like I said, I was selling a product that was down 50%. At the end of the day, we are peddlers of happiness, right? Your life only gets better when you add someone else to it. It only gets better when you make your a dumb home is the raw moniker, but when you make your home smart that moment I put, I gave my mom a Lutron system and to see her top the app and have lighting and shading change and just to see her mind, a homeowner for 30 years go, Oh my gosh, this is such a totally different experience where we are peddling magic. They're peddling happiness.
Ron: No amen. I'm gonna throw up another comment here, I don't know if you know a James Hallen. He says, anyone with inside sales experience deserves mad respect. Kudos to the sales deep love.
"I think every salesman anywhere in the world should have to go sit on cold call on the phones for a little bit. You learn a lot about humans."
Cullen: I think every salesman anywhere in the world should have to go sit on cold call on the phones for a little bit. You learn a lot about humans. You learn a lot about yourself, you learn a lot about sales. James, I totally agree.
Ron: Yeah, that's pretty amazing. Now you've been at Sonos for six years. What is that ride been like? What was it then and what is it now?
"When we were here when I first started, everybody had this argument of like, apps aren't the right way don't go sell apps. And while control systems are for sure, still such a critical part, it's what makes a custom integrator a custom integrator."

Cullen: Wild. I never thought, I really never thought that this would be a, where I ended up, I really thought I'd be as a trader forever. And when I started six years ago, we were pro, we're less than 600 employees and probably a 400 million in revenue. We're now over a billion dollars, publicly traded with 1500 employees globally. So it has just been total where I just got a low battery notification. That's a problem. I just, it's been a totally wild ride. Obviously like you mentioned going public, but then also the growth as a person, as a company, the opportunity plus watching just the space of all Ron, when we were here when I first started, everybody had this argument of like, apps aren't the right way don't go sell apps. And while control systems are for sure, still such a critical part, it's what makes a custom integrator a custom integrator. We've seen such a shift to the app-based world. You know, obviously Sonos was being a part of it, but then also, you know, so many other companies that are shown up. It is just from the industry evolving with the smart home, from a consumer evolving and that obviously, so who changing as well. It's been a really wild ride.
Ron: Do you need to get a charger for your computer or phone or what device are you coming to us from?
Cullen: This is my laptop. Let me see. It says, we've got.
Ron: No problem. We will take a pause audience. Please enjoy the music and I'll refrain from seeing too, but do you want to find that charger and make sure we don't lose you?
Cullen: Yeah, no worries. Yeah, I actually, I'm trying to make sure, I'm trying to think if I even have one in the office.
Ron: Alright, well, how many minutes do you think have with me?
Cullen: It's not giving me an estimate, which is always a great sign.
Ron: That's positive.
Cullen: Totally. Oh no, it says I've got, Oh, no. Let me go hook this up to my desk and we can continue there. If you hold for just one second.
Ron: I'll chit chat with the audience here and I apologize. Give me one second. Tell Chris Thorpe says he'll send you one. Let's see here. I'll throw that up on the screen. So I've got some other comments here. While you're doing that. James gives you a thumbs up on your feedback regarding inside sales. And then Digital Delight throws up a comment and he says transforming, let me take Cullen off here. Transforming basic homes into smart homes. Thank you, JJ. Alright, so I guess I'll riff here. I'll tell the audience about my recent memories regarding Sonos. And I'd love if you're watching or listening while we're waiting for Cullen to get back for you to share yours. But as you all know by now, certainly if you've been listening to any of my content, you know, I started at Lutron and then I went to Crestron and I remember, you know, probably somewhere I want to look back at the origin of Sonos. I don't know that number. Does anyone know when Sonos was founded? Please post that in the comments. If you know that answer, I'm sure Cullen will know it, but it had to be very shortly after it was founded. That one of my, at the time, Crestron dealers in South Florida, this powerhouse integrator was actually demoing or testing this crazy hardware. Here, I'll bring Cullen back. There we go. So Cullen, I was just telling the audience here my first memory of Sonos and it's for me. Somebody just threw it up there. Alex says Sonos was founded. Is this accurate? Sonos was founded in two. Is it 2002 or 2012?
Cullen: Technically would have been three or four. I actually have a handy history book right here.
Ron: Yeah. And I think your mic is now your thing. Yes. That's your mic now.
Cullen: Yeah. The volume is not going through my headphones. Oh man. I'm really sorry. First time, first time. Longtime listener. First-time caller. Nowhere while we hear your audio perfectly, if that matter works, at least I'll just annoy everybody around me for a minute. As I try to figure that one out. We would have, we would have been started in around 2004 would have been technically when we were founded.
Ron: Alright. So Chris says you shipped your first product in '04. I mean, Chris is a Sonoan?
Cullen: Chris Thorpe is one of the original Sonoans. Yeah, so 2003, 2002 would have been founding 2004 had been the first shipping shipped product in beta. And then 2005 would have been technically your launch. January 27th, 2005 is when the ZP 100 actually would have shipped out.
"Around '08-'09, I remember calling on one of my customers in Palm Beach and he was testing this amazing revolutionary world-changing top secret thing. And it all was Sonos."

Ron: So somewhere, so what my memory is right around maybe 2008, 2009, I remember calling on one of my customers in Palm Beach and he was testing this amazing revolutionary world changing top secret thing. And it all was Sonos.
Cullen: Totally. So in 2009 would have been like one of those major hockey stick moments for us. It's when the Play Five launched. And so what you saw was two things. One is we had taken, you know, the ZP 100, which is our essentially the connect amp ZP 80 which was the connect. And we totally changed multi-room audio. And then in 2009, November, 2009 is when we started shipping the Play Five. To be able to then actually start going into your retrofits in a very different way with our first all in one. That was one of those like major hockey stick moments for us.
Ron: I'm going to say that's when the CI space started maybe and this is my observation. I have no facts basing this. You can tell me, but that's my observation of when this channel really started embracing Sonos.
Cullen: Totally. That would have been, and there would have been a combination of the play five and 2009 and then also you know, our app, we launched the iPhone launched in 2007. September, 2007 we launched our first app in January, February, 2008. And so like combination of those two things is really what took us off and set us on a different trajectory with within the channel.
Ron: So over your six years, what's your observation of how the channel, because you've lived in and focused on this channel for the last six years, my understanding exclusively, how have things changed, if at all? I mean, my perception is you guys are ubiquitous at this point, but I'm not, I'm sure your management doesn't feel that they probably want more and more and more and more, but how have you observed things?
Cullen: Yeah, so I would say that my feeling is that the, the two biggest changes both lie in the net are related to the network. You know, integration six years ago when I started, yeah, everybody was touching the network in some capacity, but we've become the owners of the network in such a substantial way. And whether it's as a team or the success of somebody like Euro, whether it's complex as, you know, Luxal Ruckus package with their managed switches like that is become the backbone of everything in such a substantial way. And I think that that the fact that consumers are actually now paying for it. You know, growing up we had a $50, $60 router that we got from best buy and we always knew that was fine and every other year we'd just go get another one and throw the old one away. Now the fact that you see a standard homeowner being like, yeah, okay, I do know $300 might be what it takes me. $3,000 might be what it takes me to actually get good Internet throughout the home. So becoming that system network.
Ron: I just lost you. Well, let's see what happens here. I saw a look on his face and it was like, I think that's a pardon my French. That looks like an oh shit look. Did we lose him? Are we still alive? Let's see here. Standby. Alright, says we're still live. But we have definitely lost Cullen. So let's see here. Comments, folks, if you still hear me. Last comment. I see us from Chris Thorpe. Throw that up on the screen. Oh, there he is. So what do we do Cullen when the internet freaks out. Well, first of all, you jinxed yourself. You're talking about networks. So you're bound to lose network connectivity.
Cullen: Real quick. Does everybody else have these problems or am I unique? And how many, how difficult I've been today?
Ron: I don't know. Do you want honest answers? We'll see how people start answering. Just lie to me Ron. Yes, no, you're doing fantastic. I'm proud of you. And you know, we're staying calm, cool and collected. And the audience is still with us.
Cullen: Death by demo right now. I learned everything I know about demoing from Chris Thorpe who keeps commenting. And it's my calm, cool, collected is for sure because of him.
Ron: Alright, so I've got a Dave Ballard, do you know Dave Ballard? He says, still like, let's see what else? We got a comment from a JT Pruitt. He says, we still got you. I think that means we were still online. And then Dave Valor says, yeah, your live. Thank you Dave. Appreciate that. But you are so what I was hearing you say was that it's just alright. There we go. It's just calling blame man. There you go. I like that answer. I'm with JT. Now, what I was hearing is that the proliferation of stronger networks, more powerful networks. Is that what has enabled Sonos and the music streams to be perhaps more prevalent for, what's your read on that?
Cullen: Totally. So like one of the things that we, one of the very first pieces that Sonos figured out and our, our co-founders and team all figured out, was that you, you couldn't rely on the network, right? So you had to go do it yourself. In order to make truly great software in our multi-room software, you have to go own the hardware and our multi-room hardware. And so we started it all out with our own network. It's only within the past or I don't know, four years, three years that we've actually been, we've actually started to use the access, the access points or network of the client. Which again was one of those hockey stick moments. Cause what you did was you lowered our threshold. Our barrier to entry was first wire to the system. And so it's only, it's, yes. Ultimately the network has allowed our proliferation in a much larger way. And was for sure one of our challenges.
Ron: How have and pardon me if I don't know the model number, I know you'll help me out. The amp for the CI space, the nice, beautiful amp. It's called amp.
Cullen: I can't imagine what it's like to go work at a couple of the companies that you've been at. I'm sure. I've sold nine. 18 if I count color play one white play, one black. The SKU for sub is sub. It's pretty easy for me. So you nailed that AMP.
Ron: Wow. I'm impressed how, I mean, I know that you guys from what I recall talking to at a number of events, you guys did quite a bit of research going out to the marketplace, getting feedback positive and negative about some of your gear and you've turned that into products for this space. How has that been received?
Cullen: Very well. Without sharing too much about the amp sales numbers I would argue and go toe to toe with anybody at Sonos and say that it's one of our, if not our most successful launch of a product. You know and for all the reasons you mentioned, we did a huge listening tour. And we needed to, you know, the connect amp and the proceeding products were 14 years old with, with no hardware changes. World's changed a lot in that time. And so it's super, the reception has been really positive in the US reception has been really positive and in North America. And then even globally, we rolled out globally in February. And I've been impressed with how positive people have received Sonos amp.
Ron: Has that enabled you to open doors into, to the CI channel. I mean, has that product helped get you into more places than you then you were in prior?
Cullen: Yeah, totally. You know, just, just the more power we, we almost, we more than doubled the power between connect amp and amp. And, you know, just the outdoor space, just the commercial space, just all those places where connect amp wasn't able to handle a set of speakers. Sonos amp has really opened it up. We've been a lot of time on the detail of it. So like a lot of people used to say.
Ron: I'm going to pull up the picture I'm on your website. Is it on your website?
Cullen: It is on our website. We do tend to lead with direct. But you, you're my point on hockey sticks. If you go to product, it'll be listed right there. On the top, middle, almost.
Ron: When I go there, here, let's see if this the right place?
Cullen: Yup. Scroll down. Just a little further though. There we go. It's so beautiful. But we spent a lot of time on the detail, right? Like you said, we went and did a listening tour and the number of times we heard it needed to be black was very high. Ron? One of us is frozen. I hope it's you, not me. And now we're zoomed way in on you Ron.
Ron: Hello audience I think you see a really tight zoom of my face right now. I apologize. There we go. I think I'm back. I can hear you now. Sorry about that guys. We're on the bleeding edge here. If technology doesn't always play, like we want it to bear with me, Cullen, we'll be back here eminently and we'll try to wrap up this conversation. Let's see. Is he gonna join back? Well, while we're waiting for him to join back. I'm gonna show you guys our lineup for the next three shows. So I've got coming up here, Brad Sugars. He is, if you don't know that name Google that name. Brad Sugars actually runs the most successful business coaching practice in the world. And I've been reading his book for 15 years and I've been a disciple of his and his action coach system and I definitely recommend checking him out. He's got a new book out and he's agreed to come on the show. And let's see here. Cullen, are you there?
Cullen: Sorry about that.
Ron: Cullen is definitely folks not here at the moment, so we'll see if he comes back. But this is our lineup for our shows that are up and coming. Let me pull that down. I'm also gonna send you over to, let's see, pull that down. Can we get some free advertising for One Firefly here? If you haven't already, go over to Instagram and follow one Firefly LLC. We're always posting new content and having fun with that feed. So definitely check us out there and we'll try to give him another moment or two. Does anyone have any questions? Post questions live here. We'll see if we get Cullen back. And if, if we do then we'll continue. But if not, we'll see if there's any live questions here. Let's see here. It says we are still alive. I think we may have officially lost him folks. You know what that means. It means we're just going to have to do it again. Alright, let's see here. So that's one of the challenges of going live is you can have glitches. So I think I'm live. There we go. Alright, there's Alex. Alex has a question. Alex says I don't know if it was mentioned because I joined late, but I'm interested in learning more about this upcoming partnership with Ikea and the motivation behind that. Well Alex, I think that is an awesome question and I would also love to know the answer to that, but I think we need our man Cullen to join us again in order to make that happen. And at the moment it does not appear he is coming back. So I'm just going to throw out JT's comment. It's Cullen, blame him. Alright. It's Cullen's fault clearly. Alright folks. So what I'm going to do here is I'm going to wrap up and hopefully we get our man Cullen back. We'll have to have him now. Now we'll just have to have him back for another show cause we were the network clearly is to blame, either mine or his. See that's what he gets for talking about networks. You're good now. Oh interesting. So I've got a comment here from my team that they see Cullen popping in and out. I imagine that must be pretty weird if you guys could see that cause I don't see that. Alright. 13 great audience. I love the fact that you guys are hanging out and trying to see if we get Cullen back. I got a bunch more questions for him, but I just don't see that he is or that technology is cooperating here. Wait, we got some comments. Oh, what is he saying? Oh it says that he is in the lobby. I can hear you and I can see myself. Well then folks. What I think means is officially the software is glitching. Cullen, I appreciate that you're there. Hang out. I'll see if I can save you from the pit of despair here in the lobby. I don't see how to do that. Alright. I just ended it. Alright. Let's see if he can rejoin. Hey folks, appreciate you hanging out. We still got some people hanging out here. This is greatly appreciated. We'll see if we can get Cullen back. So what happens when you're on the bleeding edge? Sometimes technology takes well, you know what, you know where. Right. Alright guys. I think we're going to call that a wrap. Thank you for checking out the show today. We'll try to bring it back with less technical issues nxt time. And on that note I hope you have a wonderful rest of your Wednesday and a wonderful rest of your week. And don't forget to check out One Firefly. Visit our website, give us a call if there's anything we can do for you. And until next time I will see you later. Be well.
Show Notes
Cullen Harwood's time in the industry with Sonos started out six years ago in both regional and national sales. He is now over product markering for their Architectural line (including Amp and Sonos by Sonance).
Ron Callis is the CEO of One Firefly, LLC, a digital marketing agency based out of South Florida and creator of Automation Unplugged. Founded in 2007, One Firefly has quickly became the leading marketing firm specializing in the integrated technology and security space. The One Firefly team work hard to create innovative solutions to help Integrators boost their online presence, such as the elite website solution, Mercury Pro.
Resources and Links from the Interview:
You can also learn more about Sonos at https://www.sonos.com/en-us/home Make sure to follow them on Facebook and Twitter.