Home Automation Unplugged Episode #225: An Industry Q&A with Angel and Alexandra Centeno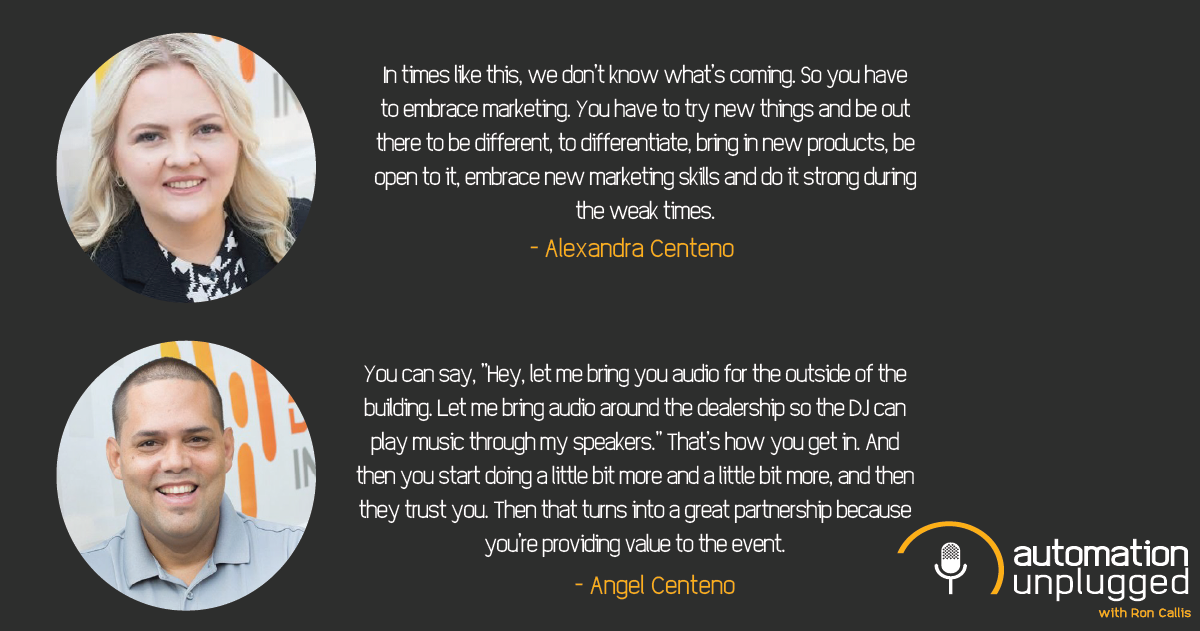 In this weeks home automation show of Automation Unplugged, Alexandra and Angel Centeno, Owners at Systems Design & Integration, Inc. share how their business has grown since their appearance on the show, including their new location in Florida.
This week's home automation podcast features our host Ron Callis interviewing Alexandra and Angel Centeno. Recorded live on Wednesday, September 14th, 2022, at 12:30 pm. EST.
About Alexandra and Angel Centeno
In 2010 Alexa and Angel co-founded SDI, a company specializing in the sales, design & installation of automation systems for residential and commercial spaces.
As the business began to grow, Alexa began branching out creatively by designing systems and mixing technology and art with a touch of audio. Additionally, she channeled her passion for lighting design into turning clients' creative lighting visions into reality. Boston Magazine recently recognized her for her achievements as a female co-owner in the Boston area.
Angel has piloted the many facets of the operational and installation processes at SDI since 2010. This includes utilizing his vast industry knowledge about equipment and programming to propel each project to completion. He's the driving force behind every system design and integration project and has been recognized as a premier integrator by Boston Magazine in the 2019 "Best of Boston" edition.
Interview Recap
SDI's new showroom experience in Needham, MA and what prompted the move to the new showroom.
Their new roadside billboard and prompted this new strategy
How their business has grown since their appearance on the show, including their new location in Boca Raton, Florida
SEE ALSO: Home Automation Podcast Episode #224 An Industry Q&A with Jeff Goldstein and Mark Hoffenberg
Transcript
Ron: Hey, guys, thanks for joining me on show 225. And by the way, we already have folks that are dropping comments in on LinkedIn. I have someone, let's see here. Margaret Simmons just dropped a comment. Hi, Angel and Alexa, hardest working and happiest couple I know. So that's pretty amazing. So, Alexa, we'll start with you. Why don't you introduce yourself?
Alexa: Excellent. Well, thank you, Ron, for having us on show 225. We're excited to be back after a couple of years. Here we are with Angel in our new showroom that we opened in January of this year, and we are excited to share it with the world and to share it on your podcast.
Ron: I'm super excited to have you guys back. You were last on Show 101 back on March 3. As I was talking about in the pre show, and I'm so excited to hear how you guys are doing and how the last two and a half years have treated you both personally and treated your business. Angel, do you want to introduce yourself?
Angel: Hi, Ron, good to see you again. One of the owners of Systems Design and Integration, we're currently in our brand new showroom. We opened it about nine months ago and it's been a great success with our customers and happy to be back on the show.
Ron: Awesome. Alexa, let's start with you. I last had you guys on, and we were chatting back on March 3, 2020. What's happened over the last two and a half years? I know that's a really big question, but what's a high level what's been going on?
Alexa: So one of the biggest things that happened to us in the midst of COVID, well prior to COVID, because we didn't know what was happening, we decided to open our own showroom on the main street of Highland Ave. in Needham, Massachusetts. Then COVID hit. However, we're very passionate about what we do. Since the day one that we opened the business, we're passionate about our business. We kept on. We carried on. We carried on with the construction. So we battled the construction, and then we had our guys here in addition to working. So it was tough. It was scary, I would say, during that time period. But our team pulled through it and created a beautiful masterpiece with Angel and with our team.
Ron: Thank you for sending me some pictures in advance. So I'm going to share those pictures with the folks that are tuning in on YouTube and LinkedIn, and our folks on Facebook will see it as well because we'll post the video once the show is wrapped. But Angel, if I recall, and I'm going back into the file cabinet and I'm moving the web, the spider webs out of the way of my mind, I want to say that in that interview, you were showing us a show space. So what was that show space? And then what led to the decision to build a new show space?
Angel: Yes, that's correct. We were co-sharing a space with a kitchen design place, and it was great. However, we had a lot more product to show, and we wanted to do something that was fully dedicated to audio video, marketed to be audio video, and we wanted something that was fully ours, and that's where we made the decision to have our own showroom.
Ron: Was it a big physical move in terms of geography? Did you move to another city or just another part of the city you were already operating in?
Angel: Yeah. So probably a 30 second drive and a five minute walk. So definitely down the street.
Ron: Five minute walk. Okay. And when did the new space open up, Angel?
Angel: The new space formally opened up, like, January 10, January 5, somewhere around there. Yeah, right after the holidays.
Ron: I have a comment that just came in from LinkedIn. Stephen Day says your showroom is gorgeous. Very well done.
Alexa: Thank you.
Ron: So what I'm going to do now, if technology behaves, is I'm going to attempt to show some pictures, Alexa, and I was wondering if maybe you could talk us through what are we seeing, what are the folks that are watching and if you're listening to the podcast, we'll try to use a lot of descriptive words and tell you what you're seeing, what we are seeing. But if you want to see this, go over to our website or go over to our various social platforms and watch the video, and you'll be able to see these images in all their glory. So I have about ten or twelve images loaded here, Alexa, so maybe tell the audience what we're seeing.
Alexa: Perfect. So over here, you're looking at a room in our showroom off of the main space. And this is our Ketra experience room. Here we display the lighting that goes from zero to 15,000 Kelvin. It could change the look, the feel of the space. It's human centric lighting. And it's also a dedicated room for surround sound system. This is where we show clients how a surround sound can look and feel in their media room or home theater.
Ron: And I see in the background, I see a pair of speakers. Is that maybe B&W's?
Alexa: Yes.
Ron: There you go. Okay. That's beautiful. The room is purple. It looks gorgeous. And that's one of the benefits of.
Alexa: Motorized drapery in that room.
Ron: Is that the drapery I'm seeing over here to the right? Is that Lutron product?
Angel: Yes. Salamander Furniture. And then Leon speaker frame, edge TV.
Alexa: We have everything integrated with Lutron and Josh, so Josh can turn the light, change the mood, and open the drapes and the shades as well.
Ron: And it looks like I'm seeing speakers maybe in the ceiling. Is this a 5.1 room or is this a room able to demo some multichannel audio?
Angel: Yeah, so this room is multipurpose room. So we have a dedicated Dolby Atmos from Bowers and Wilkins in there. But we also wanted to show the customer, hey, if you don't want to have the speakers in the wall, you can also have them as a tower speaker. So that speaker that's in the wall is exactly the same speaker that's in the tower that you see right in front of it.
Ron: Got it. Okay, I love it. What are we seeing here? I see on the background, it says, welcome to our world.
Alexa: Yes. This is our front of the showroom. As soon as the client or designer builder comes in, this is what they see. We have an artless that goes up, the art that goes up by Leon. And then you have a TV in the back, so you're not constantly looking at a TV. Also, we're very dedicated to lighting in our showroom and mixing design and technology, audio and art. We did not want to be just a regular audio video store with bunch of speakers, bunch of TVs. We wanted to blend design and technology because we work in such beautiful homes. So we looked at how we can incorporate technology into our clients homes. And we do it beautifully by using definitely the support and the products that we chose from the manufacturers, as you see the lift. Then we also have lighting fixtures as well that we carry.
Ron: All right, so just to point out I know most of our audience knows exactly what you're saying, but I'm going to try to give a little bit more description. Looks like there's this Madonna face artwork. Not Madonna. That's Marilyn Monroe. Marilyn Monroe's face on some artwork, but it has been motorized to lift up. And it's exposing the TV that's below, correct?
Alexa: Yes. And to clients, they can choose any art that they want. We show them that you can hide your TV. You don't have to look at it all day long.
Ron: Okay. I love that. That's beautiful. All right, what are we seeing here? I see some words that says imagine and create. And I see some well, tell us what we're seeing here.
Angel: So it's more filled up now, but over here so, Luton has a large array of keypad switches, colors, and we wanted to display that. We wanted customers to come in if they wanted to match their wall. If they wanted metal, they wanted plastic, they wanted glass. So when this picture was taken, it was the beginning of the showroom opening up. Now we have it more filled up, and that way the customers can see the different options that they have available for keypad. Also, when designers come...
Ron: What sort of response do you get from designers when they see the assortment of keypads or the variations that you're demoing?
Angel: Normally, everybody says, I didn't know they made that many. I didn't know. Wow. I like this one. I like that one. Glasson's very popular, believe it or not. You know, I believe, like most integrators, default to plastic. But designers love the glass from Lutron, the black and white.
Ron: Is that the palladium line?
Angel: The palladium line, yes.
Ron: Are you showing keypad options beyond Lutron? Are you also showing some of your control and automation vendors, or are you keeping it strictly to Lutron?
Angel: Yes and no. Most of the time, we just do Lutron for lighting, controlling shades. But there's a company called Basalte out of Belgium. That is a weird story, but they provided us with designer style keypads. I don't know if you ever seen their keypads?
Ron: Yeah, they offer square options as well. Right? The European opening design.
Angel: So when we met with Basalte that we wanted to do the showroom, they told us, hey, you guys should meet with Delta Light. They're also out of Belgium. And that's all the linear light pictures that you see throughout our all the decorative lights, that comes from Delta lighting.
Ron: Okay. And I also see various tower speakers. Are they for looks, or do you have them all wired up and you're able to switch between them, or how do you use that space for that demo?
Angel: Yeah. So since we opened the new showroom, we wanted to concentrate not only on lighting, which has changed the way we do business now, in shape, but we do a lot of stereo systems. So we brought the most beautiful towers that we can find every time we go to CEDIA, we're always eyeballing who has the nicest and best sounding towers. But, yeah, I know everything works. And since now we have a dedicated stereo now, since we have a dedicated stereo listening room, we can definitely switch them around.
Ron: I see. So if someone has their eye on something, you'll go and you'll have your team configure and get it set up in the listening room for a proper demo.
Angel: Yes, exactly.
Ron: That's beautiful. All right, let's keep going here.
Angel: Ron, give me 2 seconds. When you said Josh earlier, the music setting.
Ron: Hey, Josh, turn off the music.
Alexa: He heard you!
Ron: Hey, look at that. Here I am controlling your showroom, modern technology. Alexa, what are we seeing here?
Alexa: All right, over here, we are looking at Delta Chandelier line. We're also looking and we have a couple of products by Macintosh. Right now, we've also added some binders in there for shade. So that space also holds a lot of now our fabric for designers, for clients to come in and they're looking to get more shades. We actually have that space for that now as well.
Ron: I'm noticing beautiful wood. It looks like this is very high end cabinetry. Did you partner with a cabinet vendor or woodworking vendor?
Alexa: With a very good friend, Pierre with Newton Kitchen. That's the showroom that we were in before. And they did that beautiful cabinetry for us. That's where we store additional binders and all our gear and demos.
Ron: What type of wood is that?
Angel: It's called Mikasa .
Ron: Got it. Is that the finish on the back wallet there? Is that Venetian plaster?
Angel: So that's called metallic paint. Venetian plaster is the black on the wall where you see Josh right there. We didn't want to do the full plaster, so one of Alexa's friends does full painting.
Ron: Sure.
Angel: So he did metallic paint. So I don't know if it's a new thing or not.
Ron: Yeah, I've never seen that. That's new to me. And I noticed I think it's on the wall to the right as well.
Angel: The whole showroom. The whole showroom except the Ketra Room.
Ron: Is that a multi step process?
Angel: It is, yes. You have to paint the wall a certain color.
Alexa: It's a lengthy process, too. And then we also have I don't know if you can see above us, we've done silver leafing. So he came in and he did, like, a four x four sheet. He was here forever.
Ron: Oh, wow. Like Leonardo DaVinci laying on his back. That's amazing. All right, you guys. Okay. It looks like we're seeing maybe the front of your location or the front of the store here.
Alexa: Yes. So you can actually see a little bit of gold, like the gold ceiling that we've done. But to highlight the products that we sell, we have motorized drapery in that area. We can customize the drapery and integrate it with the client system. And then instead of coming manually to pull it, we can all do it from an app. And that is our front area where our sales people meet with the clients and our beautiful furniture that only took 25 weeks to come in during COVID.
Ron: Oh, my gosh.
Angel: It's a funny story, one of our friends is on the chat. Her name is Angelica. She designed that desk.
Ron: Oh, she did? It's beautiful work. It's very nice. Is Angelica an interior designer or a cabinetry designer?
Angel: No, stone.
Ron: Stonework. Tell me about the impact being in the location you're in now and the fact that for the first time, you're starting to have foot traffic, are starting to have people see and identify your brand. Is foot traffic good? Is it bad? And, like, what's happening there?
Alexa: For me, I'm super excited that we had a walk-in. In January, our client was building a preconstruction house literally five minutes from here, and we're working with the builder. And that was phenomenal. It's like a walk in and it's like, wow, we're always ready to accept clients. It's a new concept for us because we've never in a foot traffic area. It's a new concept. Sometimes it's a little weird because if you're at us with an appointment and a walking comes in, like, how do you handle it? What are you supposed to say? Because we love to give 100% to the client that we're with, but we welcome walk ins and we welcome any type of lead.
Ron: Well, I'm going to use this opportunity. You mentioned to me again when we were chatting before we went live, that for the first time also, you guys are doing lots of first for the first time. You also are going to try out billboard advertising. And you actually emailed me over an image, so I'm going to share that again with our stream. Looks like it's with Clear Channel. So tell us what the goal there is and where is this thing going to be located?
Alexa: So this is going to be on a turnpike on I93 massive. And it's right coming into Boston. We are so excited. Like, as an owner, you know, like with so many years of experience, you start from nothing and then to having a billboard. I think it's a milestone in a career where you can say, wow, I told Angel and a family member that we have to grab some wine, we have to go under the billboard. Even though we might get arrested for trespassing, we're going to celebrate and we're going to cheer to that billboard together. And it's very emotional and it's a crazy milestone for us. We want people to come visit our new showroom. It's a very good area, high traffic in that area, and it will be there for four weeks. And we hope we can bring in more traffic into the showroom.
Ron: We'll have to pay because I see on the billboard, you have your website. And so we'll have to pay special attention to your website traffic that month and see how the needle moves in terms of traffic. Not to put my marketing hat on, but whenever we're trying out new things we want to test and measure.
Angel: That would be great. We talked about this probably like five years ago and we always see the billboards and we always talked about it being nice to one day having a billboard. We always talked about it. And finally, I think partnership with Luton and we were able to do the billboard. Alexa designed it.
Ron: I think it's beautiful. I have a comment that just came in from YouTube, so I'm going to share it on the screen. Samira says, I love this couple because they're great people. Hardworking, creative, professional, caring. I think you owe Samira $20 bill or something. There are lots of good adjectives, professional, caring about the customer, and they are full of integrity. I'm happy to be their client any day and every day. $20 Starbucks gift card. I don't know.
Alexa: Absolutely. I think she deserves more of that.
Ron: That's pretty amazing Samira, thanks for tuning in, by the way. And she was one of the first people to tell me right when we went live, the audio wasn't working. Thank you for that as well. That's awesome. So when does this billboard go up?
Alexa: 9/25, I believe, end of September for four weeks.
Ron: Okay. And is it old school, like paper? And some person is gonna be out there like gluing it up?
Alexa: Yes. They've asked me to do a digital version of it and it was going to be half the price. But you know, I'm a marketing person and I'm like, as a first one, maybe a couple of next ones down the line, be digitalized. But as a first one, I want it to be like a solid in someone's mind as they pass through. And then I just want to be in their face as they go to work every day to Boston.
Ron: Absolutely. So there's going to be hundreds of thousands, millions of people that might see this thing?
Angel: Yeah, I think it was some ridiculous number, a month amount of people. This is like our main highway here near Boston.
Ron: By the way, Samira just mentioned again, she says no gifts, please. Everything I said is facts. Samira, we were just joking. I just love that you're tuning in and commenting. That's pretty funny. By the way, Alexa and angel, we've only recently here on Automation Unplugged started streaming in on YouTube. Just the fact that I see someone commenting on YouTube and my software is working and I see it and I could share it, that's awesome. That's pretty neat. Let me pull that off. And I'm mindful of time and I still have some more images I want to go through. So let me tell us we're seeing now here the long. Okay, we've seen these two spaces, but we're now seeing it from a different perspective.
Angel: Yeah. So we have our Basalte wall again, when we decided to build a showroom, we wanted it to be something that was audio video, home automation mix with design. And Basalte is a great partner and they do a great job with their keypads. They designed the whole wall and they laid it out for me. And we were able to execute the construction portion of it as we opened the showroom. We also became a lighting store for recess lighting. Not so much decorative lighting, but recess lighting. So throughout the showroom, you will see different square, rectangular, round like pictures that are recessed.
Ron: Talk to me about that. What is lighting fixtures? The concept, the category of lighting fixtures? How has that evolved for you guys over maybe the last handful of years?
Angel: Audio video used to be our number one thing. Home automation used to be our number one thing. Now it has completely flipped to lighting and shades. So being able to partner up with folks at Lutron, Delta Light, USA highlights in being able to offer services to clients like lighting design, layout design for lighting pictures, and being able to provide a full packet has definitely kept us busy in the past two years.
Alexa: And to see a client home transform from simple lighting that they purchased a house with simple lighting. And we come in, we take out the lighting, and we put beautiful fixtures. And to see the end product in the house is incredible. It's beyond words, beyond what I could record in an Instagram video. It really takes a professional, which I'm actually have that plan, a professional videographer to come and actually do a video. That's how you can truly show how you can go from regular lighting and the difference that beautiful lighting that we sell can do for our home.
Ron: Are you finding that you're getting into projects at a different stage of design and construction when you're leading with lighting and shades?
Angel: Yes, 100%. So before we always tell designers, architect, builders, customers, get us in soon, when we just used to do audio video. But now that we do lighting and shades, where we're in the project before, the foundation is built on the house, so we have plenty of times to design a property.
Ron: That's amazing. And I'm actually going to jump back to what happened in a funny way a few minutes ago where Josh picked up our audio and turned something on. And this is going a bit out there, but I'm always curious to hear the sentiment. What's going on? What do you guys think about it and what is your marketplace think about voice? What trends are top of mind in terms of whether people are asking for it or whether you're bringing it up? And if so, what sort of responses are you getting from people around the idea of voice control in their homes.
Angel: I think a lot of my clients are a little bit private, and not a lot of people ask for voice. And it seems that before we educate clients on voice and Josh, the default, obviously, is Google Home, Alexa. The topic of Alexa and Google Home, we're a little bit cautious when we talk about Alexa as a control system, because I don't want a $30 device defining if my lights work properly or not. You know what I mean? So I usually steer clients away from Alexa and Google our go to is definitely Josh, and then we say the backstory of the privacy and how well it works and how smart it is. But in my side of the state, I don't get a lot of requests for voice. It's more about showing it as a demo. And then clients go like, oh, I want that.
Ron: Alexa, when you give the demo and you're showing off Josh, what is the typical response that you get from your customers?
Alexa: I usually ask Josh to do multiple things. When you have at least three things that can show an effect, I feel like that's when you could see your best. So I usually ask Josh to do the light, the shade, and the music. And when he does all that, it's like, wow. And especially, it's nice when any voice control works. Right? When you want it to work, you don't want to have to repeat yourself. You just want it seamlessly to work. And Josh does a great job for us.
Ron: No, I agree. I think seeing it when it's all working seamlessly and it all cooperates, I think that type of demo is so powerful. All right, this is a different room. What room are we seeing here?
Angel: So that is another multipurpose room. The main purpose of it is stereos. We had an event that day. That's the reason the speakers are lined up like that. But that's where we have a beautiful room.
Ron: Oh, the room rate. Okay. Over your shoulder. Got it.
Angel: So that room has a beautiful chair where customers can recline and they can listen to their music. Different type of speakers, different type of amps, but it also drops also 100 inch screen and a projector in case customers wanted to listen to a simple surround sound. So what we did was we wanted to have all different type of customers. So in this room, we just installed a traditional surround sound that you will find in any home in a family room. So it was a simple projector with a simple screen and ceiling speakers, obviously showing good quality, but nothing over the top.
Alexa: You have McIntosh in there!
Angel: I'm talking about the surround sound.
Alexa: Oh okay
Angel: McIntosh is expensive?
Alexa: It's over the top.
Angel: No, I was talking ceiling speakers.
Ron: The ceiling speakers. I see little round things, round guys.
Angel: Those are small sub overs. We wanted the room to kind of be a transformer, where it transforms from being a simple surround sound with a 4K projector into a listening room.
Ron: Now, you have very visibly obvious in the room, acoustical treatments. And to some that might seem like awesome, and to some that might be like, oh, my goodness, I don't want that in my room. So, Alexa, what's the response of people when they see this? Or why are you demoing the acoustic treatments the way that you're demoing them to reinstate, like, earlier?
Alexa: We're different. We want to mix design and technology because, you know, the regular ones are not very appealing or aesthetically.
Ron: Who wants to go to a boring showroom?
Alexa: Correct.
Ron: No one wants to go to a boring showroom.
Alexa: They do a dual purpose. It's art. It's a dual purpose. You got art and it's...
Ron: Enhancing the physical performance of the speakers.
Alexa: Yes, we also have a lot of beautiful maybe that picture doesn't show too much, but we also have a lot of beautiful Macintosh.
Angel: Yeah, we have a Macintosh addiction.
Ron: Let's talk about Macintosh. Angel, I have a theory. Maybe it's not a theory, maybe it's proven-ish in that there are some brands I'm going to put Macintosh in that category. There are some brands that just get a lot of traffic on the Internet from the people that love that brand, and they will cross state lines to go find somebody that sells that product. And I remember you guys when you are aspiring to get the Macintosh line, I remember those conversations. And now you have the Macintosh line. Did that prove out? Do people seek you guys out here?
Angel: I would say 80% of our walk-ins are because of Macintosh.
Alexa: People seek out the brand.
Angel: People seek out the brand. They want it to look beautiful. I've been adding more and more pieces as we go. I think I have 14 pieces now. And I'll continue I want customers to walk in and see, like, okay, this is the difference between this and that. And the brand is definitely and I hope it continues for next generation, to be honest with you. But the brand definitely has a lot of followers.
Alexa: Even with like a year and a half wait on a piece, people are still placing orders. They're getting on the list. They want to be on the list, even if they have to wait. There's a lot of our clients, and thank God for their patience, and we appreciate it, and we appreciate the support, but they are waiting six months to twelve months, depending on the piece, but they're happily waiting. And we keep them updated, but they're fans.
Ron: It's reminiscent of someone putting their name on the list to order a Rolex. You can't go to a store I don't know if anyone knows this, but I shouldn't say that. I'm sure many listening do know this. You can't go to a Rolex store and actually, in most cases, buy anything.
Alexa: Yeah.
Ron: You have to know what you're talking about. And then you can ask questions. And they'll educate you. Then you have to order it and they can't even tell you when it's going to come in.
Angel: Yeah, sorry. We had the general manager, Richard Mill, have you heard of that brand?
Ron: I don't want to say no, because I know people think I'm.
Alexa: Yeah.
Ron: Maybe I've heard of that.
Alexa: Really fancy stuff.
Angel: He actually stopped by the other day and he bought Macintosh.
Ron: Oh, the watchmaker.
Angel: Yeah.
Ron: Okay. I thought you were describing electronics. That's where my brain was. I have heard of that.
Angel: He told me that people are waiting three years right now for his watches.
Ron: And his watches I do know who you're talking about. His watches are in the hundreds of thousands and up category per piece.
Angel: Yeah.
Alexa: Good things are worth waiting for, they say.
Ron: That is so true. Amen. All right, what are we seeing here? I already know this is Leon. I see his artwork, or I see the artwork on this piece on the left. So maybe describe that.
Alexa: So here we show how we can do a custom grill to match to the TV. So you're not looking at a small assembly. We concealed it nicely and we hide the wires so as you pass them through there's, a lot of times in a client's house, the location of the TV is so you can see the wires. So with this, the concealed the TV blends it nicely together with a soundbar. And you can get custom. You can do different finishes, different colors. In this case, we had an artist paint over the frame for us. It makes everything come together, and it's art and it's beautiful, and it serves a great purpose.
Ron: Again, in this shot, this is basically perpendicular to where you guys are sitting. The view I have right now, I'm seeing you head on. And this is from the side. Remind me the lighting fixtures that are over your head and that I see again in this image, they look pretty cool. What is that gear?
Alexa: That's actually by Delta Lighting. And yeah, they're great. I'll show you.
Ron: Yeah, please.
Alexa: We're meeting with a client of the designers. We can point them down and we can see the plans on this table.
Ron: Oh, that's so cool. So it's giving you up lighting to the ceiling and it's also giving you your spot down.
Alexa: Yes.
Ron: I'm curious if you say, I'll pick a date. Three years ago, what percentage of your business was lighting fixtures?
Angel: We didn't do any.
Alexa: Very minimal.
Ron: Zero. In 2022, is it 5%? 10%?
Alexa: No it's more.
Angel: 30%.
Ron: So for my listeners, listen to this. Things change and you need to be investigating where are the opportunities to grow your business. And I'm saying that because everyone here listening knows supply chain challenges across a lot of their normal product mix and normal vendors. And like, you can decide and so I'll bounce this back to you guys. You can decide whether to stay the same and sit here and twiddle your thumbs and wait for someone to ship you products so that you can remain in business or you can go out there and find new solutions. Do you guys think that way or is this a little bit of luck or is this a lot of planning?
Angel: One of the things that I wanted to say I know we're going to talk about it. When we decided to do the showroom, we went to Miami twice, to different lighting stores. We went to Lutron in New York. We went to USAI, New York.
Alexa: We should've gone to Europe, but you said no.
Angel: Yeah.
Ron: Paris in particular.
Angel: So we did a lot of research. We looked at a lot of showrooms, a lot of lighting showrooms, and we were able to figure out what was available. And this was in the midst of the pandemic, so we were able to figure out what's available walking ship quick and a little bit more about the lighting business. So when we came to put the showroom together, it was a little bit easier because we had the support of all these manufacturers that laid out a lot of the things that you see right now.
Ron: So your manufacturers leaned into you guys and helped you with the design and the planning and execution of the space.
Angel: Yes.
Ron: That's also a good lesson. You don't have to have it all figured out. There are people ready to help. You just have to ask for help.
Alexa: We can design your showroom. Call us.
Ron: There you go. Call Alexa. That'll be a new vertical for you guys. Alright, we're back to this. I know this is going to be Ketra. Yeah, this is the room we saw before, but holy cow, this almost looks photoshopped.
Alexa: Yeah. The Ketra lighting is incredible. Like I'm telling you, it's so hard to describe it. You have to see it. You have to see the effect that it does. There's a cool feature that it goes to a candle light. And you can make the whole house be candlelight. So you can get up, get a glass of water and come right back and fall asleep. This light is incredible. The things that the interior designers can do with it is amazing too. They can bring out the colors and the art. They can bring out the colors of a couch, of how it was intended to be, how the artist intended the art to look. And you can do that with this type of light. And you can only do it with Ketra lighting.
Ron: What's the impact of demoing? You've now had nine months with your show space open and you've been demoing this. What's the demo like? What's the reaction from the demo?
Alexa: 100% closing ratio.
Angel: Yeah, every time we show Ketra to it's fullest where we spend like 15-20 minutes with the customer, I would say 100%.
Alexa: And we show different types. So we have two different types of Ketra. We show the one that you can use for new construction or if it's too late in the game and we're just coming in to replace the lights. We show the retrofit version, so we actually have two in that space. Oh, and then the linear Ketra.
Angel: Another thing that I wanted to mention, we had two parties in the show, two events, sorry, events where.
Alexa: Parties.
Ron: There was alcohol, music, turned into a party.
Angel: So it's crazy because we had Lutron here, and they were giving demos to builders, architects, designer, and the feedback that we constantly get was great with the Ketra room. So it's definitely a room that we love to use a lot. One of the things that we did in that room that we didn't talk about before, Ketra had tough guidelines in order to make it a Ketra certified room. They wanted to make it look like a family room. They had to look like family room. It cannot look like a store. There could not be things in the wall, cannot have advertisement. So that was a little challenging because we are a store. But I think we did a pretty good job of just keeping it look like a family room.
Ron: I want to pull a thread on the idea of Ketra, and I'll go up a level and just call it this category of tunable lighting or circadian rhythm lighting. And I know that Ketra is more than circadian Rhythm because of the vibrancy mode and just the quality of that product. And for clarity, I went to the Ketra HQ in July with my team, and we actually did a video shoot down there. So I saw it firsthand and got to meet their team. It was pretty awesome. I'm curious what you're currently seeing from the design community and or your customers in terms of asking for this, or are you bringing it up and saying, I need to show you something? How is that transaction, that kind of educational transaction happening?
Alexa: They are not asking for it. We're showing it to them. There's a lot of clients who right away they backup, well, I don't want the lighting. I don't care about a changing light. And we're like, well, that's not only that. That's part of what it does. But definitely we're the ones educating the clients on it and showing it. We haven't had people asking, we show them, and then they're like, wow, really? I can have this in my house.
Angel: The thing with Ketra that is funny, when you do a demo, you do not want to show the color, because nobody cares about the color. People are not going to use it on their daily basis for color. Color is just an extra feature. The nice thing, the cherry on top, but the tunable white, the flexibility of vibrancy, that's probably the number one selling point when it comes to catch a light.
Ron: This image is stunning. So neat, so cool. I absolutely love it. Now this is where we are.
Angel: The lighting, the different colors. .
Ron: That is spectacular. All right, let's talk growth. You guys are opening a location in Florida. So just at a high level, why expand? What's the goal there?
Alexa: All right.
Ron: World domination. I get it. We want every 50 states. Let's go conquer them.
Alexa: So we have a lot of clients who have second homes. We work in that area right now. Our clients have homes there. We're already working there. We enjoy the area very much. Eventually, 30, 40 years, we want to live there.
Ron: Permanently.
Alexa: Yes. So we are opening a location in South Florida. We're going to have presence in both. We're going to be traveling back and forth, Boston and Florida. But we would like to market in the Florida area. We're excited to be able to use all the products in the homes there. There's a lot of growth. There's a lot of construction going on. And a lot of the clients in Florida, that's their second house. In their first homes, they're used to these products, the Macintosh, the Lutron, the Savant So they're used to all those products and they want to bring it into their homes. It's a little bit easier, I would say, in terms of educational over there. So we're looking forward to working on beautiful homes, beautiful projects.
Ron: Well, I can tell you there's a lot of tech here in Florida. I've been in Florida since 2003. I actually moved down here with Lutron in 2003, and then I switched over to join Crestron. And then I started this little thing back in 2007, and the rest is history. And what makes Florida super interesting? One of the many things that makes it interesting, other than all the memes on the Internet about people that live from Florida, because that's always interesting, is that the folks that are generally buying their nice houses and their boats and their cars, is they spend money in Florida. They put their technology in their homes. They enjoy to have fun. They use those spaces on occasion for entertaining. And so it makes the technology side of things pretty fun. So I'm excited for you guys in your transition, or not a transition, but your expansion into Florida. I wish you guys the best, and I think that's going to be a fun adventure. I'm mindful of time, but I did want to get into something real quick, and that is you guys have been partnering with luxury car showrooms in the Boston market, and that's been a successful biz dev strategy for you guys. Do you guys mind sharing just what that is and how it works?
Angel: Yeah. So Alexa reached out to a couple of dealerships. I don't know so much about that site, I forgot. Let's just call it the name connection. So we carry name and amplifiers and name amplifiers and speakers are inside the Bentley cars. Then we reached out to them and we told them, like, hey, we can provide you guys products and displays if you guys ever need to. They said yes, and they kind of tested us. We did a little set up. The first event that they do, they do a lot of events to release cars or when customers are getting their cars delivered. Rolls Royce...
Alexa: Private events.
Angel: Private events, and then we just kind of bring speakers, bring a little bit of Macintosh and socialize, get business cards, that sort of thing. And that has been a great success for us here in Boston.
Ron: How does, say dealer's listening to this, how do they start doing that? Do you recommend they just pick up the phone and call their local dealership? What is your advice? If you have any advice on how folks are participating.
Angel: If I was approaching a dealer sorry. If I was a dealer in another state.
Alexa: If it's Florida, you can call us. If it's Boston.
Ron: Okay. No one in Boston should attempt this strategy. But if you're outside of those...
Angel: If you're in Texas and they're doing a release on a car, then you can say, hey, let me bring you audio for the outside of the building. Let me bring audio around the dealership so the DJ can play music through my speakers. That's how you get in. And then you start doing a little bit more and a little bit more, and then they trust you. And then it's a great partnership because you're providing value to the event. And full disclosure, we don't get paid for it. So it's just us investing our time our guys time in it. And then you start giving business cards, talking to your customers. What a better place than Bentley and Rolls-Royce to just kind of give your business cards, talk to customers, same interests.
Alexa: The people that love doing audio systems, the same people that love buying beautiful cars, beautiful watches, beautiful things. It's people that enjoy buying beautiful things and hanging out together.
Angel: It's so nice that finally, I think we're actually doing a car reveal. I'm not sure yet that's going to be with Bentley in our showroom. Obviously they're going to do it outside. We try, we just keep marketing. I mean, Alexa is a marketing genius, and we always try different avenues to bring business in, and that's one of the ones that we do. And it works really well.
Alexa: Like you said, Ron, in times like this, we don't know what's coming. You have to embrace marketing. You have to try new things, and you have to be out there to be different, to differentiate, bring in new products, be open to it, and embrace new marketing skills and do it strong during the weak times.
Ron: I think that's brilliant. And I think the principle here is a takeaway for anyone listening, is that you want to go where your customers are. This is whether you're talking about a social platform or talking about the Internet or talking about an event. And so if you go to a Bentley event and someone is at a new car reveal event, the odds are they have means. It's not guaranteed, but it's probable. And it's probable they would have needs for everything. An integrator offers from A to Z. So any way you can get your business in front of that audience, I think it's brilliant. I think it's a no brainer. And I would be surprised if some folks didn't reach out to you after this is released and in audio and reach out and say, hey, guys, can you get me some further tips? Because being in front of that audience is genius. Since you've been doing that without any specifics, but at a high level, have you earned new relationships or earned any new business from doing those things?
Angel: Yeah, a lot of new relationships. It is a lot of nice conversations, a lot of new business. It did take us a couple of times of being present for them to remember you, but no, it has been great. And we always do something a little bit different every time we go.
Ron: That's brilliant. We're going to close on something super fun, and that is this concept which I know you guys practice well, work life balance. You guys are going to go do a fun road trip here. Why don't you tell our listeners what you guys have planned for, I think the coming weeks?
Alexa: The main important cause is called Rally to Give.
Angel: Yeah. Rally to Give is a charity event where about 60 cars go from Massachusetts to Connecticut. They stay over, then they go to Connecticut, Vermont, stay over there. We go to dinner and different events and things like that. And then from there we will go to Canada. It's mostly supercars, really fast cars, a lot of fun people. I actually got invited to that event because of the Bentley event that we do at the dealerships. The relationships have found. And then the rally last year raised about $375,000 and they were hoping to double up this year.
Ron: Wow.
Angel: So not only is a way for us to market ourselves, market our company, but also have a really nice way to have some.
Ron: Quality family time. I knew what you were saying. I knew what you were saying.
Angel: Yeah. Unfortunately, or fortunately, it's on the week of CEDIA.
Ron: Oh, no. So we're not going to see you in Dallas.
Angel: We will skip CEDIA this year. I really wanted to go. I love CEDIA. I love relationships in CEDIA. I love to see my reps. I love seeing new product. I do. I'm not going to lie. But I really love seeing the reps. I love stopping by your booth. I've been stopping by your booth for the past seven years or so. It's always a good time. And getting to chat with people in the industry and things like that. We learn a lot. And when you come back from CEDIA, you come super pumped. So something definitely we're going to miss this year, but it's for a good reason.
Ron: Let me weigh this. Ride a sports car, hang out with my wife, eat good food and hang out with friends, or go to a trade show and walk around the convention center. All right. That's not a hard decision. I don't think any second guessing is necessary.
Alexa: Every year, this year, we're like, you know what? It's time for some work life balance.
Angel: Yes. Which is not easy. And now with being able to do proposals from home is not easier.
Alexa: And with Florida opening up. We're going to be super busy. So we're trying to get in as much personal time as we can. And family time.
Ron: Good for you guys. Personally, I did a vacation with my family in August and it was driven out of some conversations around work life balance and needing to be better. So I synced up with my wife and I said, let's go somewhere. And we went somewhere and we had a great time. So you never regret that.
Angel: We love family time. We have three kids, a 15 year old, a 13 year old and a four year old. And every time we can get away, shut down the phones, we're all in for that kind of time.
Ron: Awesome. That's brilliant. Family is why we do all of this. So that's the right mindset. I want to thank you both. We are at the hour. I want to thank you both for joining me here for show 225. And again, my apologies for the little technical glitch there at the beginning with audio, but we got that straightened out, which I'm happy to say, and it was a pleasure. So I want to ask you I'll start with you, Angel. Anyone that wants to get in touch with you or learn more about the business, what sort of handles, where would you send them? And then I'll do the same with you. Alexa, Angel, we'll start with you.
Angel: We're extremely active on Instagram, so if you wanted to follow us on Instagram, it's at @SDIBoston. And if you wanted to see part of my rally in the next two weeks, it's going to be on RA Boston. That's also on Instagram. We're super approachable, super friendly. So if you have any questions, if you're a dealer that's starting out or need any help with anything, please reach out. We'll be happy to help.
Ron: Awesome. Alexa, any additional sign offs there? Yes. We are also on LinkedIn under our personal names, Alexandra Centeno, Angel Centeno You can also find us on Facebook, Systems Design and Integration. But we are very active on Instagram. We're at SDI Boston on Instagram.
Ron: Awesome. I appreciate you both. Thanks for coming on the show.
Alexa: Thank you for having us.
Angel: Thank you Ron.
SHOW NOTES:
In 2010 Alexa and Angel co-founded SDI, a company specializing in the sales, design & installation of automation systems for residential and commercial spaces.
As the business began to grow, Alexa began branching out creatively by designing systems and mixing technology and art with a touch of audio. Additionally, she channeled her passion for lighting design into turning clients' creative lighting visions into reality. Boston Magazine recently recognized her for her achievements as a female co-owner in the Boston area.
Angel has piloted the many facets of the operational and installation processes at SDI since 2010. This includes utilizing his vast industry knowledge about equipment and programming to propel each project to completion. He's the driving force behind every system design and integration project and has been recognized as a premier integrator by Boston Magazine in the 2019 "Best of Boston" edition.
Ron Callis is the CEO of One Firefly, LLC, a digital marketing agency based out of South Florida and creator of Automation Unplugged. Founded in 2007, One Firefly has quickly became the leading marketing firm specializing in the integrated technology and security space. The One Firefly team work hard to create innovative solutions to help Integrators boost their online presence, such as the elite website solution, Mercury Pro.
Resources and links from the interview:
Alexa can be reached directly by email at This email address is being protected from spambots. You need JavaScript enabled to view it.
Angel can be reached directly by email at This email address is being protected from spambots. You need JavaScript enabled to view it.