Not Your Typical Website Design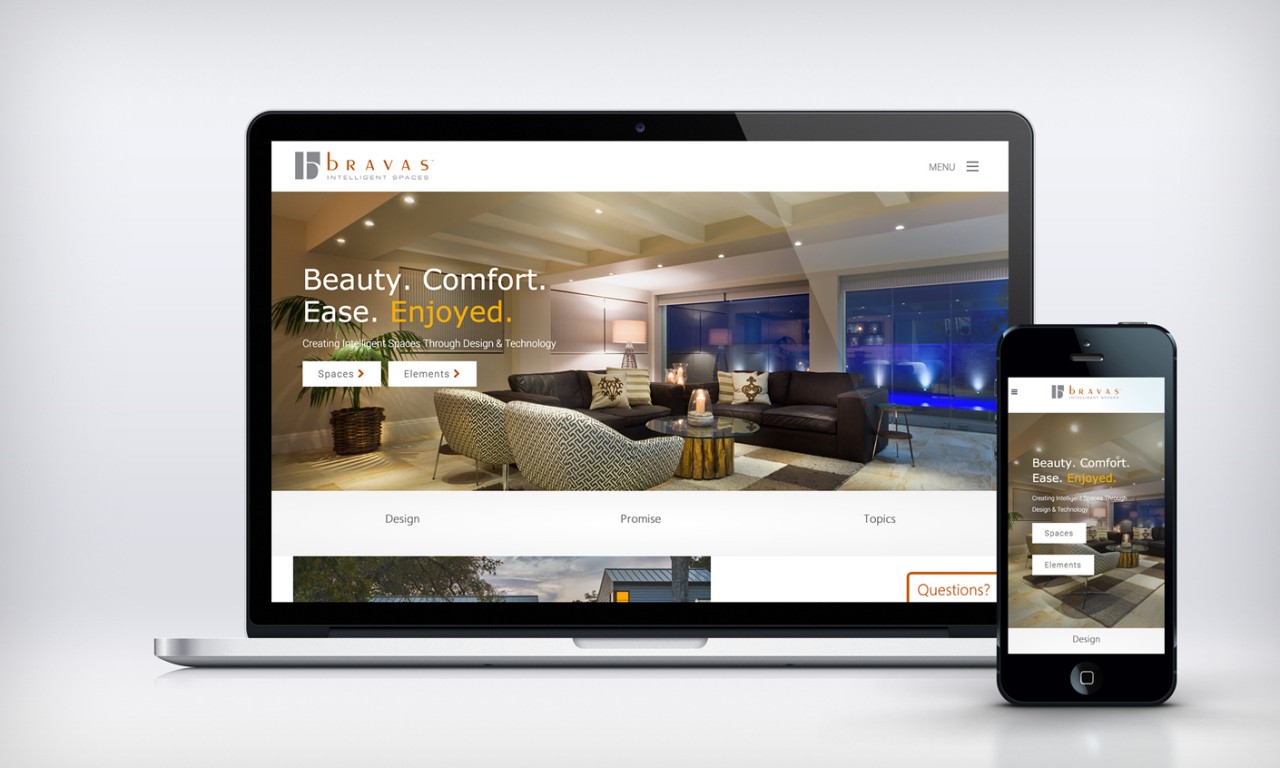 Bravas Corporate Site Targets Luxury Community
A website is a powerful tool, open 24/7 that can influence people's decisions as well as educate them. No matter what service or product you offer, having a website improves and enhances your customer reach. A well-structured website can lend instant credibility to your business and position the company as a thought leader in its respective industry.
Making A Great First Impression With Rich Photography
Photography and web design go hand-in-hand. Images are a powerful component of any website, drawing people in, piquing visitor interest, and helping to tell a compelling story. If a picture is worth a thousand words, then the Bravas corporate site is speaking volumes. Their use of high-resolution project imagery demonstrates the kind of craftsmanship you can expect from their services as well as their ability to blend technology into nearly any space of the home.
The site also features two distinct galleries aptly and succinctly named Elements and Spaces. The Elements Gallery showcases the various systems. From high-performance audio and motorized shades to home theater design and outdoor solutions, users quickly learn how each room can be enhanced; hover over each photograph and an explanation appears describing the technology in the space. Both galleries are sortable by the room within the home or the by the particular solution.

Alternative To The Standard Website Navigation
User-friendly, straightforward navigation is an essential element of any website and allows visitors to easily find what they are looking for. The Bravas website navigation menu is neatly tucked in the top right-hand corner of the homepage and descends when the plus sign is clicked; displaying the various pages of the site with one-word descriptions. The menu is easily collapsible by pressing the minus sign. While content might be king, finding the content requires a good navigation system.

A Competitive Advantage With Live Chat Support
As you might suspect, an online chat system provides website visitors with immediate access to help. It is preferred to the cumbersome task of dialing a 1-800 number and navigating through a maze of options. The service, staffed by experts in the custom integration and security industries, allows the Bravas team to chat with visitors in a thoughtful, intelligent manner and increase conversions by engaging qualified leads. The chat service is staffed seven days a week and interactions are recorded, and leads and service requests are immediately delivered to the respective Bravas member for follow up.

Quality User Experience With A Responsive Web Design
The shift towards mobile browsing, think tablets and smartphones, has become the preferred method to read and consume content. Therefore, responsive design represents the simplest way to reach the greatest number of visitors. Responsive design is a development technique that creates a site that reacts to the size of a user's screen regardless of the device they are using. The Bravas website design ensures a seamless user experience on any device due to its responsive nature. Additionally, Google now uses mobile-friendliness as part of its criteria in ranking search results.

Audience First Content
Beyond the aesthetics of the Bravas website, a focus has also been placed on value-added content. The goal is to create a connection between the brand and its consumers. Highly researched articles have been produced to engage, entertain, and educate current and prospective customers and give the brand its own voice. Consumers receive thousands of brand messages; Bravas content strives to cut through the clutter and provide readers with unique perspectives on a variety of topics.
Peruse the Bravas corporate website to experience the dynamic, content-rich design and feel free to leave a comment below.