Working With A Marketing Agency: Interview Part 4 (An Inside Look From The "Lead Concierge" Chat Team)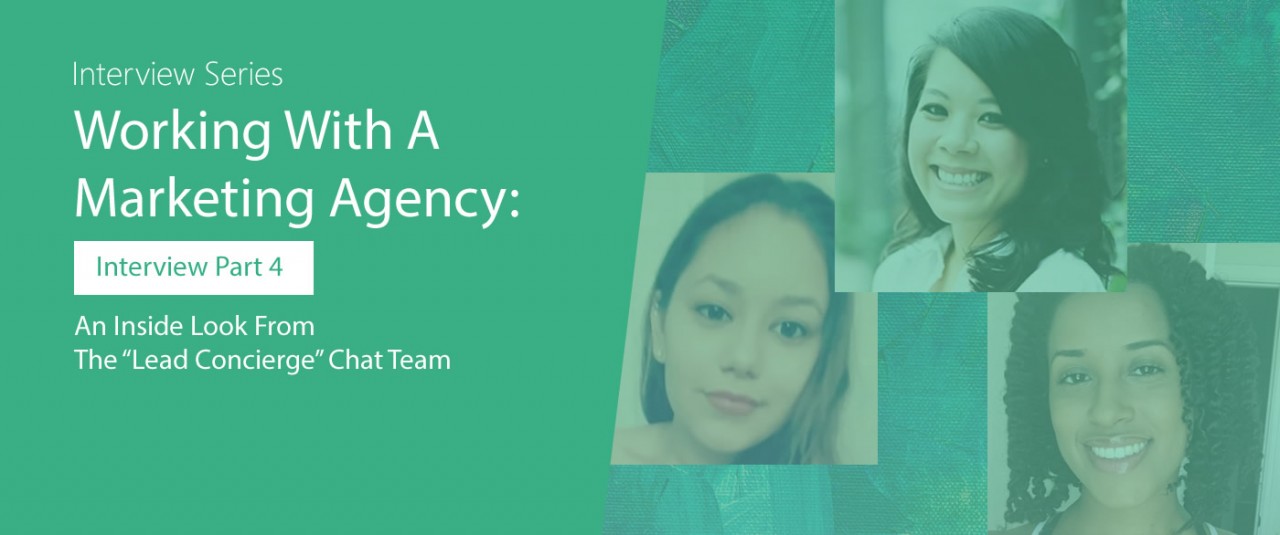 When One Firefly announced Lead Concierge, a manned live chat service for Integrators, it was roundly recognized by the industry as one of the most innovative and best services for Custom Integrators, winning the CEPro Best Award and Residential Systems's Best of Show. The One Firefly staffed live chat service engages website visitors with real-time support and answers to their pressing questions from rigorously trained professionals ready to turn your website visitors into real customers. The service is designed to capture leads, speed-up customer service, and increase your bottom line. So how do they do it? What are visitors most curious about? How do we move them from curious to ready to do business? Get the inside scoop from our Lead Concierge team and see what experiences are happening on Integrator's websites around the United States, and what you might learn from this inside look.
What are some common questions visitors have when chatting with a Lead Concierge rep?
"Common questions include inquires on a project they are working on for their home or business. Prospective clients inquire about quotes and timeframes in regards to purchases and installation. When a customer visits, questions typically include a servicing need and billing information."

. Lisa Tan
"Normally visitors will ask how much a certain product is or if they could get a quote for an installation for their home or business.
Do you have "x" in stock?"

Mekleet Yeneneh
"I am interested in this service, can your company provide this? How much is "x"?"

Jessica Gorkowski
On average, how often are you capturing leads from chats?
"75% of conversations result in a lead"

. Lisa Tan
"Sometimes I'll be answering chats nonstop for a few hours and be able to capture leads from most of those conversations."

Mekleet Yeneneh
"Probably around 5-10 a shift"

Jessica Gorkowski
Describe the typical chat conversation?
"The prospective client inquires about a project they are working on whether it is for their home or business. Projects include smart home automation, home theaters, networking, video conferencing and more. Questions that the Lead Concierge rep asks include, the location of the project, the timeframe they are looking for completion and particular functionalities or equipment they are interested in. A lead is then captured for a specialist to reach out to provide additional details and recommendations."

. Lisa Tan
"A visitor will usually let me know what they are interested in whether that is smart home automation, lighting, security, audio, shading etc. Then I'll ask where they are located and make sure that is in our client's service area. Then I let them know that I can have one of the company's specialists reach out to them about their project and proceed to gather their contact information. After that I ask how they heard about the company just so we can learn how they came across to be on the website. Then I just inform them that I will send over their project and contact info over and that a team member will reach out to them as soon as they can. ""

Mekleet Yeneneh
"All chats start off with a greeting then, usually, the visitor asks a question. Depending on the question, I can answer right away or I tell them I will have a specialist from my team (the integrator) reach out directly with more information."

Jessica Gorkowski
How long does a normal chat conversation last? (minutes and exchanges)
"10-15 minutes"

. Lisa Tan
"5-10 minutes"

Mekleet Yeneneh
"Usually around 5-10 minutes. I typically respond within a minute, sooner if chats aren't super busy."

Jessica Gorkowski
Every Integrator is different. How have you been trained and prepared to speak accurately and persuasively about a customer service offering?
"Prior to chatting on behalf of the integrator, a list of questions is provided to the integrator to assist the Lead Concierge rep in better understanding the Company and how to speak to visitors."

. Lisa Tan
"We have some information from each company readily available when we are chatting so we can get specifics for each."

Mekleet Yeneneh
"We have a series of unique and tailored responses for each company which explains what they provide, hours, brands, etc. Integrators sometimes also reach out to us with more information if they see a trend in the reports, such as do you sell or install car audio."

Jessica Gorkowski
So you captured a lead from a visitor. How quickly are visitors expecting to hear back from the Integrator?
"Typically an integrator will reach out to the prospective client or customer within 24-48 hours."

. Lisa Tan
"They would like to hear back that same day or the next."

Mekleet Yeneneh
"Visitors expect to hear back as soon as possible, preferably within a few hours."

Jessica Gorkowski
When you capture a lead, do they usually prefer a callback or an email?
"The visitor commonly prefers to be reached via email first, and set a time for a phone call or an appointment after further discussion."

. Lisa Tan
"It depends. Usually, for someone who wants an entire install, they would like a phone call but if it is someone just verifying if a certain product is available to purchase, they like email."

Mekleet Yeneneh
"Most prefer a phone call."

Jessica Gorkowski
What do you believe turns a conversation from a curious visitor into an actual lead?
"Providing the expertise of the integrator along with high-performing products that are offered as well as services that are personalized to the consumer."

. Lisa Tan
"When they realize that it is really easy for me to put them in contact with a representative of the company."

Mekleet Yeneneh
"Information! If the visitor is informed about the benefits of the service they tend to be more interested in taking a step further by discussing their options and pricing with the integrator."

Jessica Gorkowski
How do you move a casual visitor down the journey from curious to being willing to spend money?
"The customer-focused approach, high quality of service and benefits of customized technology solutions tends to have visitors become more curious and willing to move forward in speaking with a Sales Representative."

. Lisa Tan
"I let them know that we can help them with their project and that I can get a specialist from the company to contact them directly."

Mekleet Yeneneh
"By providing them with information on the service they are interested in. For example, explaining all the benefits of a smart home automation tends to make them more interested and I let them know a specialist will be reaching out to discuss their project more in-depth."

Jessica Gorkowski
What do you believe is the tipping point that makes a visitor want to hear back from an Integrator's sales representative?
"Offering visitors turnkey solutions from beginning to completion of an installation. Based on the integrator and projects, the Lead Concierge rep ensures the visitor that the Company will assist with the design, engineering, programming, installation and maintenance of the systems."

. Lisa Tan
"I think when visitors are browsing the website and chat with us, the conversation confirms that the company is able to do the project for them. So that makes them want to get a sales rep to contact them."

Mekleet Yeneneh
"Letting the visitor know that I can have a specialist reach out with more information regarding products and pricing."

Jessica Gorkowski