Launch Into Digital Marketing With The Affordable Atlas Website Solution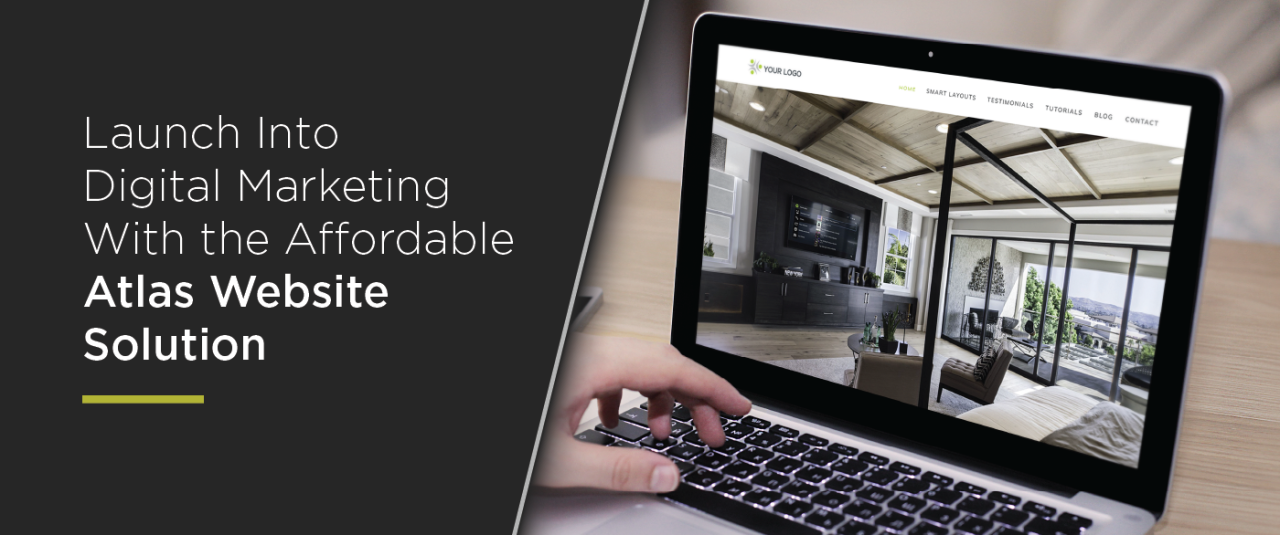 Spend $99/month on your website and use the remaining funds for active digital marketing
In a digital-first era, your company can't compete in the technology market without a robust and engaging web presence. And in an ideal world, you would have the funding available for an SEO-optimized Mercury Pro website and full suite of digital marketing services to support it.
But what if the annual marketing budget is just not there? Any amount of research will tell you that a brand-new, custom website could easily surpass your entire budget for the year. If that's the case, how do you balance funds between a new website and ongoing digital marketing to optimize the budget and achieve a return on investment (ROI)?
At One Firefly, we recognized that many of our dealers face this issue year after year and end up compromising one way or the other. That's why we created the Atlas Website Landing Page, an affordable website solution that allows you to improve your online presence, invest in active growth strategy, and see measurable ROI from your marketing — all within budget. Keep reading to learn more about the strategy behind Atlas and the feature lineup included in our Atlas solution.
SEE ALSO: The Power of Live Chat: 4 Reasons Your Website Needs a Chat Service
The Strategy Behind Atlas: Investing In Active Growth
What does your physical website do to attract visitors? Promote engagement? Educate customers? The truth is your website doesn't do any of that on its own. While a well-designed site is a critical piece of your online presence, it will easily get lost in the cyberworld without active digital marketing to drive traffic to it.
Ongoing services like SEO-optimized blogging, social media posting, paid advertising, video tutorials, online reviews, and email campaigns are the tools you need to engage existing customers, reach new customers, drive visitors to your site, and generate new leads. How will anyone see your beautiful web design if you're not calling attention to it?
Here's the bottom line: when funding is limited or inflexible, don't sink your entire marketing budget into building a brand-new website that isn't actively engaging new or existing customers. Instead, wisely invest the majority of your funds into active digital marketing that will produce a measurable return on investment through increased website traffic, lead generation, and conversions.
Luckily for you, One Firefly has already created the web solution to help you maximize the value of your marketing spend and outreach efforts: the Atlas Website Landing Page.
Atlas Landing Page: The Basics
At One Firefly, we designed the Atlas website solution to solve the challenges and support the marketing strategy listed above. Atlas is affordably priced via an innovative new leasing model at just $99/month to offer you maximum flexibility with your remaining funds — you can even add a blog page for only an additional $25/month. By scaling down the website to its foundation, your remaining funds can go toward active marketing services like blogging, email newsletters, social media posting, and ads, paid advertising, and other digital marketing tools that consistently drive traffic, awareness, and lead generation to your website.
Every custom-branded Atlas website features your company logo and branded colors, a unique header image of your choice, customizable sections to showcase your preferred services and solutions, social media links, contact information, Google map integration, and a contact form to capture leads. Our team will optimize your site for search with SEO-friendly copy, mobile responsiveness, and traffic tracking tools like Google Analytics and pixel codes.
An Atlas page costs just $99 per month and is owned and hosted by One Firefly. With your remaining marketing budget, you can add on as few or as many One Firefly services as you need, including content marketing, Google Advertising, Smart Layouts, UI University, Review Champ, and Lead Concierge.
Atlas looks and feels polished and professional, and it's an excellent solution for immediately improving your online presence and building an ongoing digital marketing strategy.
Grow Your Website As Your Business Grows
The Atlas solution offers an incredible deal as a foundation for an integrated marketing strategy. And as your business continues to grow, you may discover that a brand-new website isn't out of reach in the future. A richer, more built-out website will help you cultivate more SEO value, improve domain authority, expand your reach, and attract and engage potential customers.
And when you're ready to take the next step, we'll be here to transition you into a larger, more robust Mercury Pro website. The great news is that if you have an Atlas website landing page, you can apply up to 24-months' worth of Atlas website fees toward your brand-new website. So not only does Atlas help you improve your online presence right away, but it's also an investment into your future growth.
There is no other comparable web solution on the market as affordable and flexible as Atlas. To learn more, please reach out to our team today to schedule a consultation with our team.